This post has been corrected.
India was among the top ten countries to hand out death penalties last year—though no one was executed.
A total of 64 people were awarded death penalties in 2014, as recorded in a survey "Death Sentence And Executions 2014" by human rights NGO, Amnesty International. This was less than the number of death penalties awarded in 2013, when the number stood at 72.
In the last eight years, the number of death sentences was the maximum in 2011 and the least in 2009.
"In India, the problem is not the act of hanging; it is asking people to live under the sentence of death," Anup Surendranath, assistant professor of law and director of the Death Penalty Research Project at the National Law University, Delhi, told Quartz.
"There's a certain cruelty to that, because you have kept so many people on death row. Some of them spend 20-25 years on death row, anticipating their own death every day," he added.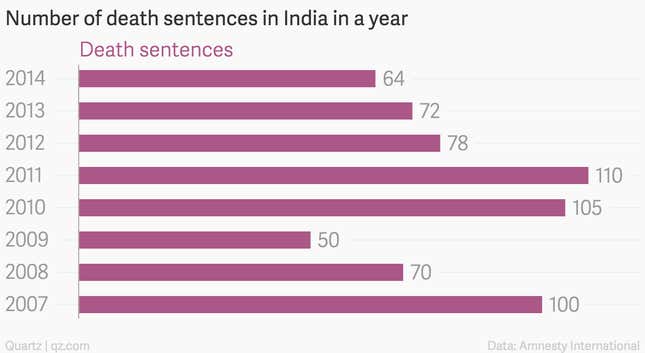 In these last eight years, only two people have been executed in India—one each in 2012 and 2013. In late 2012, Ajmal Kasab was executed for his involvement in the Mumbai terror attacks in November, 2008. Then, in February 2013, Afzal Guru, from the northern state of Jammu and Kashmir, was hanged for a terror attack on the Indian parliament in 2001.
"India uses executions for very high-profile cases. So they take on a very symbolic character," Surendranath said. "In the state's daily fight with terrorism however, there is a very low death penalty number."
Deaths across the world
Different countries practice different means, including beheading, hanging, lethal injection and shooting, to mete out the punishment. In 2014, at least 607 people were hanged in 22 countries.
In comparison, at least 778 people were executed in 2013, which means 2014 saw a 22% fall in the number of executions. India was one of the seven countries that carried out executions in 2013, but not in 2014.
However, as many as 2,466 were awarded capital punishment in 55 countries, including India. In comparison, in 2013, 1,925 death sentences were handed out in 57 countries.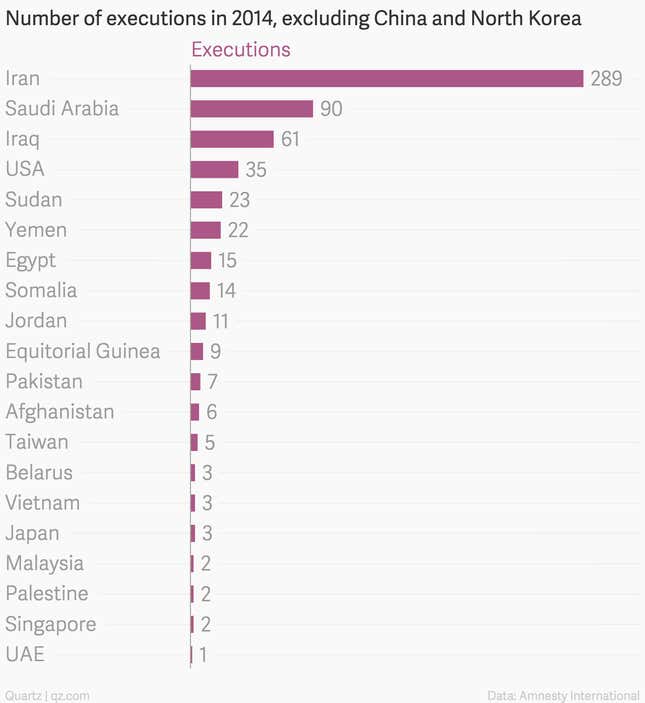 The report claimed that China executed the most number of people, followed by Iran, Saudi Arabia, Iraq and the US. The Asian superpower does not, however, share official data on death sentences and executions, calling it a "state secret." And there is limited information available on executions in North Korea.
The next three countries—Iran, Iraq and Saudi Arabia—awarded 72% of the total executions combined in 2014. Iran and Saudi Arabia often execute publicly. At the end of 2014, at least 19,094 people across the world were facing death row.
The global trend for the last 20 years, however, has been that of declining number of death penalties and executions. Today 98 countries have abolished death penalty, compared to 59 in 1995.
An earlier version of the article incorrectly said the Indian parliament was attacked in 2011.