India's mobile phone market—the world's second largest—may be slowly stalling.
Growth in shipments of handsets has turned negative during the January-March 2015 period, compared to the corresponding period last year, according to data from Counterpoint Research, a market research and consulting firm.

And for two consecutive quarters now, India's mobile phone shipments have been sliding. Shipments of handsets to India dropped by 3% during January-March 2015, compared to the corresponding period in 2014. And compared to October-December 2014, shipments in the first quarter of this year declined by 15%, the data indicated.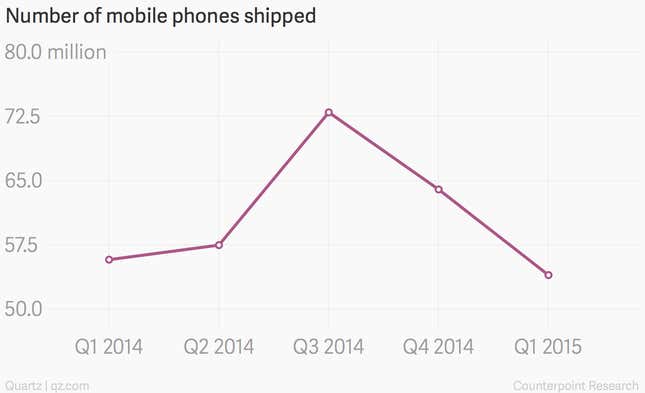 "Feature phone sales in India have been falling," Tarun Pathak, senior analyst at Counterpoint Research, told Quartz. "Smartphone sales on the other hand have been rising, but it has not been able to arrest the decline happening in feature phone segment."
Between January and March, smartphone sales in India grew by 21%, compared to the same period last year, and they remain the best performing segment across the country's mobile phone market. India is the world's third largest, and fastest growing, smartphone market.
"The market has shrunk due to seasonality and low sell-in from a couple of leading vendors that were sitting on inventory from the previous quarter," Pathak said. "In addition, the increase in import duty also led to decline in sell-in as prices rose as a consequence."