Urine is once again on people's minds, after India's road transport minister Nitin Gadkari made public his penchant for recycling his urine to fertilise plants at his Delhi bungalow.
It seems Gadkari collects his urine in containers that are tipped into 50-litre cans. This in turn is used to irrigate plants and spur the growth of larger vegetables.
As people mocked Gadkari, Arghyam, an NGO run by Rohini Nilekani in Bangalore, came out in his support with a paper from the University of Agricultural Sciences on the benefits of urine.
Urine is one of those perennially surfacing topics in Indian media, and it is difficult for a year to go by without multiple references to urine, whether of humans, cows, rhinos, tigers or elephants, of the diseased or undiseased kind, medical therapies, recipes for consumption and more. As a nation, we are obsessed.
So it wasn't surprising that this week's news included an announcement that Rajasthan's health minister Rajendra Rathore had inaugurated a cow urine refinery in Jalore. What exactly they will remove in the refining process is unclear.
Extracts from this factory will be used to clean Jaipur's SNS Hospital, reports said. Rajasthan is of course one of the states more dedicated to the cause of urine. It even has a cow minister, Otaram Devasi, who was not present at this inauguration.
We also learned recently that Varthur lake in Bangalore had been foaming suspiciously for months—leading people to wonder if it was polluted by detergents. The truth lay in its stench. Scientists announced last week that the lake's foam is from untold litres of old urine that has been unable to find an outlet.
In March, a guard at the Delhi zoo was arrested for smuggling out rhinoceros urine to take it to his ailing father. Chinese traditional medicine advocates tiger and rhino urine for medicinal use. The zoo had good reason to be suspicious. In 2001, a racket of rhino urine smuggling was exposed at Alipore Zoo in Kolkata, where rhinos were drugged to make them urinate more, and that urine was sold for Rs250 ($4) per litre.
But the real roots of this lie in 1930, again in Kolkata (then Calcutta), when the zoo was facing a financial crisis. A report claims that the zoo management allowed customers to queue up to watch their undiluted rhino urine be filled and sold—a practice that brought the zoo back from the brink. (The full report is excellent and deserves to be read here.)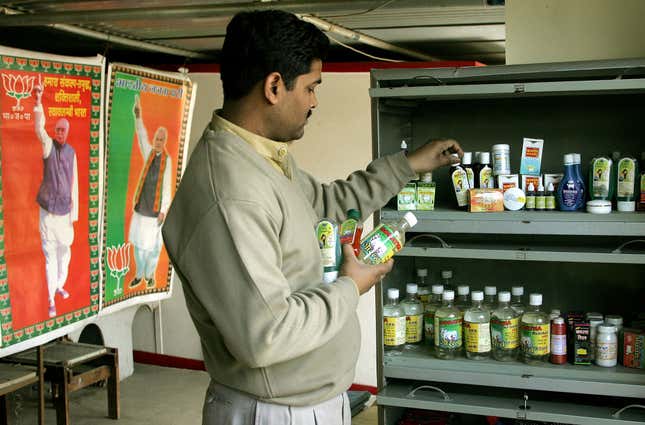 Pee in power
Gadkari joins a long line of politicians convinced that their urine or cow urine is a miraculous substance that can do anything from cure diseases to filling up dams.
Former prime minister Morarji Desai, for instance, regularly consumed his own urine and attributed his long life to it. Ajit Pawar in 2013 controversially asked at the height of the drought that year if he should fill the Ujjani dam in Solapur by urinating in it. He might have been sarcastic (or drunk, though he denied it), but that did not prevent a universal panning of his remark.
Cow urine has had a more illustrious and widespread set of followers, including Mohandas Gandhi, who advocated drinking it regularly. Now championed by the right-wing Rashtriya Swayamsevak Sangh in modern times, cow urine is regularly hailed as everything from being a medical miracle that can cure cancer to India's next popular drink in the form of soda. Hapless government workers in Delhi have been threatened with floors cleaned (or purified, reports were not clear) with cow urine.
Pee offences
There seems to be a difference between how people view faeces and urine. Cow urine and dung is popular with caste Hindus because of their belief in the holiness of the cow. But while the excreta of bovines might be considered sacred, human excreta is still very much subject to the rigours of caste, as the continuing prevalence of manual scavenging shows. There is a difference between how people view faeces and urine.
Human urine seems to have escaped the strictures of purity, perhaps because a Sanskrit text, Damar Tantra, exalts the practice. That said, urine is still used as a weapon of humiliation. Cases abound.
In Krishnagiri in north Tamil Nadu, a group of non-Dalits attacked and urinated in the mouth of a 20-year-old Dalit attending a temple festival in March. In 2012, Osmania University in Hyderabad saw a minor riot break out after students held a beef and pork festival there. At a smaller version of the festival a few months before that, protesters emptied bottles of urine into the food.
A year after the Khairlanji massacre in 2006, a zila parishad (district council) teacher in the village was booked for sprinkling cow urine to "purify" OBC (other backward classes) and scheduled caste students. The teacher compared the ritual to celebrating Ambedkar Jayanti, or doing Saraswati Pooja.
Pee for all
The fixation is not limited to Hindus, or even India for that matter. An aspiring election candidate in New Zealand, Joe Glenn, was dropped by his party after he said on national television that drinking his own urine had helped him to cure his arthritis. Closer home, Sri Lanka's former public relations and public affairs minister also admitted to drinking his own urine. Unlike others who drank it neat, Mervyn Silva said he diluted his with water.
India, however, continues to lead the world in this matter. The world's first conference on urine therapy was held in Goa in 1996, and attended by around 100 people. The largest delegation from a country outside India was Germany, which had 28 practitioners.
One such foreign votary is Harald Tietze, a German author of books on papaya, the healing fruit, and kombucha, the miracle fungus. Urine, he says, is holy water, used extensively by ancient cultures across the world. He draws from Damar Tantra to explain Shivambu, the ingestion of one's own urine, and how the appreciation of one's own urine is akin to that of appreciating the tart scent of cheese for the first time.
Appropriately, he calls his urine the "water of life" and others "holy water."
Pee to cure
There is one confirmed medical substance that can be extracted from urine, urokinase. This has spurred a low key but very prevalent business of human urine used in medicines.
An obscure text called Chumbak Chikitsa Ka Saral Adhyayan while expounding on the benefits of urine therapy also claims that a Hyderabad-based marketing company has been collecting urine from economically underprivileged pregnant women there. They sell these capsules to buyers in Japan and Switzerland, which, the text seems to suggest, makes the practice better.
An odd fact emerges from this. Between June 2013 and 2014, Bangalore Air Cargo received around 110 millilitre of human urine from the UK, amounting to around $4,200. Given the relatively small quantity, it is likely this was used for medical testing rather than consumption, but there is no explanation of how or why it was valued that high.
This post first appeared on Scroll.in. We welcome your comments at ideas.india@qz.com.