India's stalled car market may be slowly spluttering back to life, but it's far from turning the corner just yet.
In April 2015, passenger car sales in the country jumped 18.14% compared to the corresponding period last year—the sixth straight month of growth, and the highest in 30 months—thereby prompting talk of a turnaround in the world's sixth largest automobile industry.
Analysts, however, urge caution.
That's because the sudden surge in sales, according to industry experts, was primarily driven by urban and semi-urban demand in the country, while the rural economy—a significant driver of domestic car sales—continues to struggle. An indicator of that slowdown has also been the decline in motorcycle sales, which fell 2.77% in April earlier this year.
Moreover, the stellar numbers in April 2015 could also be a result of the fact that it was calculated against a much lower base of April 2014. This year in April, India sold 159,548 units of passenger cars, compared to 135,054 units in the same month a year ago.
Since 2013, India's automobile industry has been stuck in a rut. And in the financial year ended March 2015, Indian car makers sold even fewer vehicles than in 2012, partly due to rising interest rates and flagging economic growth.
"The growth in (the) local economy is still sub-optimal,"Abdul Majeed, a partner at consultancy firm PwC, told Quartz. "I would still not call it a recovery, and wait till September before calling it a recovery. Income in the rural economy is yet to grow and probably by the second half of 2015, we can expect recovery."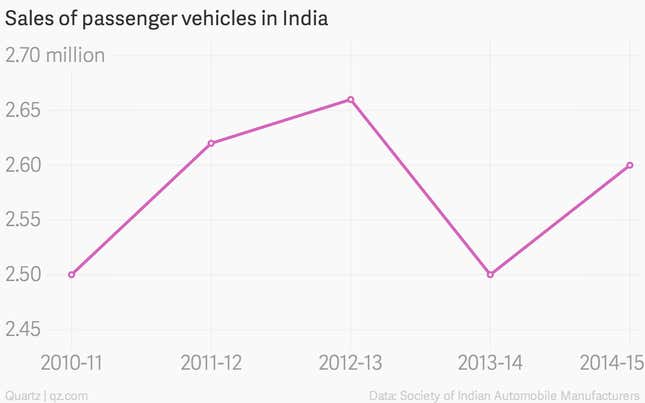 A strong revival in sales of vehicles in the rural economy is often considered an indicator of a stable economy and improved purchasing power. For many car manufacturers, rural sales contribute 30-40% of their overall sales.
"Basically, the numbers are pegged against a very low base," explained Deepesh Rathore, co-founder and director at Emerging Markets Automotive Advisors (EMAA), a research and forecasting firm. "I would still be cautious about the numbers. During the past month, a lot of inventory that had piled up were cleared with discounts and offers. But we will have to wait for three-four months to see a complete recovery."
This three-four month window is mainly due to risks from an uncertain macroeconomic environment.
While India's economic indicators have improved in the past year, a below-normal monsoon forecast could potentially derail the domestic economy. Unseasonal rains in March and April have already led to massive losses for farmers in the country, leading to a decline in rural income.
"In the lower segment of cars, such as Wagon R, Alto and Hyundai Eon, growth is still slow," said an analyst with a domestic brokerage, requesting anonymity. "The growth came from the semi-urban and urban centres while the demand from lower income buyers is poor."
These are the vehicles—comprising the micro, mini and compact segments—that many first-time buyers typically purchase, and are considered to be a huge volume driver for the automobile industry.
During April, sales of these vehicles grew by 15%, according to EMAA data, while sales of super compact and mid-sized sedans and executive and premium category cars jumped by 37.26% and 48.74%, respectively.
But with new releases in the pipeline for later this year—Maruti Suzuki's hatchbacks Celerio diesel and IK-2, a Renault hatchback, Honda's revamped Jazz, and subcompact SUVs from Mahindra and Maruti—if the monsoons and the Modi government deliver, then India's car industry could well be back on track to a complete recovery.
"We are in a positive zone," said Majeed. "But there are also a few challenges and by the end of 2015, we should have good growth in the sector."