A little over two weeks after a massive earthquake-ravaged Nepal, the struggling Himalayan nation has just been hit by a big 7.3 magnitude quake.
At least 22 people have died—19 in Nepal, two in neighbouring India and one in China—and nearly 1,000 have been injured after the quake struck at about 12.30 pm local time on May 12.
The epicenter was 76 km northeast of the capital city of Kathmandu, near the country's border with China, according to the United States Geological Survey. Tremors were felt across eastern and northern India.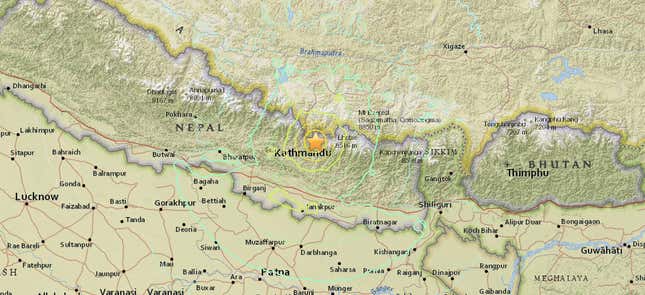 With more than 8,000 dead and thousands more injured after the 7.8 magnitude earthquake hit on April 25, Nepal is already grappling with its worst natural disaster in decades.
Meanwhile, aftershocks—some as big as 6.3 magnitude—are continuing to hit. Here's a map from the USGS:

Although the extent of the damage is yet to be ascertained, Reuters reported that buildings had collapsed in Chautara, a town to the east of Kathmandu.
There have also been reports of big landslides, including one in Sindhupalchok—where over 3,000 died after the earlier quake—that has injured at least 12 people.
As the earthquake hit, journalists in Kathmandu tweeted that locals rushed out of their houses.
With a magnitude difference of 0.5, compared to the 7.8 magnitude earthquake that hit on April 25, Tuesday afternoon's quake was about 5.6 times less powerful than the preceding tremblor that caused widespread damage in central Nepal.
Also read: More quakes are coming for Nepal, scientists say, they just can't predict when