Uber is finally beginning to understand that its existing global business model won't work in India.
The new system that the app-based taxi service is trying out in the subcontinent could eventually be a game changer in other developing markets.
On May 13, after operating in Asia's third largest economy for a year and a half, the company decided to add cash as a mode of payment on trial basis in Hyderabad. It was for the first time in the company's six-year-old history that it is accepting cash payments for ride, anywhere in the world.
"Indians are more comfortable paying in cash," a spokesperson for Uber told Quartz. "We are in the process of understanding the potential and we are currently testing it out in Hyderabad. As we look to expand operations in India, we have understood that cash payments will be a crucial factor in driving that growth."
After India, Uber may look to launch cash as a mode of payment in other emerging markets in Latin America and Southeast Asia. A large contingent of customers (pdf) in Southeast Asia still favour cash over cards. And here, too, key competitors like GrabTaxi allow their customers to pay for their rides by cash.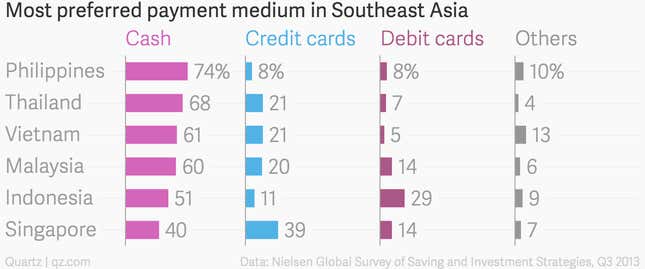 Cash obsession
Almost 90% of monetary transactions in the country, according to India's central bank, are conducted via cash. In 2014, only about 3% of the country's monetary transactions took place through electronic mode. That stands in stark contrast to economies like the US—a major market for Uber—where non-cash payments account for more than 70% of transactions.
"Even among those with bank accounts, cash dominates retail payments. While transactions of higher value may be routed through the banking system, daily purchases remain largely in cash," a 2015 report (pdf) from the Fletcher School at Tufts University explained.
So far, Uber, had stuck to payments only through a prepaid wallet in India, after the Reserve Bank of India put a stop to its app-based credit card payment system. In the meantime, many of its domestic competitors have made cash payments a mainstay of their business models.
For instance, Ola Cabs—India's largest web-based taxi booking service—began operations in 2011 with cash payments. Other such as TaxiForSure and Meru Cabs are no different.
"In the tier-II and tier-III cities, cash is the more dominant mode of payment," a spokesperson for Ola Cabs told Quartz." At this point, about 50% of our business comes from cash payments while the remaining is from the prepaid wallet. Cash payments will continue to be significant. But as financial inclusion happens on a large scale, things will probably change."
So far, that change has been far from swift. One indicator is that even in India's booming online shopping market cash-on-delivery accounted for between  50% and 80% of business as late as last year.
"Look at the e-commerce sector, the cash-on-delivery model was the biggest innovation in the sector," Aprameya Radhakrishna, founder and director at TaxiForSure, said. "As far as taxi services go, with time, an ecosystem will develop which will move towards a non-cash one. But one can't predict when."