The sweltering heat continues to rise in India—as does the death toll.
More than 1,100 people have now died due to the scorching heat, mostly in Andhra Pradesh and Telangana. And, while this isn't the deadliest of heat waves in recent years, Indian summers are becoming more severe, longer, and more frequent.
India's "high temperature" (HT) days—with a maximum temperature of more than 37 degrees Celsius between the months of March and June—have sharply risen over the last four decades, according to a 2015 report (pdf) by three Indian meteorological department scientists.
By analysing data from 176 surface meteorological stations between 1969 and 2013, the researchers noted that there's been a "sudden increase in summer HT days over north, west and north central regions and along eastern coast of India, with the shift occurring in the mid- to late 1990s."
Between 1991 and 2013, summer HT days increased by 5% in north, 6% in west, 1% in north central and 2% in south region, the study reported.
The chart below captures the deviation from the long-term mean of HT days between 1969 and 2013, indicating how there has been a spike in HT days since 1990.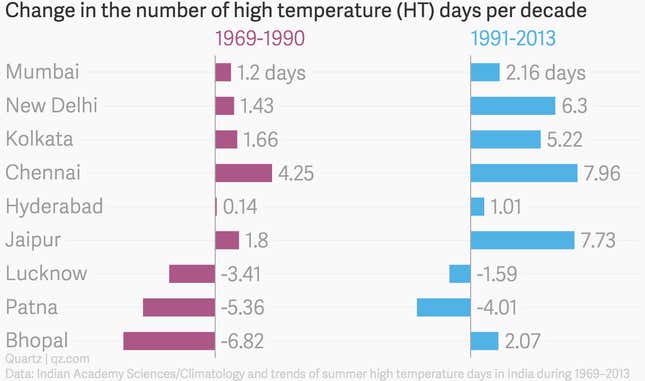 "With massive urbanisation, mega cities in India are prone to rapid unplanned growth and increase in human population," the report explained. "As population grows in cities, concerns are raised about the warming caused by quick urbanisation and modification of land surfaces."
Alongside, mortality figures due to such harsh weather remain consistently high.
More than 1,600 people died in the eastern state of Odisha due to a heat stroke in 1998. And in Andhra Pradesh—the worst hit state this year—1,393 people were killed in 2013.