The Times Group—India's largest media conglomerate and the owner of The Times of India newspaper—has come out with a list of crazily-worded requirements for a college beauty pageant that it runs.
Sample these: "If you're size ten, well you need a dietitian." Or: "If you prefer books my dear, good luck with your career." And if a woman does not meet some of their requirements, she can still be eligible for the contest if she is "smoking hot, with a killer bod."
These criteria appeared on Campus Princess' Facebook page, on May 16, as part of its ongoing multiple-city auditions. This specific call for entry preceded the auditions in Bangalore.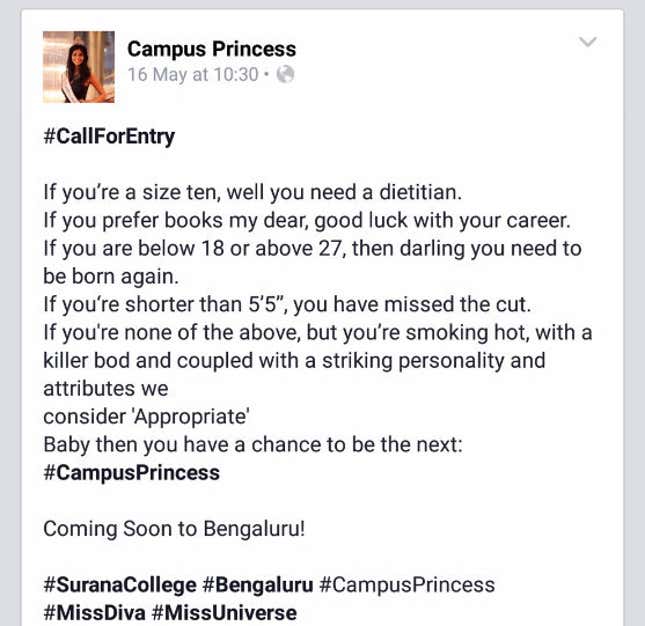 Started in 2013, Campus Princess hunts for potential beauty queens among college students. Typically, these women must be between 18 and 27 years to be eligible for the contest, and studying at a recognised educational institution. Though the status of the women must be compulsorily unmarried, the application form allows a candidate to fill in other statuses, including married, divorced and widow.
The pageant describes itself as a "breeding ground" for young women, helping them realise "their dream of becoming a beauty queen." It takes place twice a year—and is a precursor to the Times Group's other two prominent pageants: Miss India and Miss Diva.
Ironically, this is what a spokesperson for Campus Princess had to say: "It was supposed to be taken in good humour. We at the organisation don't really believe in objectification of women or stereotyping beauty."
"That post basically spoke about the eligibility criteria which is in place, and as every contest has certain rules and regulations, even we have certain criteria in place," he told Quartz. "These criteria are not something that we decide upon. These are international criteria, and decided by say a Miss World Organisation or a Miss Universe Organisation."
The post was removed from Facebook on June 03 after Buzzfeed posted this article, criticising Campus Princess and its eligibility requirements.
"The reason we used that kind of language was because we deal with college students, and we were trying to stay in tandem with the kind of lingo that college kids typically use," the spokesperson said. "So that was the reason why that kind of creative expression was used. But it didn't go well. And we took it down right away."