Every year 800,000 international visitors travel to Nepal to experience its unique attractions.
These include Sagarmatha National Park (Mt Everest), the Annapurna and Langtang trekking regions, and the Kathmandu Valley, which is dotted with UNESCO World Heritage sites such as the Durbar Squares in Patan and Bhaktapur. The April 25 earthquake and aftershocks seriously affected all these places.
Tourism is critical to Nepal's economy. The World Travel and Tourism Council reports that the industry contributed 8.9% to Nepal's gross domestic product in 2014, supporting 1.1 million jobs. Before the earthquake, Nepal was the 26th fastest-growing tourism economy out of 188 countries.
What impact will the earthquake have on tourism? Based on the Nepalese culture, tourism and civil aviation ministry's tourism statistics, about 23,000 visitors would have been in the country on April 25, 2015. It is not yet known exactly how many tourists were among those who lost their lives in the earthquake.
Nepal is one of the most hazard-prone countries in the world. This is due to its location in a high-intensity earthquake zone and extreme topography. The risk profile is known with relative accuracy, and so is the fact that rural communities are considerably more vulnerable than the urban population.
Based on research in other hazard-exposed destinations around the world, tourists were probably not fully aware of the risks involved in travelling to Nepal. Yet the tourism industry will also be critical to Nepal's economic recovery. When thinking about the future of Nepal and its tourism industry, there are several dimensions to consider.
Tourism plans must include disaster preparedness
Tourist destinations are becoming increasingly aware of the devastating impacts that natural disasters can have on their industries. Organisations at all levels have begun to promote or develop tools to increase disaster preparedness and management of the sector.
Examples include the Global Sustainable Tourism Council's destination standards, the best practice guide for tourism risk management developed by APEC (Asia-Pacific Economic Cooperation), and local action plans (for example, in New Zealand).
To date, not many destinations have implemented these tools. Tourists are typically not accounted for as vulnerable groups in national disaster plans. Nepal's 2008 National Strategy for Disaster Risk Management does not mention tourism at all.
A similar omission has also been revealed for New Zealand's civil defence and emergency management plans in an assessment of the impacts of the Christchurch earthquakes on the visitor economy.
The Christchurch evaluation identified areas where tourism-specific plans are critical. These include the evacuation of foreign visitors (involving embassies, airlines and a range of other stakeholders), dedicated communication channels for visitors inside and outside the affected area, and industry assistance to aid a speedy recovery of tourism infrastructure and businesses.
Rescue resources and access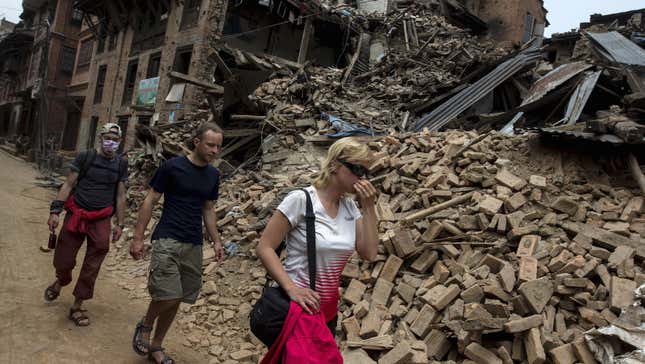 The limited availability of helicopters seriously hampered rescue operations in Nepal. Many of the most devastated regions can only be accessed by helicopters, but Nepal has only about a dozen functioning ones.
To a large extent, the immediate rescue effort focused on climbers and sherpas in the Mt Everest region, raising ethical concerns. Leading mountaineers such as Reinhold Messner commented on a morally questionable two-class rescue. Fights over life-saving helicopter space were also observed in the devastated Langtang Valley.
Clearly, a debate is necessary over whether it is in the interest of the country to save foreign tourists—for the sole reason that tourism is the backbone of the economy and perceptions of safety are critical to future tourist arrivals—or whether a life is a life.
Another critical touchpoint between disaster relief and tourism is the airport. Following a disaster, airports become a bottleneck for fleeing foreigners (and locals who can afford it) and incoming assistance. As part of a country's critical infrastructure network, airports need to be highly prepared and drilled for disasters.
Several newspapers and social media reported chaotic scenes at Kathmandu's airport. The airport was unable to handle incoming cargo planes.
More than five years ago, it had been decided to upgrade Gautam Buddha Airport as a secondary hub to Kathmandu that can handle larger international flights. The Asian Development Bank agreed on a loan in 2012, and the foundation stone was laid in January 2015. The process has been too slow to be of assistance in this present disaster.
Tourism can provide critical assistance
As the case of the Christchurch earthquakes has already demonstrated, tourism businesses can provide invaluable resources to the disaster response.
For example, a scenic flight operator in Nepal reported having brought 1,000 victims back to Kathmandu in its helicopters. Holidaymakers were seen helping dig locals out of the rubble. Trekkers reportedly shared food and other provisions with locals in remote villages and carried valuable equipment such as satellite phones and first aid kits.
However, it is important to proceed with caution in restoring the tourism industry. A statement by Mountain Explore Treks & Expedition in mid-May to encourage travellers to go to Nepal—"We are pleased to inform you that Nepal is now safe to visit"—is irresponsible as long as the rescue and recovery operations are not complete and large aftershocks are to be expected. Buildings are compromised, mountain slopes are unstable and large aftershocks pose a serious risk.
A more measured response, adopted by several other tour companies, is to raise funds and provide support (for example, to donate tents) to earthquake survivors.
From a management and marketing perspective, Nepal will benefit from communicating clearly to prospective tourists which areas of Nepal are safe to travel (for example, the Royal Chitwan National Park) and how the rebuild of infrastructure in other areas (for example, the Mt Everest Valley) is progressing. In addition, it is important that the global tourism industry and inter-governmental bodies support a swift recovery process.
Most importantly, in the long term, it is essential that people travel to Nepal again in the future and contribute to its recovery by spending generously.
This article was originally published on The Conversation. Read the original article here.