For India's automobile sector, slowly limping back to life, the incoming monsoon rains could make or break its fortune for another year.
In April, car sales in India finally moved up a gear, growing at an year-on-year increase of 18.14%—the highest in 30 months. In May, the growth was only about 7.7% compared to the same period last year. On a month-on-month basis, passenger car sales grew by 0.3%.
That might not be much, but a steady decline in car sales has been stemmed—and across almost all other segments on the market, month-on-month sales are on the rise. "Currently, we are in a slow recovery mode," Vishnu Mathur, director general of the Society of Indian Automobile Manufacturers, said last week, "with some segments showing growth and some declining. Even those segments like cars, which have shown growth, haven't reached peak levels."
To get to that peak, however, the monsoons must deliver.
"We seem to be heading for a slow summer as monsoon clouds (or lack thereof) overshadow everything," Gurgaon-based forecasting firm Emerging Markets Automotive Advisors (EMAA), said in a report. " A slow monsoon will derail sales at the bottom of the market, both for passenger vehicles and two-wheelers."
Passenger cars
In May, India sold 160,067 cars as against 148,577 in May last year.
Much of that growth was led by the super-compact and mid-size car segment—which typically appeals to the urban and semi-urban economy—that grew at 17.5%. Meanwhile, the micro, mini and compact car segment—the biggest volume driver, typically involves first-time buyers—grew by 4.72% during May compared to the same period last year.
"The micro, mini and compact car segment sales will be heavily affected if monsoons are poor," Deepesh Rathore, co-founder and director at EMAA, said. "These are the cars which cater to the rural economy and at the bottom end of the pyramid. And if monsoons fail, then the real economy will be under pressure and the overall car market will be under massive pressure."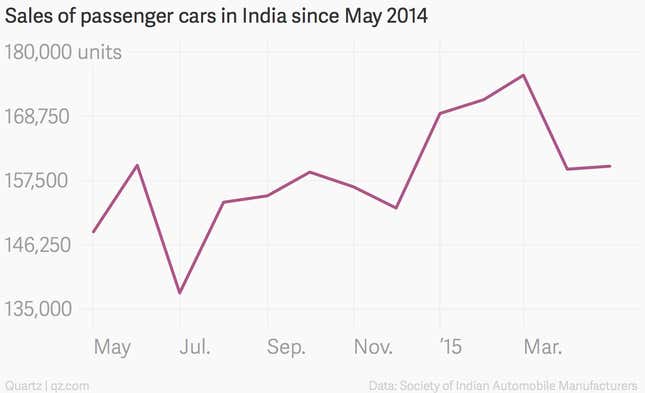 Motorcycles
India is the world's largest market for motorcycles—and sales have been floundering over the past few months. In May, total bike sales fell by 3% to 953,222 units, compared to 983,210 a year ago.
Much of that had to do with a slowdown in sales in the countryside and India's smaller cities. Unprecedented rains in India ahead of harvest season—northern and central India witnessed hailstorms and rains during March and April—hit the rural economy hard. Some 50% of all bike sales in India happen in the hinterland. And now, the spectre of a drought could make things worse. This year, India's met department has predicted below normal rains during the monsoon season—which account for 70% of the country's annual rainfall.
"A far as automakers go, this monsoon will be extremely important," Abdul Majeed, partner at consultancy firm PwC, said. "There are three factors that play a crucial role in rural economy. These include the monsoons, lower inflation and the minimum support price (MSP) from the government. This year, the monsoon is expected to be bad, the MSP hasn't gone up and money in the hands are low. It will definitely be a challenging year."
Bikes contribute as much as 70% of the total two-wheeler sales in India.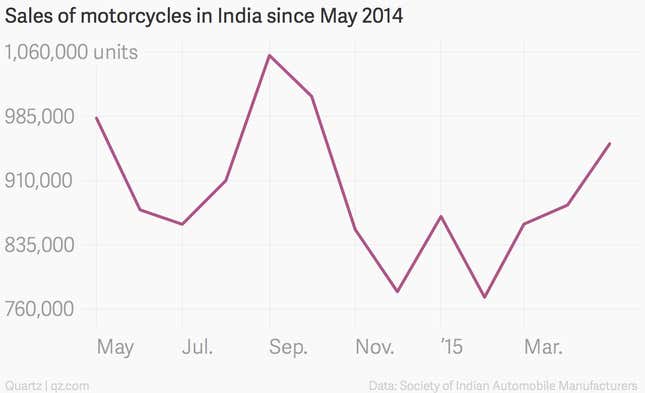 Commercial vehicles
Sales of India's commercial vehicles had turned positive in August last year, almost two years after a prolonged slowdown.
In May, Indian automakers sold 8,098 units of heavy commercial vehicles—the highest in four years, as infrastructure spending rose along with the opening up of the stalled mining sector.
"We have noticed a consistent upward movement in the heavy commercial vehicle sales for the past one year that could augur well for the economy,"Mathur said. "Besides, buses have also shown a marked improvement with government agencies renewing and expanding fleet under the national urban renewal mission."
India's light commercial vehicle (LCV) segment, once in high demand in rural markets, has been stalling. In May, sales across the LCV segment fell 7.19%, compared to the same period last year. "LCVs are basically used for last mile connectivity in the retail business. But retail sector has been subdued and an uptake can only be expected in 2016-17," said Majeed.