In the blue glare of his mobile phone's screen, Muneeb's clean-shaven face looks pale and nervous. His friend Altaf, 18, shifts his weight from one foot to another and takes a guess: "He must be Shahid."
The shadow approaches closer, the outline of a frail young man now visible. "Be quick about it. I don't want any trouble," Shahid, 20, instructs the two, pulling on a cigarette.
"Easy," Muneeb, 19, snaps back. "We also don't want to rot inside a police station. Let's go." A little before midnight, the trio quickly shuffles through the slender lanes of Batamaloo, a middle-class neighbourhood in Srinagar, the capital of Jammu and Kashmir.
Shahid stops, stubs his cigarette and opens a wooden door. He walks on a concrete pathway, to the main entrance of the house. Slowly opening another door, the three friends enter a pitch-dark room. Shahid turns on the lights.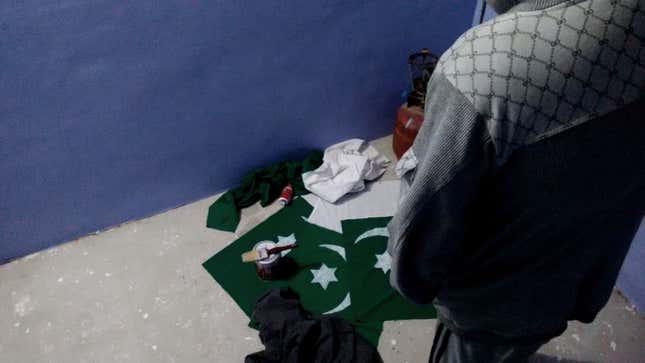 In one corner, Pakistani flags lay spread on the bare floor. "It's all homemade," Shahid explains, "the safest option." The green and white cloth is procured from the nearby market, and the crescent and star are hand-drawn with fabric paint.
"I don't fear anyone," Shahid, a college student, declares. "Making a Pakistani flag and raising it is a form of protest for me."
In the last two months, such Pakistani flags have reportedly been raised in different separatist rallies across Kashmir. The most controversial of these events was perhaps when Masarat Alam, a separatist leader, was arrested after allegedly raising a Pakistani flag on April 16.
Since then, there has been a rash of incidents where Pakistani flags have appeared in different parts of Kashmir.
Middlemen and artists
"Pakistani flags have been hoisted in Kashmir since 1947 and the only reason for this is that people of Kashmir see themselves as a part of that country. They have sentiments and aspirations attached to Pakistan," says Ayaz Akbar, a spokesperson for the Hurriyat Conference, an alliance of separatist parties in Jammu and Kashmir.
Akbar claims that Pakistani flags were raised during protests in 2008 and 2010, but went unreported. "Now that the media doesn't have anything to report, they are trying to over-hype the issue," he argues.
The Peoples Democratic Party—part of the ruling alliance, along with the Bharatiya Janata Party—terms the flag displays as a "publicity stunt."
"Separatists and their supporters raise Pakistani flags to gain much needed attention and to register their presence," says the president of the party's youth wing, Waheed-ur-Rehman Para.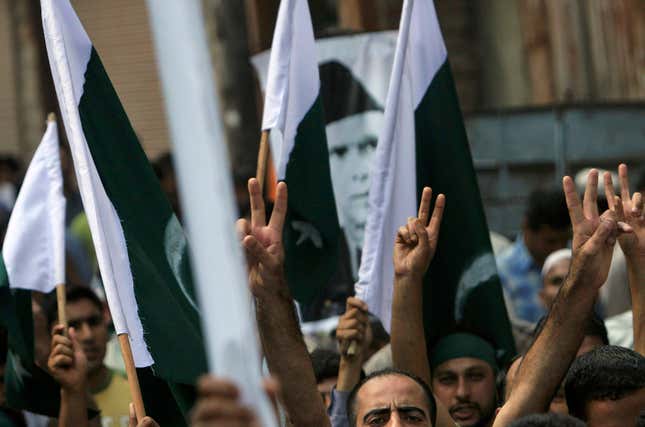 Although this has apparently been a feature of pro-freedom rallies in Kashmir for decades, the new government is having none of it. Alam, for instance, was arrested in April for "seditious activities" after he allegedly waved a Pakistani flag. And a wider crackdown may be underway.
"It's not so difficult to make a Pakistani flag at home," says Para, "and police is on a hunt to track down people who are behind all this."
That possibly includes the likes of 23-year-old Tanveer from Nowhatta, a congested neighbourhood in the heart of Srinagar city. Nowhatta has been an epicentre of resistance in Kashmir since the emergence of an armed rebellion that began in the late 80s.
On a cold rainy afternoon, Tanveer takes out his mobile phone and pulls up photographs from a protest rally, where Pakistani flags were raised. It took place outside the Grand Mosque in Nowhatta last month.
"You see that guy with a face mask. Yes, the black mask," he says, zooming into the image of a young man holding a Pakistani flag. "That's me."
"You see that flag in my hand?" he asks. "I made it."
Tanveer apparently made the flag a day before the protest rally. He also ordered five more from an artist who he knows personally. The flags were eventually distributed among his friends and raised at that rally.
"It takes time to make a flag," he explains. "So, I place an order with a trusted guy and next day, the flags are ready. It only costs (between) Rs50 and Rs80 per flag."
The artist who makes these flags, according to Tanveer, doesn't quite know who places the orders.
"The guy I give my orders to is an azadi pasand (freedom sympathiser)," he explains, "I know he won't tell anyone but for the sake of precaution, I take flags from him through a middleman, who takes his commission of (between) Rs10 and Rs20 per flag."
"It works fine for me."
Risky business
But even all these precautions don't always work.
It was an early winter morning last year when Tanveer was arrested for circulating Pakistani flags. He was whisked away in a police jeep from his house and taken to a nearby police station.
"But I didn't stop making these flags. I believe this is the best way to raise your voice," he says. "Kashmir is a disputed territory and it [hoisting of Pakistani flags] is not a crime but a matter of sentiment."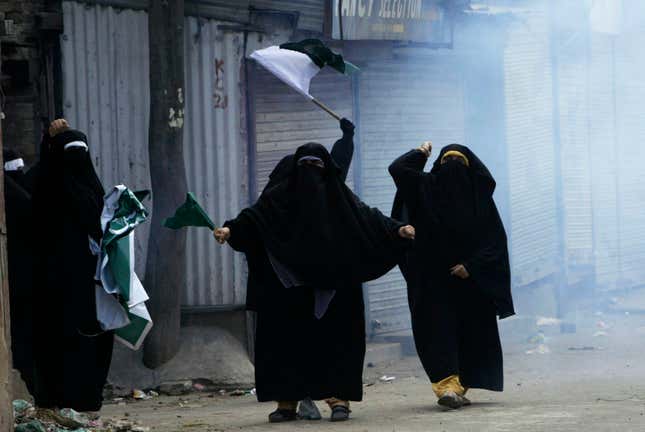 Not everybody, however, is making these flags because of their political beliefs.
Few days before separatist leader Shabir Shah's arrest on May 29, for allegedly raising a Pakistani flag, two boys entered a flag-making shop in the main market at Anantnag, a town in south Kashmir.
Riyaz, 38, who has owned the tiny establishment for a decade and a half, had no clue of who they were. They asked him to make four Pakistani flags for Rs500, and promptly arrived the next day to pick up their order.
"I didn't know them. I hadn't seen them before," Riyaz says. "They didn't say anything. I handed them the flags and they left."
He doesn't quite know if those were the same flags that were raised in the rally few days later. "It's my job to make flags and I do it for money," he explains, while working on his latest creation: A flag that reads 'Keep your environment clean.'
Made in Kashmir
In north Kashmir's Sopore, a town on the banks of the Jhelum, Pakistani flags have been spotted at rallies or sometimes even seen hoisted atop mobile towers and other buildings.
But here, going to a shop to order a Pakistani flag is simply too dangerous. That's because Sopore is among the most volatile towns in Kashmir, with a massive paramilitary presence. So, protestors conjure up methods to make their own at home.
Inside a newly built house, Umar, a 23-year-old student, sits next to his close friend Arshid, who was arrested for stone pelting during protests last year, and released four months later.
"Tell him (the reporter) about that flag we made last year. Tell him how we made it," Umar urges his friend. "Tell him."
"We stole a green flag from a mosque, stitched a white cloth to it, and then painted the crescent and the star with correction fluid," Arshid reluctantly explains.
"We are not professionals," Umar adds, "and that was our first try."
Despite that bizarre attempt, he is convinced that homemade flags are an easier and safer bet.
"They (police) know these flags are made by protesters in their homes but they can't arrest people until they know who made them," Umar says, before rebuffing theories about Pakistani flags being brought from across the border. "Why would somebody get these flags from the border? Who will get them? We make them here."
Back at Shahid's place in Srinagar's Batamaloo, the three friends are still talking about the flags. Altaf quietly draws the curtains. "This is very risky, you see," says Shahid. "But you know what? Once these flags are out in the open, every camera is going to zoom in on them."
Names and places have been changed to protect the identity of the people interviewed.
Sheikh Saaliq is a freelance journalist based in Kashmir and New Delhi. He tweets @Sheikh_Saaliq. We welcome your comments at ideas.india@qz.com.