I am a 29-year-old woman from a middle-class Indian family from a Kolkata suburb.
My father worked with the Indian Army. Once a year, during the vacations, my family travelled in trains using my father's leave travel allowance. Those journeys weren't particularly luxurious, still I wanted to travel far and wide.
I had always dreamt of seeing the glaciers of Antarctica, the mummies of Egypt and the Wildebeest migration of Maasai Mara in Kenya. But until 2011, I had never travelled outside India.
Today, I have seen five out of the seven wonders of the world, and have visited 41 countries across all seven continents. All that, in three-and-a-half years.
And all, except my first trip, were done using borrowed air miles, heavily discounted airfares and loyalty points at hotels. I stayed at luxury hotels and even travelled business class from New Delhi to Switzerland. But it hasn't come easy. I've spent over 3000 hours reading about airline policies, and detailing and planning trips.
How did I do it?
I got married to Sujoy Mitra, a chemical engineer and MBA graduate, in December 2011. Soon after, we travelled to Egypt.
That was my first trip outside India and planning it wasn't easy because I wanted to save as much money as I could. My husband and I researched for months. So, instead of taking a direct flight to Cairo from Mumbai, we flew from New Delhi to Riyadh, and waited 17 hours at the airport, since tickets from Riyadh to Cairo were only Rs17,000.
In Cairo, we travelled by local buses and reached Sharm el-Sheikh. We chose to go there since it was the sixth cheapest place to party in the world, according to a report, and hotels weren't expensive. We checked into the Marriott, which cost about Rs3,500 per night.
I got a discount from a popular website for Rs1,000 for every hotel booking, and we checked in and out of the Marriott every single day to claim that amount. On our return to India, we started studying the points programme of hotels and air miles policies. That's when I realised that a lot of people do not claim their points or miles.
I started asking my friends and colleagues to share their boarding passes and their miles. My husband did the same with his friends, colleagues and corporate acquaintances. These miles were accrued even on small trips, and most of these people were too lazy to claim them for their own benefit.
Senior corporate executives travel business class and on each trip they get more than 100,000 miles. Together, my husband and I started collecting those miles.
With their permission, we created accounts in their names into which their points would be accrued. Then, we would book our tickets using their accounts. Airline policies allow us to book tickets using miles accrued by another individual. They don't care how miles are used.
I also applied for a credit card that gave me access to Air India's loyalty programme. Air India has an alliance with 20 other airlines and I could book tickets for my friends or colleagues through my membership card and collect points.
For hotels, too, we did the same. We would borrow the points earned by friends and use them when we had to book our stay. And within hotel chains, for instance, at the Hyatt, there are seven categories to choose from. We chose to stay in the first category since the number of points needed are less, yet the rooms are pretty comfortable.
Advance booking is key 
Advance booking also gives me time to do other research, and optimise cost.
For my husband's birthday trip in July, we are visiting the Maldives, Vietnam, Indonesia and Cambodia. For this trip, I've made good use of the ticket sales on budget airlines. When domestic carrier SpiceJet announced a discounted fare offer, I booked a ticket from Kochi to Male. And when Indigo announced their discounted offer, I booked tickets from Delhi to Kochi.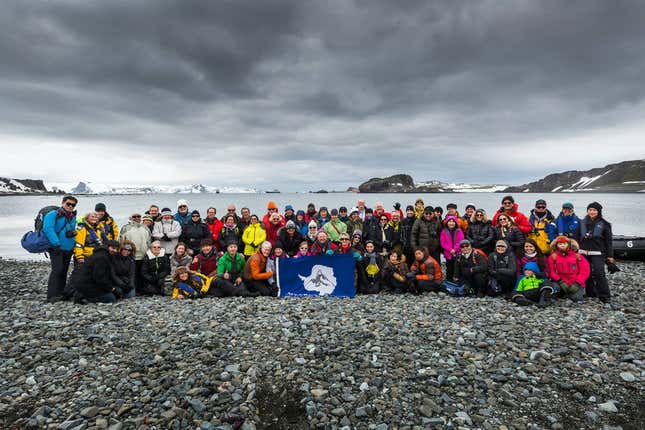 Through an Air Asia offer, I  booked tickets to Jakarta and Phnom Penh from Kochi. From Phnom Penh, we are taking a bus to Ho Chi Minh, and then flying back to Delhi on Jet Airways, which had a discount offer.
Usually, we plan our trips between eight and 12 months in advance. That's because there are few seats with frequent flyer points on each flight, and we club them with holiday periods like Holi, Diwali or Dussehra. That way, just two or three days of leave from work gives us a week's vacation.
Today, my husband's parents are also following in our footsteps and doing a world tour, often using borrowed air miles and points. They are from a small town in Uttar Pradesh, and we are glad we could show them a way to see the world.
Sharmistha and her husband have applied to the Limca Book of Records because they believe that among Indian couples, they have travelled to the maximum number of countries across all seven continents. 
We welcome your comments at ideas.india@qz.com.