India now has a new class of soldiers to tackle animal poachers—wildlife sniffer dogs.
On June 20, these dogs were inducted into the forestry departments and police forces of various states after a "Passing Out Parade" held in Bhopal, in Madhya Pradesh.
Marching in front of a rapturous crowd was the batch of 14 sniffer dogs—all German Shepherds—along with their 28 handlers. Their induction marks a doubling of India's strength of wildlife sniffer dogs.
It wasn't easy though. These dogs had to undergo a number of gruelling sessions to be trained at detecting wildlife products such as tiger skins, ivory tusks and bones of endangered birds. They are also trained to locate animals that have sustained injuries, which helps authorities to get hold of poachers swiftly.
The dogs will now be deployed in seven states that are home to large tiger populations—Madhya Pradesh, Assam, Uttarakhand, Maharashtra, Tamil Nadu, Jharkhand and Karnataka.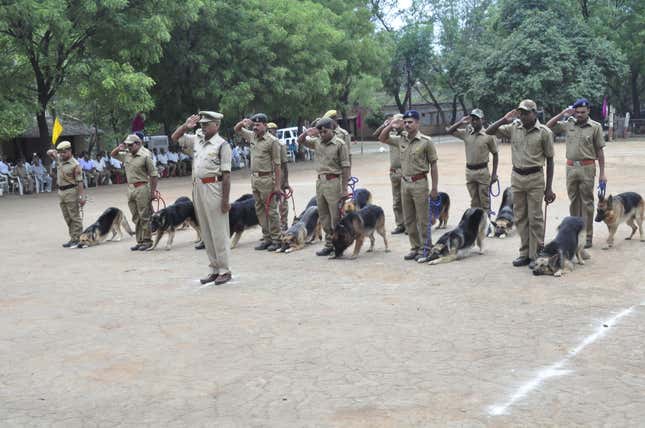 The programme, jointly funded and conducted by the World Wildlife Fund (WWF) and TRAFFIC, a wildlife trade-monitoring network, hopes to train even more dogs to drastically decrease animal poaching incidents across the country.
Sniffer dogs are usually used by the police to detect explosives and drugs. But this isn't the first time that sniffer dogs have been part of India's plans to prevent the killing of animals. Since 2008, 13 sniffer dogs have been involved in more than 100 cases, identifying body parts of animals across the country.
As testimony to the support and relief they provide to the forest and wildlife departments—Jimmy, one of the sniffer dogs, was awarded a certificate of merit in 2013 for helping the authorities crack 25 wildlife poaching cases.
Wildlife crimes
India plays a significant role in the worldwide network of illegal wildlife trade, particularly as a source of tiger bones and body parts and rhino horns. According to Interpol, worldwide illegal wildlife trade is estimated to be worth about $20 billion (Rs1.27 lakh crore).
Within the country itself, the network for wildlife crime has become increasingly sophisticated, particularly in states such as Uttarakhand, Uttar Pradesh, Maharashtra and Madhya Pradesh, resulting in a massive threat to the country's native species.
India's tigers are particularly at high risk from poaching because their bones are often used in traditional Chinese medicine and their skins command high prices in international markets.
In 2013, the number of tigers killed reached its highest level in seven years, with 39 recorded deaths.
However, the total recorded wildlife crimes in the country declined by about 14% between 2010 and 2012.
And with its growing canine army at hand, the government is looking at bringing that number down even further.