Europe's oldest man—a 111-year-old Sikh, who celebrated his birthday just weeks ago—has died.
In his lifetime, Nazar Singh spent almost as many years in India as he did in England. Born in a village in British India's Punjab in 1904, Singh spent his childhood on a farm. From when he was 10, Singh started working in the fields, helping out with sugarcane, rice and wheat crops.
In 1934, Singh and his brother moved to Sindh—now in Pakistan—in search of work. They spent a year building bunkers for the army during the Second World War. The move was temporary, and the brothers eventually returned to Punjab.
In 1965, Singh emigrated to England—at the age of 61. For the next 24 years, he worked at a metal workshop in Walsall, an English industrial town, before moving to Sunderland in north east England in 1989.
Singh died in India, where he moved back with his family in January this year. He was suffering from multiple illnesses. "It was early hours on Saturday (June 20), just before Father's Day," one of his grandsons, Harvinder Gill, told the Guardian.
"He has had pneumonia but he was a fighter," he said. "Unfortunately, his time has passed."
During his lifetime, Singh lived through a long list of historical events: two World Wars, the Great Depression, India's Independence, the Partition, and 9/11.
Good food and better family
In an unmistakable Punjabi style, Singh had a peg of whiskey every night. Even for his birthday last year, on June 8, he apparently sipped on some whiskey—and then posed with a mug of Stella Artois beer.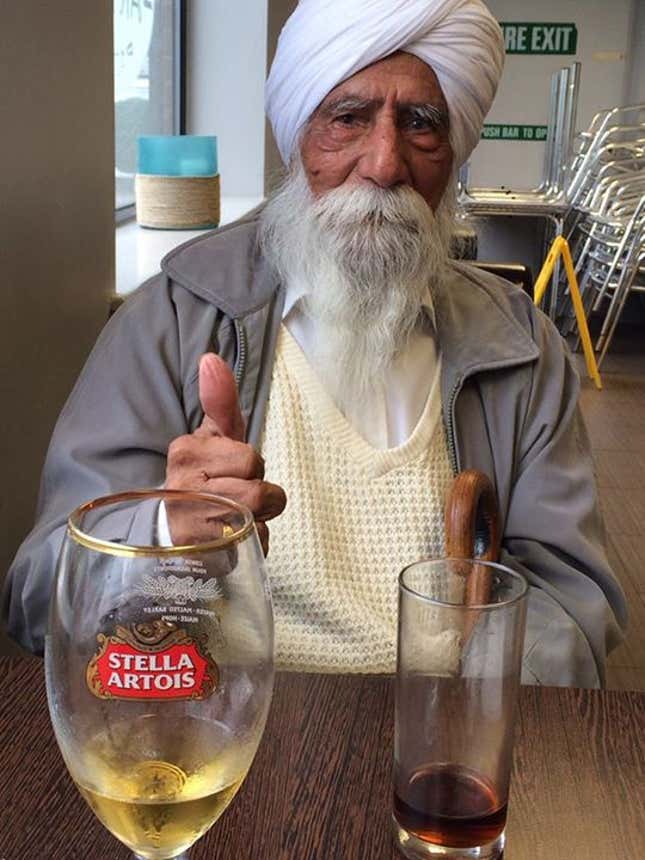 His favourite tipple helped him live long, according to one of his sons, Chain Singh Gill, besides eating fresh and healthy—including lots of milk and fruits—and sleeping plenty of hours every night. Singh did not smoke.
"He doesn't eat junk food and that's what has kept him alive," his son told the British tabloid, Mirror, earlier this month.
Even at the age of 111, the centenarian had a few original teeth left, and had perfect hearing. He was an avid gardener—a passion he did not let go off until five years ago. "We have run out of ideas for presents as he has everything he needs. My father is really happy, he doesn't worry about anything," his son told the Daily Express earlier this month.
Singh had nine children, 34 grandchildren and 63 great-grandchildren. And that along with a good diet, he said last year, had kept him going. "I have got a good family behind me, and that is why I have got that far. I wouldn't have lasted this long if they hadn't looked after me," Singh had told the Daily Mail last year.
Singh's wife for 70 years, Narajan Kaur, died almost a decade ago at the age of 90.
When he turned 100, the Queen of England sent him a letter. She continued the practice until his very last birthday.