This year on Father's Day, my three young sons drew me cards, as they always do, laden with very generous compliments.
As they gushed about my highly falsified superhero dad capabilities, it brought home just how much influence we as parents have on our children. It is our responsibility as parents to guide how a child grows up and how a child will eventually parent.
As I mulled over this, I was struck by just how much similarity there is between being a parent and the leader of an organisation. Just like a parent, a good leader can nurture an employee's positive self-esteem by helping them discover what they are good at doing. Part of a child's self-esteem comes from feeling competent and skilled at something they enjoy.
By creating opportunities for children to explore different objects, activities, and people, and nurturing those interests, a parent plays a big role in helping their children be successful. All of the above would apply to a leader's role in an organisation too.
I have always been cognizant of this correlation albeit subconsciously, until now. As I have always said to my employees, "We are family and I see myself having 650 children that I am responsible for."
As a leader, I strongly believe that the first and primary responsibility is to take care of his/her team members. They are the most important stakeholders in any organisation.
To me, my employees always come ahead of our customers. After all, it is your employees who put their belief in your vision and stake their lives and that of their families to your vision for the organisation when they sign their offer letters. When things go awry, they are the ones who are by your side in the trenches, giving their nights and days to make your vision a reality and the business a great success.
Throughout my different roles in various organisations as a leader, I have consistently been fiercely protective of my team and have always believed that it is my job to help them achieve their dreams and aspirations and most certainly achieve more than their perceived potential.
As a father to three little boys, despite a very hectic schedule, I take pride in being very involved and I enjoy seeing my boys grow. This Father's Day, I mulled over what as a leader and as a father I could do to give my employees and my sons opportunities that will enable them to become constantly better than they were yesterday.
Below are some of my thoughts that I put to practice wherever and whenever possible:
Do small projects together
Do projects that will create an impact. I do these little assignments with my boys that allow them to get involved, take the lead and build and play. This helps build their self-esteem and confidence. Every parent knows that children need to be active and they need to be engaged. It's no different with my employees. I always have our employees do mini projects. These could either be self-initiated or topics and goals set by me. At the end, it gives them confidence and self-esteem in knowing a particular topic and driving cross-functional projects.
Teach them to solve conflict
s
Conflict is very common whether you are a two-year-old child or a 50-year-old pilot. As opposed to solving the conflict for them, it is more important to give them the ability to solve it. In positions of authority it may be easier to mandate solutions. As a parent, I have seen others who use the "time-out" or "go to your room" instruction as a way to break up an immediate conflict. While each parenting style is different, I personally prefer to sit down with my kids, talk to them and just be there with them. They need to know they are being listened to and that we understand that their conflict—which may be minor to us—is important to them. I believe this builds both a foundation of stability and comfort. With our employees it is very much the same; in situations of conflict, knowing you are there with them and that you understand and will listen to them is very important.
Adventure time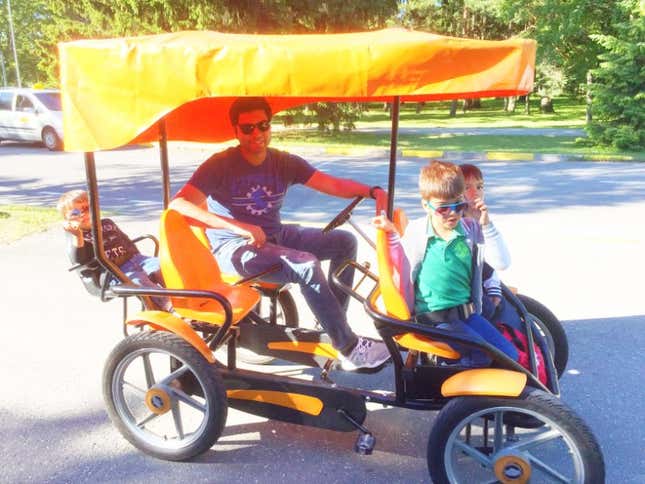 I love doing something new with my boys every weekend. It could be something simple, like a picnic outside the airport watching planes take off, or more involved such as building a backyard tree house. Even putting a sheet out in your backyard and sleeping under the stars is something new and exciting for them. At work, I like to mix things up. For example, I often host "lunch and learn" session where our employees surprise us with topics and teach us something. It gives people something different to do and take leads in areas they had not thought that they could. All of us love a little adventure so why not bring that into the workplace.
Positive re-affirmation 
You can never say "I love you", "please" and "thank you" to your children enough. This is something so simple and primary, yet we sometimes tend to forget. I am very particular about this and ensure my children receive adequate positive reaffirmation. Similarly at the workplace, in high stress environments such as the aviation or service sectors, especially those in startup modes, tempers flare and quick decisions and direct feedback need to be given. However, whenever a job is well-done, even if it is something very small, it is very important to recognise and praise efforts. This keeps employee motivation high and instills the urge to excel in everything they do.
Cook together
This is the one time there can be too many cooks in the kitchen—I love Sunday mornings with my boys when we cook together. Waffles and pancakes are favourites at home. My boys love breaking the eggs, whisking them, and using their hands to mix the dough. And who does not like making pancake circles on the frying pan? Not only do they love the meal but it gets them involved using many skills that may seem small but are critical for their development. Once they grow older, hopefully I can get some more hours in bed on Sunday mornings. At work too, while we have not cooked together as a team yet, I ensure that we have adequate playtime doing team-building activities where everyone works together for a fun output.
Empowerment is key
Giving children the opportunity to make their own decisions is one of the most important things as it helps build confidence in a developing child. I try and give my sons the opportunity to make decisions as early as possible. I let them choose their own clothes, and at grocery stores we stand in the aisles and discuss what cereal they would like to buy and what they would like to cook. Empowering children is a great way of giving them confidence and the feeling of self-worth. At work, empowerment is key as it instills a sense of responsibility and definitely self-worth in individuals. It also helps reaffirm your employee's sense of belonging in the organisation. There have been numerous studies highlighting the positive impact of employee empowerment and how it creates a win-win situation for all.
Value of things
I spend time teaching my children about saving money and the value of things. I have a rule about toys: they have to use a bit of their allowances and have a one-in, one-out rule where for every toy that is bought, one toy is given to a charity or orphanage. This teaches them that giving can be as rewarding as getting. Similarly, we work in an extremely competitive environment where efficiency and lower costs are the key to success. It is only when your employees understand the value of office equipment right down to the cost of printing a sheet of paper and the impact of savings wherever possible that you truly succeed as a leader. While we are not penny wise, pound foolish, our employees are aware of the cost savings in even small things such as printing a single sheet of colour versus a grayscale printout. It is these small details that help us manage our costs efficiently.
Be involved
In today's world we often take things for granted. Children look up to you and every occasion—parent-teacher conference, sports day, annual day, first day—is something that is very important to a child; we sometimes forget just how much we looked forward to having our parents share these milestones with us. At the workplace too, a simple thoughtful bouquet of flowers on an employee's wedding anniversary or a cake to celebrate their birthday makes a huge impact on the employee's well-being and their sense of belonging to the organisation. They are family, after all, and must be treated like one.
Live by example
My boys are observant and they always notice what I am doing as opposed to just what I say. It is important that you embody everything you want your child to be and practice what you preach. As the leader of an organisation, you set the rules by following them yourself first. For example, if you are always late to meetings you cannot expect your employees to arrive on time. Leading by example is key to setting ground rules in any organisation.
Don't lecture, explain
Nobody likes being preached to, neither children nor adults. Lecturing is a one-way dialogue but for effective communication there must be a consensus from both parties. Sometimes the issue is that the child or the employee is  actually not aware of what they have done wrong and the only way to resolve this is by explaining not lecturing. Explaining the problem with their actions also means that the child or the employee understands the issue and through my experience I can say that such issues rarely repeat thereafter.
This post first appeared on LinkedIn.com. We welcome your comments at ideas.india@qz.com.