Like many government-run entities, public universities in India often get criticised by students and their parents for their poor infrastructure, ranging from overcrowded hostels to stinking toilets.
The story, however, is very different for sprawling private universities, many of whose campuses resemble mini-townships. These universities' brochures highlight not just their "world-class" education, but also fancy facilities, such as air-conditioned rooms, heated swimming pools and shopping malls that sell everything from stationery to branded clothes. The cost of these are passed on to the students.
We looked at the luxuries some private universities in India have to offer. This story is based on the information available on the websites and brochures of these universities. The reporter has not personally visited all the campuses mentioned.
Retail therapy
Lovely Professional University (LPU), situated on the New Delhi-Jalandhar highway in Punjab, is a private, semi-residential university that claims it has the largest campus in the country. It houses most of its 30,000 students in its 600-acre campus.

Superficially, it resembles a first-world township, with 11 libraries, four auditoriums, one open air theatre, six bank branches, 40 ATMs and a hotel with 25 rooms. What stands out is the Uni-Mall, a shopping complex with banks, offices, clothes and department stores, and a photo studio, among other things.
The university claims that the Uni-Mall is more than a shopping complex; it indirectly promotes entrepreneurship because students run some of these stores—gaining experience and earning an income. "The university tries to provide its students with all the resources required for setting up of ventures," LPU claims on its website.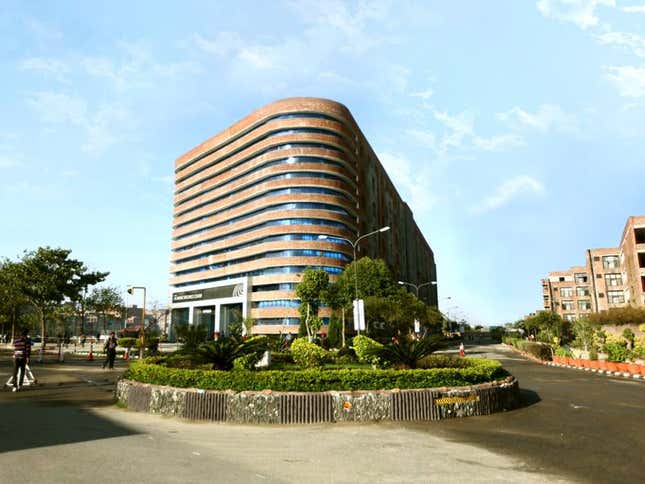 Grooming

Amity University, one of India's largest private universities, has a L'Oreal salon on the campus. The university also houses a department store, stationery store and a free laundry service.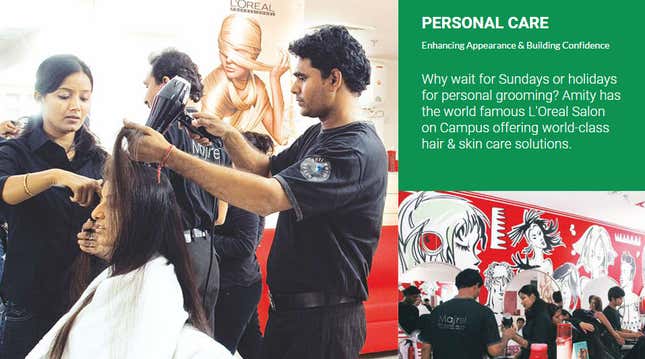 "To make life easier for students, Amity offers free laundry service. All clothes are washed in world-class washing machines and ironed," the university claims on its website.
Amity does not have a monopoly on beauty salons. Lovely's Uni-Mall boasts of some; Pravara Institute of Medical Sciences in Ahmednagar, Maharashtra has a couple; and so does Sathyabhama University, a private university in Chennai.
Fitness
Public universities usually have gyms, but those in private universities, such as Amity, Galgotias, Lovely and Symbiosis, are much more luxurious. Galgotia University, in Greater Noida near Delhi, has a dance and music studio, as well as gyms inside the hostels.
Jain University, another private institution in Bengaluru, has a cardio-fitness centre, a sports stadium, a steam sauna room and a jacuzzi.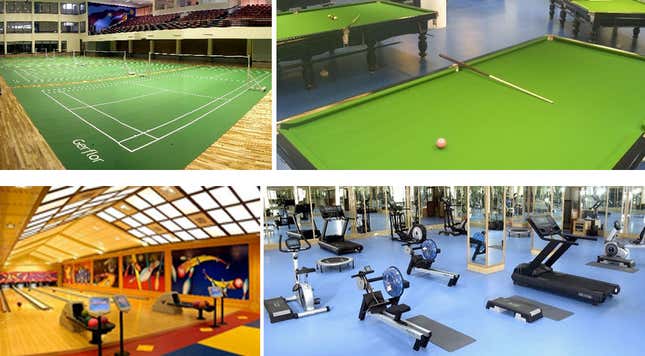 Helipads
Many private universities, including Symbiosis' Lavale campus near Pune, have helipads. Some public universities, too, boast of helipads. These are Annamalai University in Tamil Nadu; Tezpur University in Assam, where president Pranab Mukherjee arrived by air last year; and Banaras Hindu University that has played host to prime minister Narendra Modi's chopper while he was on a roadshow during last year's general elections.
This post first appeared on Scroll.in. We welcome your comments at ideas.india@qz.com.