To most people, Indian food means buttery naans from Punjab, south Indian dosas or Bengali fish curries. But there is a whole world of foods from the country's past that is now less ubiquitous but no less delicious than these more common dishes.
Over the years, the Indian diet has undergone a transformation because of changing lifestyles and the easy availability of packaged foods. The result: many dishes that were once prepared regularly at home have been forgotten, replaced by meals that are quick to the table.
Quartz spoke to a few chefs and experts to give you a taste of some of India's forgotten recipes.
These ones need time
Shab deg (Kashmir)
According to Chef Parvinder Singh Bali of the Oberoi hotel group, Shab deg is a traditional Kashmiri dish cooked overnight. It is made with whole turnips, Kashmiri ver, mutton balls, and a variety of spices.
"People have long forgotten the art of making shab deg as it is time consuming," Chef Bali told Quartz in an email, adding that the process usually takes between 12 to 14 hours.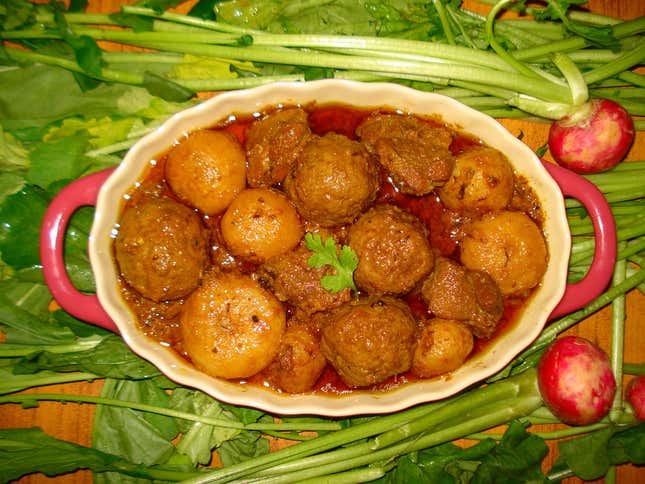 Ingredients   
Mutton – 1 kg
Mince meat – 500g
Turnips – 250g
Onions – 600g
Garlic – 50g
Ginger – 50g
Green cardamom – 3g
Cumin powder – 5g
Shahi jeera powder – 3g
Red chili powder – 15g
Turmeric – 5g
Kashmiri ver – 1
Raw papaya – 20g
Garam masala – 1tsp
Curd – 500g
Balai – 250g
Almond paste – 50g
Lime juice – 1tbs
Ghee – 500g
Cloves – 5g
Cinnamon – 5g
Pepper – 5g
Saffron – 5g
Kewra jal – 30ml
Salt – to taste
Method
Roast the turnips in a tandoor till the skin can be easily removed. Peel and prick all over with a fork.
Dissolve half of the saffron in kewra jal.
Grind the garlic to a paste. To one part of the paste, add turmeric, salt and the dissolved saffron. Apply this mixture on the turnips and keep aside for 15 minutes.
Then, fry the turnips in ghee till they are golden brown in colour. Remove and keep aside.
In the remaining ghee, fry sliced onions till they are golden brown and crisp, keep aside.
Grind the ginger to a paste and divide into three parts.
Grind the cloves, cardamom and cinnamon to a paste.
To prepare the yakhni (a yoghurt and saffron-based mutton broth)—In a pan add half of the fried onions,  one part of the garlic paste, one part of the ginger paste and one part of the clove, cardamom and cinnamon paste. Then add half of the mutton pieces and enough water to cook the meat to a very soft texture so that it can be strained to obtain the yakhni.
When the meat is done, mash it and extract the bones. Strain through a sieve or muslin cloth and then keep the yakhni aside.
Mix the minced meat, papaya paste, one part of the ginger paste, one part of the garlic paste and the remaining clove, cinnamon and cardamom paste along with half  a teaspoon of garam masala powder.
Keep aside for 30 minutes. Then, shape into balls or koftas approximately the size of the turnips. Deep fry in the ghee and keep aside.
Then, add the remaining mutton pieces, fried onions, ginger and garlic pastes, cumin, shahi jeera powder, chili powder and the garam masala into hot ghee. Fry until the meat is browned.
Add beaten curd, the yakhni, beaten balai, almond paste, fried turnips, mutton koftas, and lime juice.
Stir gently. Add sufficient water to form a thick gravy and to cook the meat.
Crumble and stir in the Kashmiri ver, seal the lid on the deg with a flour dough and put on dum by placing some live charcoal on the lid and some below the deg.
Let it cook through the night. In the morning, when you open the deg, the ghee will be floating on the top and the dish will be ready to serve.

Recipe courtesy Chef Parvinder Singh Bali.
Zameen doz (Awadh)
This fish dish is cooked by burying it under the ground and was traditionally prepared by wandering hunters and nomads.
"(But) over the period of time, people have moved from the wilderness to lush homes and the dish has lost its recipes and skill," Bali said.
Ingredients
Sole Fish – 1kg
Gram flour – 100g
Aniseed powder – 30g
Caraway powder – 30g
Curd – 250g
Almonds – 50g
Pistachios – 30g
Desiccated coconut – 30g
Chironji – 20g
Poppy seeds – 20g
Ginger – 30g
Garlic – 30g
Chili powder – 10g
Salt – 10g
Mace – 1g
Black cardamoms – 1g
Cloves – 1g
Black peppercorns – 5g
Saffron – 0.5g
Lime juice – 15ml
Refined oil – 20ml
Soak the almonds, pistachios, desiccated coconut, poppy seeds and chironji in curd and then grind into a paste.
Grind the dry spices into powders.
Mix the paste and the dry spice powders together to form a marinade for the fish. Marinate the fish in this and place in an earthenware vessel. Cover with a lid.
Dig a hole in the ground that is 1 foot deep and place the vessel inside. Put mud over the hole to close.
Light a small fire on top of the hole and let the smouldering charcoals remain there for 4-5 hours.
Dig the vessel out. Open the lid and then serve the fish along with bread.
Recipe courtesy Chef Parvinder Singh Bali.
Special ingredients
Some traditional recipes focus on a particular ingredient that people living in metros are unlikely to easily come across in supermarkets. One such example is the protein-rich sangri ki phali, the pods from the Sangri tree found in the Thar Desert in Rajasthan. These pods are dried and later cooked to make vegetarian dishes, such as sangri ki sabzi.
Sangri ki sabzi (Rajasthan)
Ingredients
Sangri – 250g
Whole coriander seeds – 1 tsp
Asafoetida – 1 pinch
Whole red chilies – 4
Mango powder – 1 tsp
Salt – to taste
Method
Soak sangri in warm water and keep overnight. (In case you forget, boil in water and let it remain for an hour.) Now, in warm oil add coriander, asafoetida, whole red chilies, sangri, mango powder, and salt to taste. Stir it till it matches your idea of "cooked." Some like it well done, some like it sautéed. In Rajasthan, sangri is eaten with chapatis of bajra or jowar, with a generous dollop of butter on top.
Recipe courtesy Sunita Narain, director general of Centre for Science and Environment and co-author of First Food: A Taste of India's Biodiversity.
Another example is Kandathippili (the root of the long pepper plant) which was commonly used by Tamilian families to make healthy rasams. According to Quroa user Sharanya Sunderamoorthy, it is rare to find the herb in stores today, meaning that fewer people cook this specific kind of rasam.
Kandathippili Rasam (long pepper rasam)
Ingredients
Tomato – 1 large chopped
Tamarind pulp – 2 tbsp
Toor dal, cooked – 1/4 cup
Turmeric powder – 1/2 tsp
Salt to taste
Sugar – 1 tsp
For the rasam masala:
Oil – 1 tsp
Thippili (long pepper) – 2 pieces
Kandathippili (root of long pepper plant) – 4 sticks
Whole pepper – 1 tsp
Dry red chili – 2
Coriander seeds – 2 tblspn
Curry leaves – 1 sprig
Cumin Seeds – 1 tsp
Garlic – 3 cloves
For Tempering:
Oil – 1 tbsp
Mustard seeds – 1 tsp
Urad dal – 1 tsp
Asafoetida – a pinch
Curry leaves – a handful
In a pan, heat 1 teaspoon of oil and add all of the ingredients for the masala, with the exception of the cumin seeds. Roast these ingredients for a few minutes. Then, add the ingredients to a blender, along with the cumin seeds, and mix to achieve a coarse texture.
In a kadai, heat some more oil. Add the coarse paste and saute for a minute. Then add the tomatoes and cook until they begin to disintegrate. Now, add the salt, sugar and some turmeric powder and stir well. Next, add the ground masala and stir for a few more minutes. Then add water and the tamarind pulp and bring the liquid to a boil.
To finish, add the cooked dal and stir well. Bring the mixture to a boil again. Once it has boiled, it is ready to serve with rice.
Passed down through generations
Some recipes originated from particular communities in India and were passed on from generation to generation over the years. But with busy modern lives, the younger generation is unlikely to take the time required to make these traditional dishes.
Irupuli kozambu, for instance, is a dal dish made with yoghurt and tamarind that was passed down through generations among the people living in the ancient city of Tirunelveli in Tamil Nadu.
But according to Vasudhaa Narayanan, 24, whose mother learned the recipe from her grandmother-in-law, the dish is quite rare today.
"It's a bit cumbersome to make, because it involves roasting, drying and blending the dal," she told Quartz.
Irupuli kozambu (Tamil Nadu)
Ingredients
Chana dal – two tablespoons
Red chillies – 4/5
Fenugreek seeds – two teaspoons
Coriander seeds – 1.5 teaspoons
Coconut, grated – 1 cup
Tamarind – the size of one lemon
Thick sour yogurt – 1 cup
White/red pumpkin/ladies finger – 1 bowl
Method
Soak tamarind in hot water for 20 minutes and use the tamarind juice. Over the fire, cook the bowl of vegetables in the tamarind water.
In a vessel, fry the chana dal, red chillies, fenugreek seeds and coriander seeds in oil. Then, using a blender, mix these ingredients with yogurt and grated coconut until it forms a smooth paste.
Add this mix to the mixture of tamarind and vegetables. Allow it to boil on low flame for twenty minutes. Add salt and garnish with mustard seed and curry leaves.
Recipe courtesy Narayanan's mother, Ramaa Shankar.
Featured Image by Pritya Books on Flickr, licensed under CC-BY-3.0
Send us more recipes at ideas.india@qz.com.