Deep contemplation often happens in fleeting moments of repose—for instance, in the back of a taxi cab.
That idea hasn't been lost on a team of designers that's commemorating Pakistan and India's independence days (Aug. 14 and 15 respectively) with a politically-inspired taxi cab makeover.
Taxi Fabric, as the designers call their group, have been giving drab taxis in Mumbai colorful revamps since 2013. As a symbol of peace between the neighboring countries with a long history of conflict, the team announced today (Aug. 14) its partnership with a young Pakistani graphic designer and illustrator Samia Arif to create a special design that underscores the similarities between the two countries. "India and Pakistan—separated at birth, siblings who grew up and forgot how much they love each other," Arif said in an interview on Taxi Fabric's blog.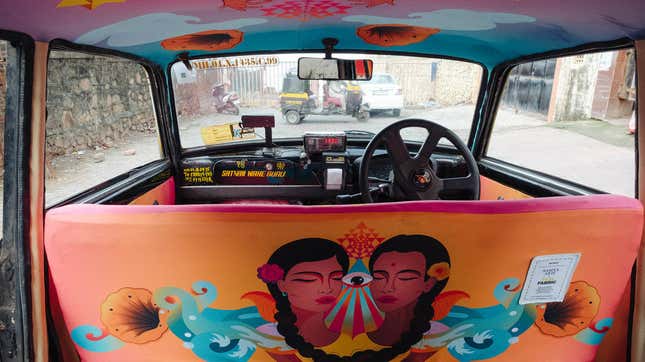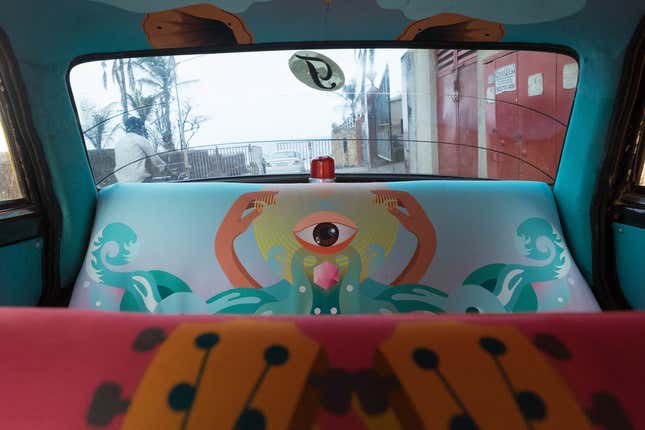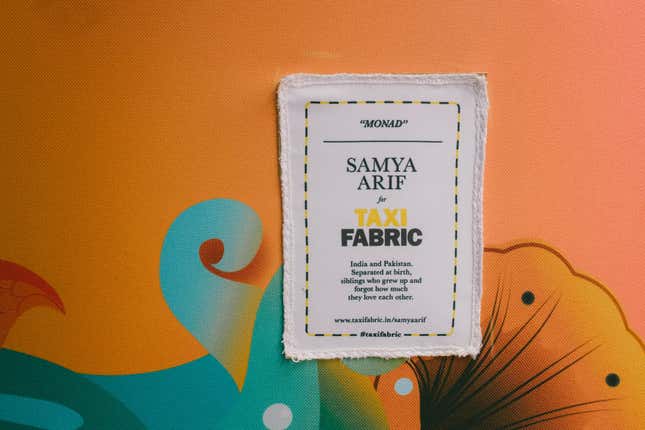 Called "Monad," Arif's concept features hand gestures and geometric patterns that bridge both cultures and religions, such as a dua and namaste. "I based my designs on the idea that Indians and Pakistanis are essentially the same people, coming from similar roots and focusing on our commonalities and unique characteristics at the same time," she explained in the Taxi Fabric interview.
As with the previous taxi cab makeovers, Arif's illustration was reproduced on a large format digital printer, then transferred to a durable polyester-based fabric. The bolts of fabric for Taxi Fabric's designs are then taken to a tailor who makes the custom-fit coverings for the upholstery of the lucky taxi cab. This process can be laborious—entailing precise measurement, fittings, and adjustments so the placement of design motifs match what the designer intended.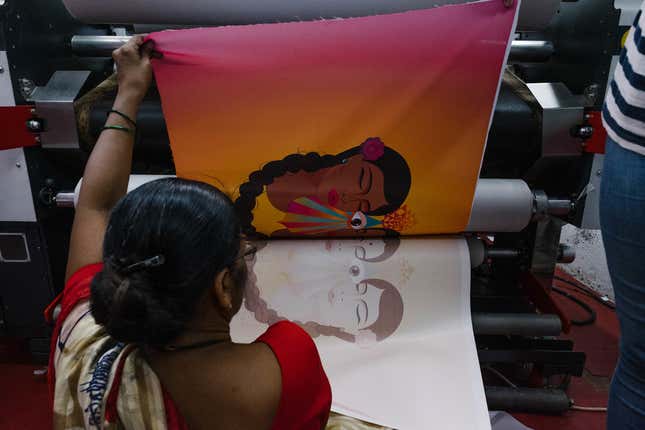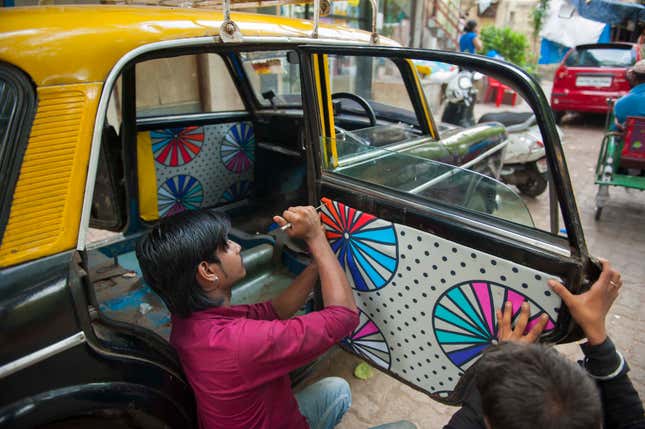 Vehicles for understanding
Bolstered by a successful Kickstarter campaign that raised a little over £11,000 ($17,200), Sanket Avlani, one of Taxi Fabric's founders, tells Quartz that since 2013, the group worked to design 10 taxi cabs in Mumbai.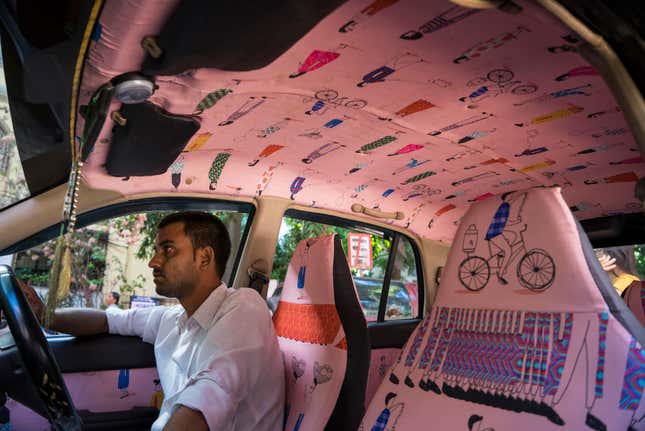 The initial intent of the project was to find a unique space for young graphic designers to showcase of talent outside of a student exhibition or a gallery. A special cloth label bearing information about the designer allows passengers to learn about the person behind the creation and possibly hire them directly for a commission.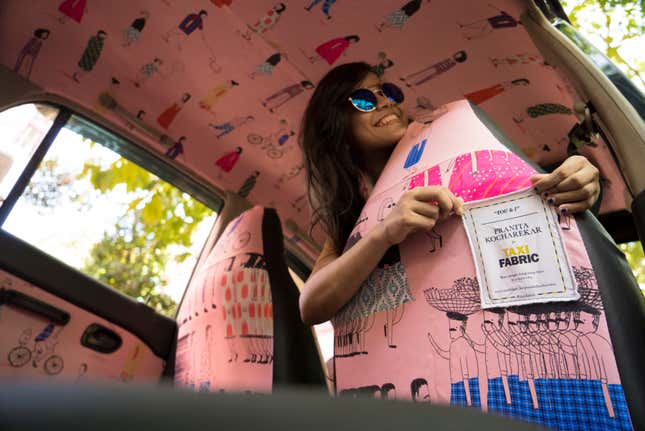 The labels also allow designers to get direct feedback about their work. As graphic designer Pranita Kocharekar, who created a pink reverie with a Wes Anderson-like feel, noted in a comment on Taxi Fabric's Instagram account, a passenger in the car with her design "called me in the morning, introduced himself and at first I thought it was something to do with design work. But then he said, 'I'm in your cab and I want to thank you for making my morning.' I was so pleasantly surprised! He was eager to know more about the work I do, and the Taxi Fabric project."
Taxi Fabric also considers the project a tool to educate the public about what designers do. "Design, as a profession or even simply something studied at school, is unfortunately not widely recognized in India, Taxi Fabric's founders explained in a press release about the project. "Older generations don't understand it, or recognize it as a proper profession or something worth studying."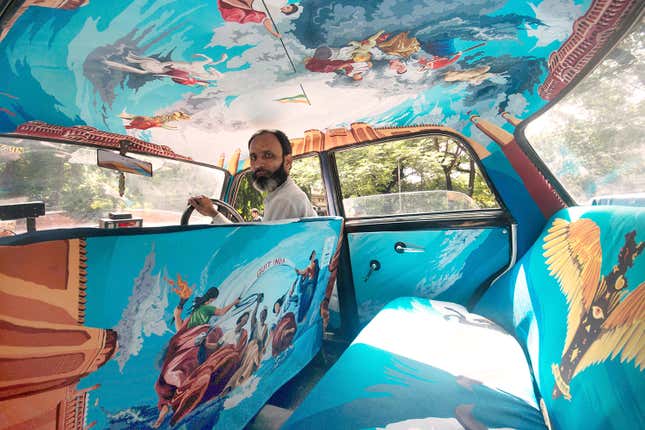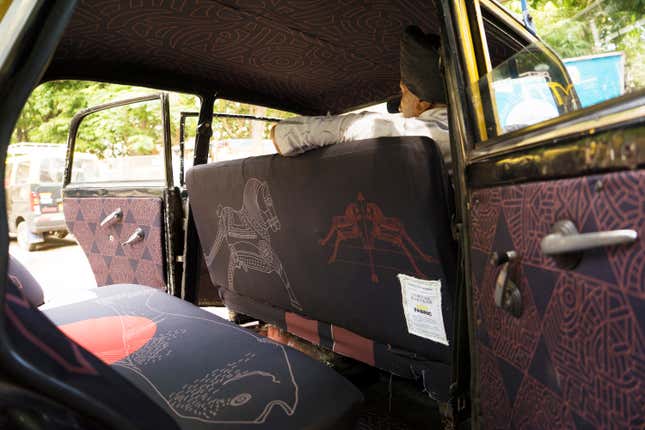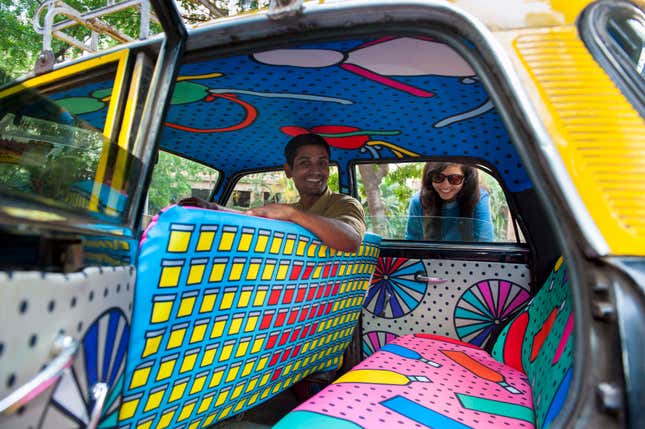 The benefits of backseat bling
Dressing up one's cab to attract customers is a common marketing ploy for cab drivers in India, as it is many public passenger vehicles around the world. But the Taxi Fabric team noticed that even though the drivers were using fancy decals and stickers for their windows, they were settling for drab, run-of-the-mill upholstery for their interiors. "The designs that cover the taxi seats are often dull and forgettable," the team noted in its press release. "With the design talent Mumbai has to offer, this shouldn't be the case."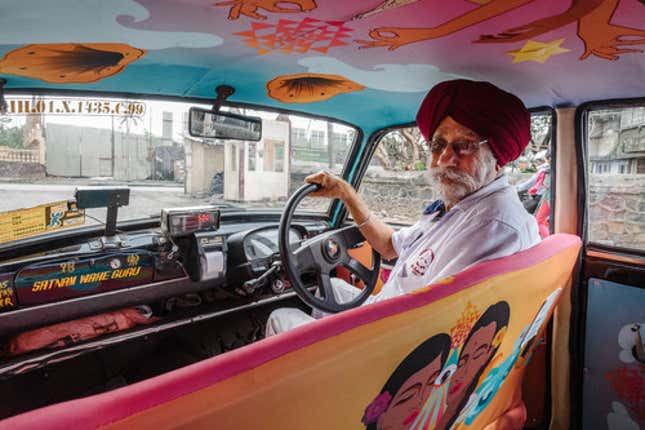 Alvani tells Quartz that some designers go so far as to "brainstorm with the taxi drivers. Even Samya considered her taxi drivers' likes and dislikes before she began designing her fabric." As a result, cab drivers are able to share in the pride about their spiffed up vehicles.