After almost a decade and a half of selling its bikes through a lone dealer, Royal Enfield is setting up a subsidiary in its top export market: the United States.
And to help it gain traction on US roads, the new subsidiary—Royal Enfield North America—will be led by Harley-Davidson's former head of global sales and customer service, Rod Copes.
There is, of course, little chance for a proper contest any time soon, but the Indian motorcycle company is now treading on the iconic Harley-Davidson's hallowed turf. Not that the latter seems particularly bothered.
"We've been in business for 112 consecutive years and have been successful against many other competitors time and again," Tony Macrito, a spokesperson for Harley-Davidson, told Quartz in an email. "Our strategy and approach to the marketplace have made us the market leader, and we intend to continue on that course."
Royal Enfield North America will set up its first retail outlet in Milwaukee, Wisconsin, which will be followed by more stores over the next 18 months. The company did not respond to a Quartz questionnaire on the specifics of its expansion plan in the US and Canada.
"North America is a key international market for Royal Enfield with a rich history of riding enthusiasts," Rudratej Singh, president of Royal Enfield, said in a stock market filing (pdf) on Aug. 17. "Given the lack of attractive options in the mid-size segment, we are well poised to fill the gap and serve potential customers at a close, intimate level by localising our operations in North America."
Although it has already thumped past the iconic American bike maker in total motorcycle sales, Royal Enfield—which traces its roots back to Britain's Enfield Cycle Company—won't quite be going shoulder to shoulder with Harley-Davidson.
"There is no competition with Harley-Davidson as both manufacturers have different price points," Deepesh Rathore, co-founder of Emerging Markets Automotive Advisors (EMMAAA), a global automobile forecasting company, told Quartz. "(In the US) at least for a few years Royal Enfield will have to work hard on building the brand to pose any competition to Harley-Davidson."
"It is like comparing a startup phone manufacturer to Apple," Rathore added.
Betting big on global
North America isn't Royal Enfield's lone priority as it looks to expand its global operations after tasting much success at home.
Overall, sales have grown by 50% year-on-year for the past five years. Since the beginning of 2015, the company sold 240,217 bikes in both domestic and international markets, which is 45% more than what it sold in the same period last year, Royal Enfield said in its monthly sales update published on Aug. 01.
This  year, it plans to sell some 450,000 bikes, and scale that up to 942,000 units—more than double its current sales—by 2021.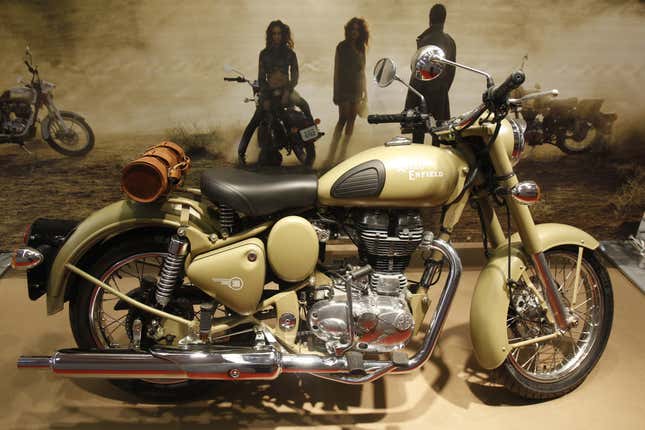 Since 2014, Royal Enfield has also opened up dealership at three new locations including Colombia, Indonesia and Dubai. It also exports its bikes to more than 40 countries including Japan, UK, Europe and some in Latin America from its manufacturing facility in Chennai. Last year, it exported 5,800 motorcycles to these foreign markets.
"Colombia is a starting point, we will focus on Latin America and Southeast Asia," Siddhartha Lal, managing director of Royal Enfield, said in June this year. "We want to emerge as a significant player in all the markets we are in."
In May, the company acquired the UK-based Harris Performance—which developed the chassis for the newly launched Royal Enfield Continental GT—while Lal also shifted base from New Delhi to London to concentrate on international operations.
Much of the focus, as the company sets out on its global expansion, will be on middle-weight motorcycles, with engine capacity between 250cc and 750cc. These bikes are typically priced between $3,000 and $7,000.
"Everyone has looked at it and pulled it apart and said 'we will go for this, or this'; but for me, the world is going to converge in the middle market; we have been able to show in India that if you give a good offer, then people move to middle-weight motorcycles," Lal told the Mint newspaper earlier this year.
But the big challenge will be revamping its stable of motorcycles, which currently includes the iconic Bullet, Continental GT and Thunderbird bikes, for international markets.
"While the small steps of improvement and new paint jobs work well in the Indian market, the big international markets look for more than that," EMMAAA said in a July 2015 report. "They need new products, new engines and new chassis, and this is what Royal Enfield is working on now."