The fine line between patriotism and jingoism that marks the relationship between India and Pakistan was blurred once again when a statement by Bollywood actor Saif Ali Khan incited extreme reactions over social media in Pakistan.
The entire episode was instigated by Khan's comment, expressing a loss of faith in Pakistan when the Pakistani censor board declared his latest film Phantom inappropriate to be screened in the country. The censor board's decision was based on the film's sensitive content which includes terrorism and India-Pakistan relations.
"I don't have faith in Pakistan, generally. Neither do I understand what their thought processes are. I have no problems against Pakistan and I won't make a film that's against the country. But now they have banned the film," the actor told the DNA newspaper last week.
"We have always shared a very complicated relationship. If you tell uncomfortable truths, films get banned. We keep banning each other's films," he said.
Khan's statement was bound to irk a few nerves in Pakistan, but it would have gone largely unnoticed had it not been taken up on social media by a few mainstream Pakistani actors.
Actor Hamza Ali Abbasi, who usually lands in hot water for his bold and controversial statements, was one of the first ones to respond. In a Facebook post—that has over 64,000 likes and has been shared over 8,000 times until now—the actor pointed out that Pakistani actors did not claim to lose faith in their neighbouring country when two recent Pakistani films, Waar and Bin Roye, were banned in parts of India. However, he went on to say, "Let me now say this, because of movies like Phantom and hateful actors like Saif Ali Khan, I AM LOSING FAITH IN INDIA."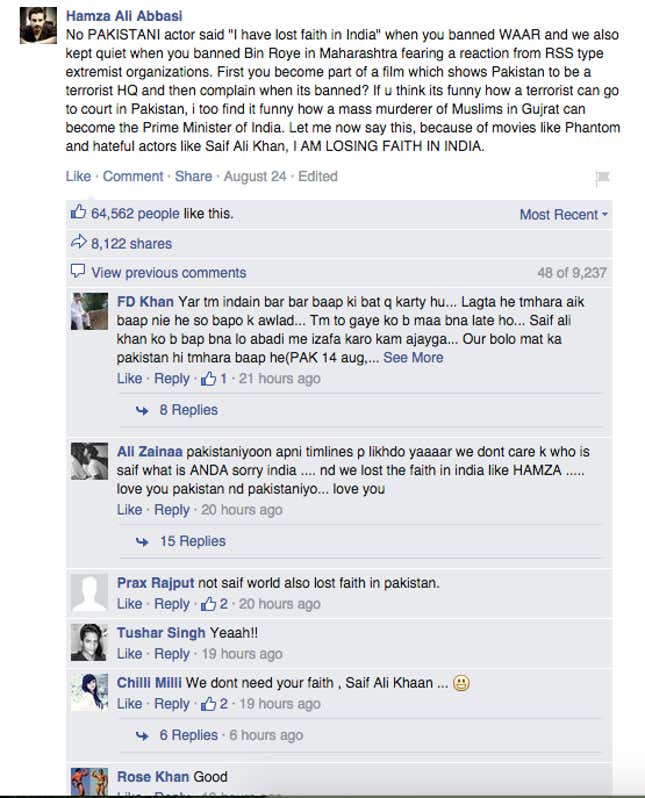 Pakistani film actor Shaan Shahid was also not far behind in retorting to Khan's comment. "Faith doesn't come from a country it comes from within and you have lost faith in yourself after 4 consecutive flop films," he said in a Facebook post that was shared more than 600 times at the time of writing this piece.
Soon enough, reactions started pouring in over social media in Pakistan—both in support and strongly criticising Abbasi's and Shahid's comments. While some lauded the actors for taking a stance against Khan's offensive comment and called it patriotism, others criticised them for giving undue importance to an ill-informed comment and blowing it out of proportion.

https://twitter.com/imUmair26/status/637658960879816705
Things took an even uglier turn when TV anchor Faisal Qureshi uploaded a 12-minute video on Wednesday (Aug. 26) to his Facebook page launching a bitter diatribe loaded with threats and accusations, not just against Khan, but also India's sovereignty. He also made fleeting references to Bollywood, cricket, the Gujarat riots—basically everything that would strike a chord and incite extreme reactions on both sides of the border.
What was most disturbing about Qureshi's monologue was the intrinsic misogyny laced into his diatribe as he used terms such as "beti," "sahiba," and "gurya" to berate Khan and refer to him as a little girl.
The saga got more personal when Shahid started an online campaign (#banMawra) against Mawra Hocane, a young Pakistani actress who had tweeted a measured response to the hatred that the entire episode was instigating.
"Phantom is against terrorism. A terrorist cannot belong to any country. A terrorist is a terrorist," she said on Twitter. "I would like to watch Phantom and then decide whether it is good or bad. And that is exactly what everyone should do."
Predictably enough, as it happens in most cases involving women, a debate about patriotism soon acquired deeply misogynist overtones.

https://twitter.com/ThatPakiLAD/status/637525292307779584
https://twitter.com/Maniaque_fou/status/637520653130698752
https://twitter.com/vickyshicky/status/637594472885260288
https://twitter.com/447abe7d75714c6/status/637987641951031296
The campaign against her gained so much momentum that not only was Hocane forced to delete her tweet, but she also had to issue an official response on her Facebook page.
"I am ashamed of everyone who would put my country's dignity in the hands of a film. That's the same as belittling your own country. No one is capable of doing that. It's way too sacred. I love Pakistan and it's in my heart and soul. And I will always belong to it regardless of where I work," she told The Express Tribune.
A sizeable number of sane voices, however, supported the young actress for showing far more tact than her senior male counterpart.

https://twitter.com/blingyyy/status/638469935623045120
https://twitter.com/Ali_Farook/status/638476874687971332
What started as one misplaced ignorant sentiment has now erupted into a full-blown online war tainted with sexism and a hyper-inflated sense of morality and patriotism. While art—which generally enables communication between people with polarising viewpoints—often becomes a point of contention between the two countries, the most worrying aspect of the entire episode was the callousness displayed by the artists in question. In today's digital age, they seem to have little regard for the far-reaching impact of their tweets.
In a bid to have the last word, these keyboard warriors seem to have forgotten that the rules that apply to ideological wars fought behind computer screens are still the same as the ones that take place on ground: Pick your battles wisely and understand who the real enemy is.
We welcome your comments at ideas.india@qz.com.