Preparations for this year's Hajj, the pilgrimage to Mecca undertaken by devout Muslims at least once in their life, have been marred by the collapse of a crane at the Grand Mosque, which killed more than 100 people. The tragedy came just over a week before the pilgrimage was set to get underway, and raised serious questions about the repercussions of rapid construction growth in Saudi Arabia.
The Hajj is one of the world's largest faith gatherings, attracting increasing numbers of pilgrims in recent decades—from around 30,000 in the 1930s to more than 3 million in 2012. This is a striking case of an ancient religious practice transformed by modernity. In earlier times, the arduous journey to Mecca its dangers—many pilgrims perished crossing the deserts of Arabia or drowned in sea crossings—and the time it took restricted numbers considerably.
From the 19th century onwards, better transport and health facilities greatly mitigated the dangers and diseases that afflicted mass gatherings. Along with the involvement of commercial agencies offering organised tours, this made the journey much safer and more predictable.
Growing economic resources, especially oil, in many parts of the Muslim world also provided increasing numbers of people with the money to embark on pilgrimages. In recent years, an increase in the worldwide Muslim population and the perception that their faith is under attack from the "war on terror" have encouraged participation in this affirmation of a universal Muslim community.
Most significant of all has been the inception of air travel, which enables Muslims from around the world to make the journey safely in a matter of hours rather than months.
The Saudi Arabian regime has also developed facilities to support pilgrims—and to control them.
Massive building projects, rapid transport services and even air-conditioned walkways have been developed to ensure that pilgrims move quickly through the various stages of the pilgrimage. These developments, along with the recent expansion of the mosque's capacity that led to the crane tragedy, have enabled the authorities to increase pilgrim numbers and enhance the Hajj's contribution to the Saudi economy.
They have also changed the face of Mecca, angering many who complain of cultural vandalism as the city's older quarters are being erased and replaced by high-rise complexes and luxury hotels for rich pilgrims, while poorer pilgrims find it increasingly difficult to afford lodgings.
At the same time, the kingdom's official tourist agency promotes these new edifices as sightseeing attractions in its campaign to increase tourism in the region.
The developments outlined above reflect a common pattern central to the nature of pilgrimage across religious cultures. Although often portrayed as a journey of faith and even asceticism, pilgrimage has long served a simple desire to get away from home and has served as a mechanism for travel and tourism as well as for faith.
Pilgrims' progress
In earlier eras, pilgrimage was often the only way people could travel. In pre-modern Japan, for instance, permits to travel beyond one's region were only issued in order to take part in pilgrimages to well-known but distant religious sites. Unsurprisingly, this led would-be travellers to take on the guise of pilgrims, while pilgrimage sites also became major entertainment centres offering visitors the chance to relax and enjoy themselves as well as to express their faith and engage in religious rituals.
Civil, commercial and religious agencies have long been keen to promote pilgrimage not just to enhance faith but, like Saudi Arabia, to spur local and national economies.
In Lourdes, for example, pilgrimage is rooted in the supposed apparitions of the Virgin Mary in 1858. However, other factors were also important in transforming Lourdes from being just one of many localised French pilgrimage sites into a major national and international site. The entrepreneurialism of local authorities and merchants who avidly seized on the rumoured apparitions and the miracles connected to them as a way to regenerate the town's failing economy, and who helped develop a local infrastructure of cheap lodgings, sightseeing attractions and shops selling goods associated with the shrine, was important. So was the opening, in 1866, of a railway connecting Lourdes to Paris that made the once-remote town accessible to the general populace.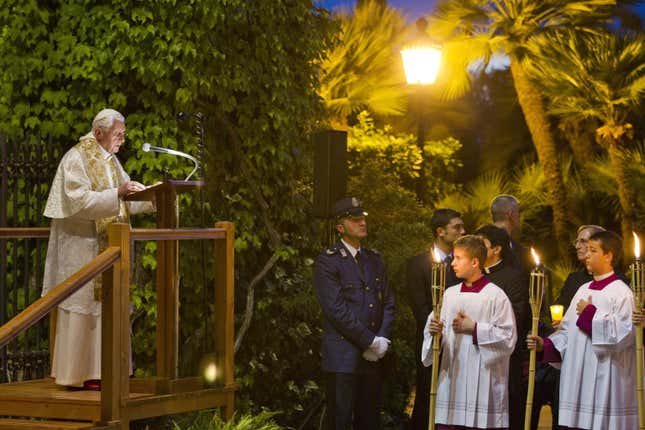 The Shikoku pilgrimage, a 900-mile journey around Japan's fourth island to 88 Buddhist temples, was initially an ascetic journey embarked on mainly by young men. By the late 1940s, it had almost died out, but it was revived and transformed in the 1950s after local bus companies, seeking to regenerate the island economy and branch out into new areas of enterprise started package pilgrimage tours.
With support from both the mass media and local authorities intent on promoting the island as a travel destination, the pilgrimage has increasingly been portrayed less as a religious journey and more as an example of Japanese cultural heritage—an orientation that resonates especially with older generations in Japan. The temples, eager to boost pilgrim numbers in an age of declining religious fortunes, supported these developments, as did a growing infrastructure of comfortable lodgings and transport links.
As a result, previously remote mountain temples can now be reached by road or cable cars (very popular among modern pilgrims), and the pilgrimage is readily performed by people of all ages.
The 'true' essence of pilgrimage?
Commercial engagement and the actions of civil authorities and tourist agencies are often dismissed as antithetical to pilgrimage's "true" essence—but in reality, the dynamics of the marketplace are central to the whole practice of pilgrimage.
They have been embraced both by assorted religious authorities seeking to promote their shrines and by pilgrims themselves, who are keen to pray, enjoy a bit of comfort and even go shopping at the markets that commonly surround famous shrines. They have expanded the clientele of pilgrimage sites and democratised the practice. That much is evidenced by the elderly Japanese who now travel around Shikoku, or the villagers from Indonesia who can fly to Mecca.
Yet such democratisation comes at a cost. In Shikoku, for example, the emphasis on attracting visitors has led to a downplaying of religious motifs in the pilgrimage, while a recent report by Catholic authorities stated that more visitors to Lourdes could be considered as tourists than as pilgrims.
Such issues are evident, too, in the aftermath of the Mecca crane crash and they raise questions about the modern changes that have been so useful in increasing pilgrim numbers. Perhaps it's time for the Saudi authorities to consider whether the precarious balance between pilgrimage and consumerism may be shifting inexorably in favour of the latter. The destruction of Mecca's old quarters, the rise of luxury hotels and the Saudi tourist agency's promotion of the Mecca tourist sights all point to that conclusion.
This article was originally published on The Conversation. Read the original article. We welcome your comments at ideas.india@qz.com.