On June 2, a few days before the arrival of the all-important monsoons, the Indian Meteorological Department (IMD) made a grim prediction: India was staring at a drought year.
The 140-year-old public weather forecaster estimated that the country's annual rainfall would be 12% lower than the average.
But the IMD's forecast of deficient rains was dismissed by the country's largest private sector forecaster, Skymet. The 12-year-old organisation, which has a network of 2,500 weather stations and a team of 10 climatologists and meteorologists, predicted that the country would see a year of normal rainfall.
Could the IMD be wrong? After all, for the past three years, Skymet had consistently outperformed the IMD in predicting the monsoons accurately.
But not this time.
As of Sept. 29, the country's monsoon rainfall was 14% short of a 50-year average benchmark, according to the IMD.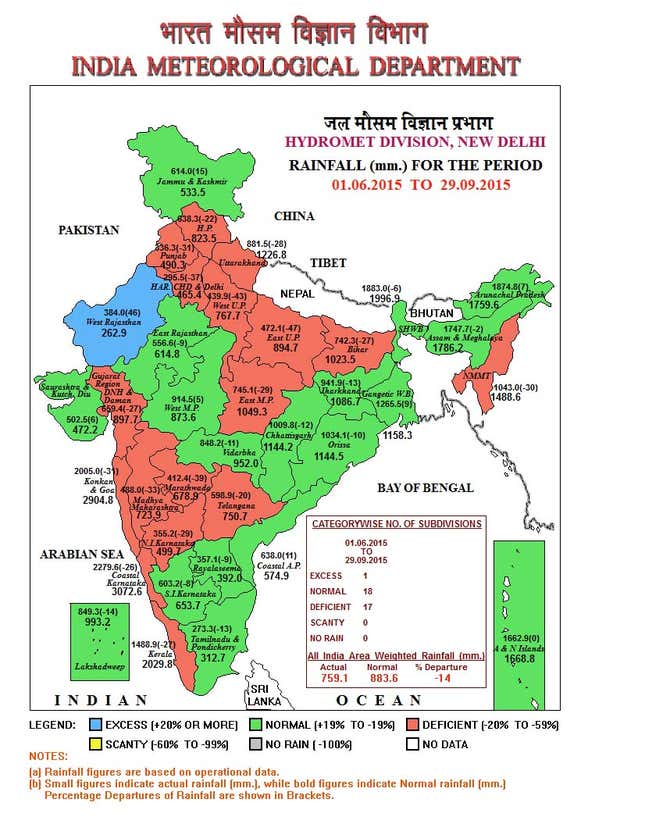 "It required a lot of courage for us to come out with this kind of a prediction this year," BP Yadav, director at the IMD, told the Economic Times newspaper. The IMD had predicted that the monsoon will be deficient due to the El Nino phenomenon, which warms the sea surface in the Pacific Ocean, leading to lower rainfall in parts of Asia.
Skymet, on the other hand, had believed that the Indian Ocean Dipole (IOD), also known as the Indian Nino—caused by the difference in sea surface temperature between parts of the western and eastern Indian Ocean—would remain positive. A positive IOD would have led to more rainfall in the Indian subcontinent.
"We were off the mark this year and we accept it with all humility," GP Sharma, vice president at Skymet, told Quartz. "We will analyse the data and the model that we used. This year we did not have adequate data while using a new model. By the time, we had the data, it was already too late."
The IMD, meanwhile, has a message for Skymet, after it won the latest round in the battle for accurately predicting the monsoons.
"As of now, IMD alone has the infrastructure and the experience to make long-range forecasts with a degree of accuracy in the country," the IMD's director-general L S Rathore told the Economic Times newspaper.