While in his teenage years, a poor village boy in the south Indian state of Andhra Pradesh wanted to join the postal service. With no money for higher education, a job with the government agency could have made his life secure.
But a relative supported him financially and sent him to medical school. That changed the life of Araveeti Ramayogaiah, who became a pediatrician, but decades later, his day-to-day practice became inseparable from the postal service.
For almost 25 years, Ramayogaiah wrote and sent postcards to India's poor, especially women, telling them about ways to prevent—rather than cure—diseases. The good doctor died in Hyderabad in September this year at the age of 65.
The inexpensive postcard was Ramayogaiah's solution to private hospitals, which are typically inaccessible and unaffordable for many of India's poor.
In all, he wrote around 36,000 postcards to patients, acquaintances and strangers—explaining basic habits like boiling water and washing hands, and how to prevent commonplace ailments like diarrhea.
"Eighty percent of diseases in India are waterborne and airborne, and can be easily prevented," Ramayogaiah told Rahul M, a freelance journalist, earlier this year. "All that one needs to do is have clean surroundings and drink boiled water."
Ramayogaiah emphasised on "preventive aspects rather than curative," said Rama Devi, who works at Jana Vignana Vedika, an organisation working for the popularisation of science, in Andhra Pradesh, and is a doctor at Gandhi Medical College and Hospital in Hyderabad.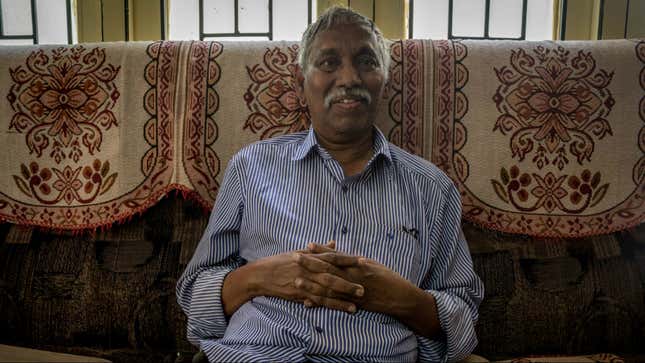 "He often joked that if doctors in India were to go on a strike for 10 to 15 days, the mortality rate during that period would decrease because doctors wouldn't be writing prescriptions," she told Quartz. "He would say doctors are creating iatrogenic (caused by treatment) diseases. First they give medicines, that causes side-effects, so more medicines…and that's a vicious cycle."
In a column for The Hindu newspaper in 2011, Ramayogaiah wrote:
We, doctors, know for sure from our long years of gruelling studies that most of the symptoms are self-limiting, most others are trivial and very few are serious. In the name of evidence-based medicine and defensive medicine, we order a battery of investigations even for trivial symptoms… Unnecessary tests are a loathsome burden on patients and, at times, result in false positive results leading to unscientific treatment.
"Health is to do with water, nutrition, environment and good sanitation," Devi said. "Doctors come into picture when a disease takes place. So why do people say that doctors give health, he would say."
Educating mothers
From 1990 till 1998, Ramayogaiah worked in the paediatric ward of Chittoor's Government Headquarters Hospital, from where he wrote his first postcard.
At the hospital, he was also connected to the Breastfeeding Promotion Network of India, an initiative to encourage women to breastfeed infants. Roughly 2,500 women used to deliver babies every month, and typically, they would return to their homes in the nearby villages after the delivery.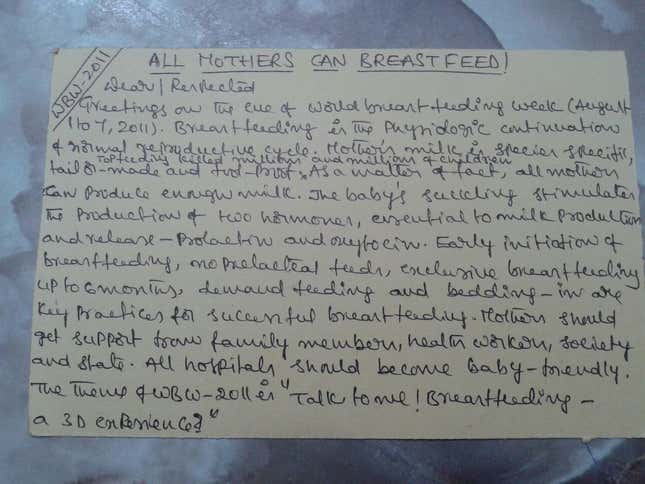 "He started thinking how do we know whether the child was getting vaccinated properly, and according to the date," A. Naga Sujana, Ramayogaiah's daughter, told Quartz.
Eventually, he decided to collect the addresses of these new mothers from the hospital's gynaecology department and write to them directly.
"So in a postcard, he would list all the vaccinations, the dates when they were due, and at what age of the child," Sujana recalled. "He would then sign it with a 'wishing you good health' and post it."
The doctor also ensured the postcards were sent from the hospital he worked at. "That way when women receive these postcards they would take them seriously as they look official," Ramayogaiah said in an interview earlier this year.
His idea worked. Women would often return to the hospital for the vaccinations and profusely thank him.
"These were mostly uneducated women. So the postmaster who would be delivering the letter would read them aloud for them," Sujana said. "At that time, he sent some 1,500 postcards."
During his next posting, in Guntur, Andhra Pradesh, he sent out another 2,500 postcards on polio vaccination. "He had fallen very sick, and he could not participate in the Pulse Polio campaign, so he wrote postcards and sent them to villages," his daughter recalled. Pulse Polio is an immunisation programme by the Indian government to eliminate polio. In 1995, the campaign was scaled to cover all of India's population.
A villager for villagers
Ramayogaiah was born in Mundlapadu, a tiny village in Andhra Pradesh's Prakasam district, in 1950. He studied medicine at Kurnool Medical College, before graduating in 1968 and then reading for a diploma in child health.
At 27, Ramayogaiah became a government doctor, eventually spending many years at major primary health centres and several posts in the state government.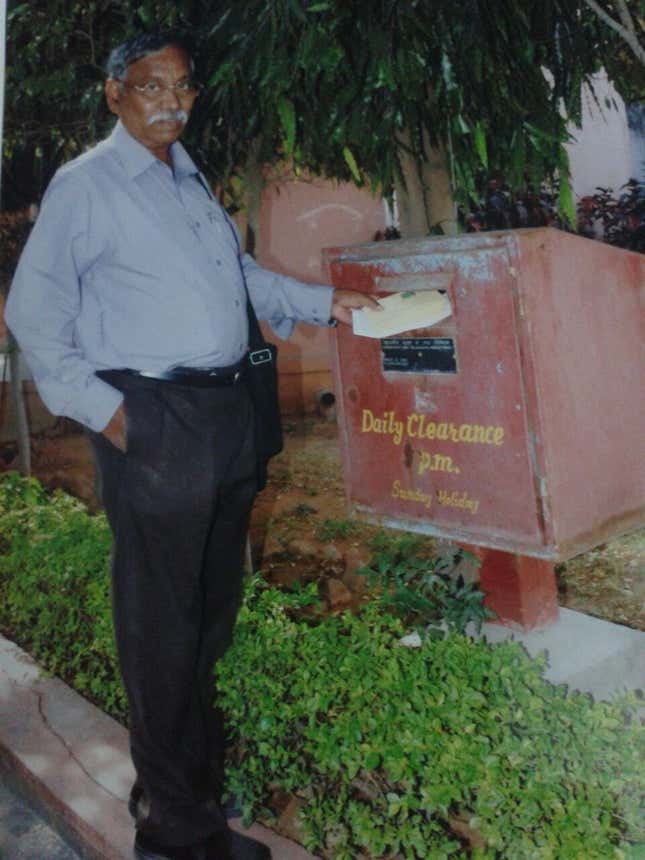 In 2005, during the twilight years of his practice, he moved to Hyderabad, where he held various posts, including the state malaria officer and medical consultant at the Indian Institute of Health and Family Welfare. He was also the state coordinator for the Breastfeeding Promotion Network of India, and additional director of health, Andhra Pradesh.
"He had no possessions like a house or a car," Devi said. "He was way too simple."
Ramayogaiah retired in 2008, but his postcard campaign didn't. He actually took writing postcards full time.
Soon after, he started a non-profit body, called the Organisation for Promotion of Social Dimensions of Health, and used his pension to collect addresses, write postcards and dispatch them.
Ramayogaiah also launched a blackboard campaign, in which he created 170 health boards containing health tips and information about diseases in easy-to-understand pointers.
These health boards were then sent to schools, colleges and village panchayats.
"Volunteers or school headmasters were supposed to write the health tips on the blackboard in their own handwriting. That would make children curious, and they would read them and learn. That would stay for, say, two or three days. After which, he would send another set of health tips," Sujana explained.
Last few months
A couple of months ago, Ramayogaiah was found to be suffering from a deadly brain tumour. He was admitted in a private hospital in Hyderabad, but he wouldn't take any of it.
"When I went inside the ICU (intensive care unit), he told me, 'We fought all our lives against these corporate hospitals, so this is not right. It's not necessary, so let me go'," Devi recalled.
After much deliberation, he was brought to his daughter's home from the hospital. "I have lived my 65 years happily, I am satisfied with that," he said during Rahul M's visit to his daughter's home in Hyderabad.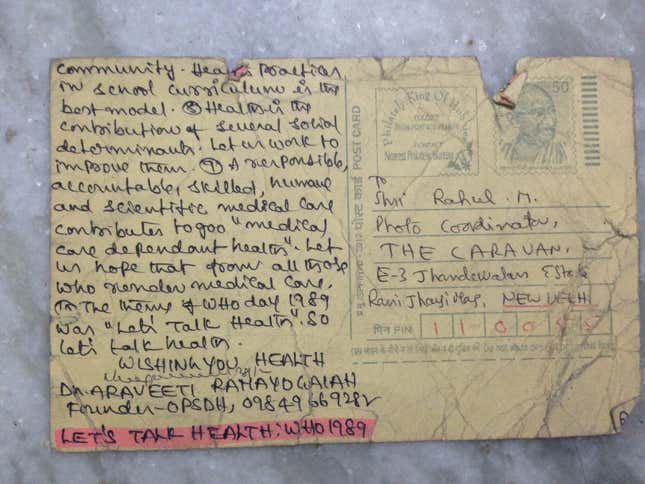 Ramayogaiah passed away on Sept. 06. Now, the volunteers will be using the health boards to write letters and post them on his behalf.
"Nothing will change. Only his signature will be missing," his daughter said.
We welcome your comments at ideas.india@qz.com.