Last updated at 12:54 pm EDT. 
A powerful earthquake struck Afghanistan and northern Pakistan at around 2pm local time today (Oct. 26).
The epicenter was in Afghanistan's Hindu Kush region, about 256km (160 miles) northeast of the capital city of Kabul, according to the US Geological Survey (USGS), which estimated the earthquake's magnitude at 7.5 on the Richter scale. The quake was felt across the border in Pakistan and parts of northern India. Pakistan officials estimated the earthquake's magnitude at 8.1.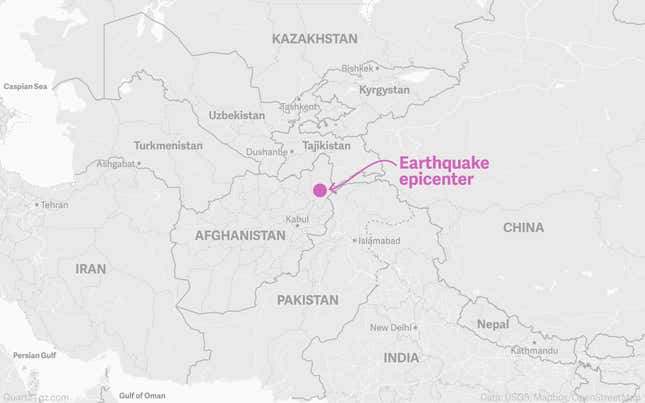 More than 200 people have been reported dead so far in Afghanistan and Pakistan, including 12 students at a girls' school in the Afghan province of Takhar, who were crushed in a stampede while fleeing the school building. The death toll—which isn't necessarily the best measure of how many people were affected by the disaster—is expected to rise as communications are restored to the affected areas.
Immediately after the earthquake, buildings were evacuated across cities in Pakistan and northern India.
A TV news anchor in Kabul had to leave his desk when the tremors struck:
Pakistan's National Disaster Management Authority has warned of aftershocks over the next 24 hours, and the country's armed forces have already been mobilized. Indian prime minister Narendra Modi has pledged to help Pakistan and Afghanistan.
Landslides have also been reported in parts of Pakistan. Images and details from remote areas there and in Afghanistan are beginning to emerge.
Just over a decade ago, parts of northern Pakistan and the disputed Kashmir region were hit by a 7.6 magnitude earthquake. That quake, on Oct. 8, 2005, killed an estimated 86,000 people, injured 69,000, and damaged thousands of buildings across the region. That quake was, however, more shallow than the one that struck today: its epicenter was less than 20 miles underground; the epicenter of today's quake was close to 130 miles (210 km) deep.