The mood in the Odisha port town of Paradip is turning grey.
Ever since the Adani Group bought the neighbouring port of Dhamra last May, people and companies dependent on the port are worried Paradip is being weakened to favour Dhamra.
"I handle 70% of the cargo at Paradip. I have 1,000 employees," said a senior official in Orissa Stevedores, a company which assists with the loading and unloading of cargo from ships. "We will have to shut down if anything happens to Paradip."
The fears are located not merely in the proximity Gautam Adani, chairman of the Adani Group, is alleged to have to prime minister Narendra Modi. A clutch of developments in recent months has contributed to them.
In May, for instance, the Gas Authority of India (GAIL) announced it would set up its LNG terminal at Dhamra, and not at Paradip. The decision came as a shock to Paradip, partly because, as a former official of Paradip said, GAIL had already signed a memorandum of understanding with Paradip. "GAIL was in the process of final selections of partner for the project," he said on condition of anonymity. The investment of Rs5,600 crore would have added 10 million tons to Paradip's existing capacity of 108 million tons, he added.
GAIL did not respond to queries.
What's missing
There are other points of concern. Since January, when former chairman Sudhanshu Sekhar Mishra was transferred out, Paradip has been operating under a part-time chairman MT Krishna Babu who was already holding the post of chairman at Visakhapatnam Port Trust. This is a problem, said the former official. "The chairman is the focal point of the port," he said. "You have to take decisions every day." It would have been better to give full powers to the deputy chairman of Paradip Port, he said.
It's not clear why a full-time chairman has not been appointed. Questions to the shipping ministry went unanswered.
A senior official at the Bhushan Power and Steel office in Paradip dismissed some of these concerns. "Eighty percent of the reason a company chooses a port is location," he said. "Unless an alternative is financially or logistically superior, no company will move."
However, according to a person with knowledge of the circumstances, Paradip is taking a pounding on this front as well. It is "not getting enough rakes (trains)", this person said. The trains are required to transport the cargo to and from the port. "But if there is no evacuation (from the port through trains), the companies will leave," he said.
Other problems have escalated. In September, a dispute between two stevedoring organisations (which unload cargo) resulted in truck drivers at Paradip going on an eight-day strike. The port last saw a strike in 1984. Since then, disputes have been resolved without resorting to strikes. But this year, those mechanisms broke down.
The likelihood of such incidents repeating themselves worries the stevedoring official. "This will create a perception that this is a disturbed port, that companies should not go here."
An oft-repeated story
What is happening in Paradip is not new.
In the first quarter of 2013-2014, for instance, Adani's flagship port in Gujarat, Mundra, overtook the neighbouring port of Kandla to become India's largest port in terms of tonnage handled.
Reporting on that development, this reporter found that the development was as much the result of the Adani Group taking decisions with "purpose and strategic intent" as the state government and the public sector company making a series of self-defeating decisions.
Among other things, in 2000, the port unilaterally cancelled an agreement with P&O Ports to set up a container terminal at Kandla. P&O went to Mundra instead. Capacity expansion at the port stayed far slower than at Mundra, and dredging, necessary to ensure larger vessels can berth at Kandla, was stopped.
In neighbouring Gandhidham, the town which services Kandla, the perception was that the state government—Modi was the chief minister of Gujarat at the time—had favoured Mundra at the cost of Kandla.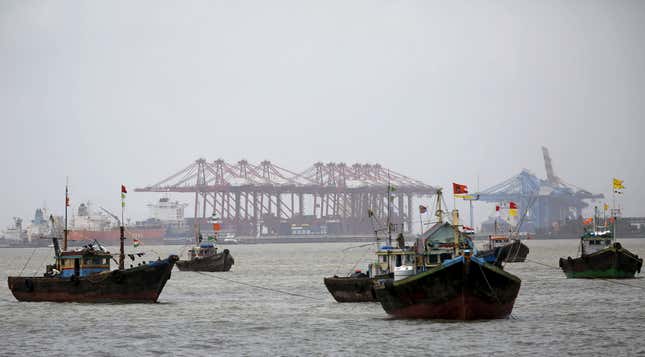 Since then, others have expressed similar concerns that public-sector ports are being weakened to favour private ones. In December 2013, for instance, Raj Thackeray alleged that India's largest container port, Mumbai's Jawaharlal Nehru Port Trust, was deliberately delaying its expansion plans to help "private ports in Gujarat".
Growing monopoly
The weakening of these public-sector ports is a problem for two reasons. One, the Adani group today has ports and berths in virtually every coastal state—Mundra, Tuna Tekri, Hazira and Dahej in Gujarat, Mormugoa in Goa, Vizhingam in Kerala, Ennore in Tamil Nadu, Vizag in Andhra Pradesh, and now Dhamra in Odisha.
News reports and industry sources say the company is in talks with Andhra Pradesh's Krishnapatnam and Gangavaram as well.
If public-sector ports weaken, an ever larger chunk of port traffic in India will be handled by one company.  As anyone with a basic sense of economics knows, a well-functioning market should have multiple, strong participants.
The Adani Group was asked whether the company was becoming a monopoly in the port sector, but its spokesperson declined to comment.
This post first appeared on Scroll.in. We welcome your comments at ideas.india@qz.com.