India has a serious child-marriage problem. According to the United Nations Children's Fund, one-third of the world's child brides—or 240 million—are in this country.
This ancient tradition not only deprives girls of education, but also makes them vulnerable to early childbearing, sexual coercion and violence.
Typically, girls who are married young—that is, before they hit the legal age of 18—are not immediately expected to move in with their husbands or in-laws. Parents often wait till their daughters turn 15 or older to send them to live with their spouses.
Veerni Institute, a non-profit in Rajasthan's Jodhpur, is capitalising on that lag to provide free education for child brides across the western Indian state.
"Household chores, traditions and the old custom where girls are married off at a young age and serve their in-laws keep parents from sending their daughters to school. The institute allows these girls uninterrupted education at a local secondary school," according to its website.
The boarding school was set up in 2005. Primary schools in villages offer education till class 5—with most girls discontinuing studies thereafter. Veerni focuses on providing "seven years of higher education for the girls," Mahendra Sharma, director of Veerni Institute, told Quartz.
Veerni is a Hindi word for a strong and powerful woman.
Veerni Institute is a part of the Veerni Project, a two-decade-old organisation founded by Jacqueline de Chollet, a Swiss national and human rights activist. The organisation focusses on providing education and healthcare for rural women.
"The idea was to help women to take part in the decision-making, and become the earning members of the family," Sharma said.
Not easy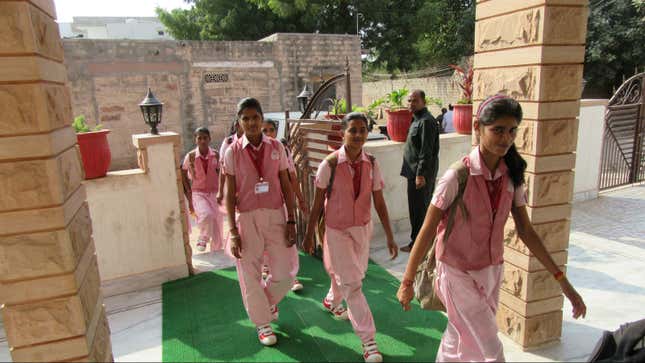 In the early days of the Veerni Project, villagers were rather hostile towards the idea of educating women. "On one occasion, men threw rocks at our jeep. We had to drive away immediately," Sharma told NPR in a recent interview.
The project started by teaching rural women basic skills, such as sewing and crafts making. More than 40 villages in Rajasthan were adopted, and the plan was to start literary centres in each of these villages. But teachers were difficult to find.
Around 75.13% of Rajasthan lives in rural areas, and the state has a sex ratio of 928 females per 1,000 males—lower than the national average. Moreover, despite the state's average literacy rate of 66.11%, female literacy is much lower at a dismal 52.12%.
"We thought, we need to give them a better education, a better facility. Taking them out of these hamlets, to an urban area like Jodhpur, where we can send them to a private school will make a big difference," Sharma explained.
The Veerni Institute was established as a hostel for girls, who are sent to private schools within the city. The first year, parents were called to Jodhpur "to show them the facilities that we would be providing the girls," Sharma, who has been working with Veerni Project since 2001, said in his NPR interview.
Parents were asked to delay sending their daughters to their in-laws, and in return the institute would provide boarding and education for free.
The institute today houses 70 girls from villages around Jodhpur, out of which 30 are already married. Several others have graduated; many are now registered as college students.
Though it's difficult to quantify any change in parents' attitude, Sharma said he now finds parents to be more supportive about their daughters' education. The institute received 300 applications last year, but could only accommodate 70 girls.
"Parents are even sometimes willing to break these marriages if they understand that the girls can now pursue a career and become a source of a steady income to the household," Sharma said.
That in itself is sort of a solution to child marriage, which is primarily practised out of poverty, and the mindset that girls are an economic burden.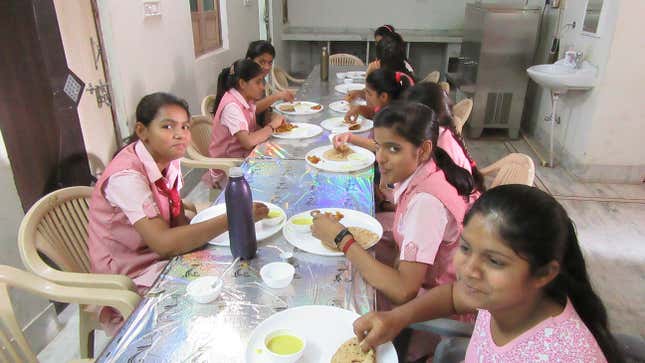 "A girl with a school diploma could also become a community health worker, or a policewoman, or a bank clerk if she has basic computer skills," Sharma explained. "And with just two to three years of additional training after high school, a woman can get an even better-paying job as a teacher or a nurse."
Or, it could simply empower the woman to raise her voice.
According to UNICEF, the "unpreparedness to protect against any violation" makes child brides more vulnerable to further exploitation. Veerni, through social and legal counselling, is making girls more aware of their rights.
For instance, Shobha received legal counselling from the institute, and she was able to divorce her abusive husband.
"It is happening. Women are breaking off their marriages, and parents are supporting them, if they see there's too much pressure from the in-laws or there is any wrongdoing," Sharma said.