Rayappa Pitkekar is a 48-year-old leatherwork contractor in Mumbai's Dharavi locality; its status as one of the world's largest slums belies the fact that its flourishing informal economy boasts a turnover of over Rs30 billion annually, thanks to the enterprising spirit of Pitkekar and his ilk.
The son of a garbage picker who earned Rs1.25 a day digging through trash to salvage plastic for reuse by the local plastic industry, Pitkekar studied by day and then worked two jobs, earning Rs5 for every 100 newspapers he sold in local trains in the evening and then working in a hotel at night. His leather goods business now has an annual turnover that runs into lakhs of rupees; his daughter Priyanka's dream is to 'become what Kalpana Chawla was [an astronaut]', while his son Kunal wants to be a doctor. Within three generations, Pitkekar's family, rooted in the hardscrabble life of a Mumbai slum, is now literally aspiring for the moon.
For the first few decades of our country's existence as an independent nation, we turned our gaze inwards, preoccupied with building the dams, steel plants, universities and cities that became the first temples of modern India. As our country's infrastructure began to take shape, we tackled such concerns as poverty reduction, while ushering in the Green Revolution and economic liberalisation, the last of which closed the book on the isolationist and protectionist policies of an earlier era, and recognised the need for our country to take its rightful place on the global economic stage. The winds of liberalisation brought in a new mindset for India's people; no longer content to plough the same furrow that their forefathers had before them, their ambitions began to grow. They wanted a system that would support their efforts to climb out of poverty and ensure a brighter future for themselves and their children.
India is sitting on a demographic dividend and is expected to become the world's youngest country by 2020, with 64% of its population, roughly 800 million people, of working age. That is 800 million knocks on the ceiling with a list of demands that include education, employment, good health, better infrastructure, efficient governance and a corruption-free society. The economy that is supposed to sustain the weight of these demands has been growing in single digits, around 9% a year in the best of times—a flimsy scaffold on which to construct dreams of a better life. How do we build a foundation strong enough to nurture these dreams and bring them to fruition?
The idea of government as an enabler of people's aspirations necessarily implies a radical rethink of the relationship between our government and its people, one that still seems stuck in a bygone era in its reluctance to embrace technology's transformative power. Despite all the advances in technology—the 'dotcom revolution' that India embraced so enthusiastically, the new business models that are springing up every day, the way India's online footprint keeps growing—until recently, Basudeb Pahan and millions of others like him across India still had to line up at a government office or a bank branch, wait for hours, return multiple times, and pay for transportation and opportunity costs to receive a payment that only arrived on an errant schedule. Whether it was getting a pension, a government subsidy or affordable food from a ration shop, the process remained hopelessly complex and time-consuming, mired in bureaucracy and local interests, and imposing a heavy financial toll on the poor.
Even for an urban, middle-class Indian, dealing with the government is cumbersome. Getting a driving licence, a passport, a birth or death certificate is a long-drawn-out affair, necessitating multiple trips to the relevant government office. Citizen service centres like Bangalore One and the recent initiative by the Government of Karnataka to create the nation's first mobile governance platform are laudable attempts to make these interactions less fraught, but are so far restricted to small segments of the population.
Ask any small business owner in India what his or her biggest complaint is, and chances are that 'compliance with local laws' will rank high on the list. Merely starting a new business in India takes weeks; most of this time is spent in completing the required paperwork and legal formalities. Whether it's paying taxes or negotiating complex labour law requirements, we haven't yet built a truly entrepreneur- friendly environment, where anyone with a bright idea and some capital can easily start a business. Consider the fact that out of 189 economies surveyed by the World Bank to compile the 'Ease of Doing Business' index, India ranks at a deplorable 142nd, significantly lower than all its BRICS (Brazil, Russia, India, China, South Africa) counterparts. All in all, the discomfort of these interactions has been pithily summed up by the authors John Micklethwait and Adrian Wooldridge as governments attempting to 'govern the world of Google and Facebook with a quill pen and an abacus'. How can the government use technology to deliver a customer-service experience comparable to that on offer in the private sector today?
Since Independence, we have built many great institutions which have withstood the test of time—our Constitution, universal suffrage, the parliamentary system, our courts, the civil services, the federal structure and the separation of powers, among many others. For the world's largest and most diverse democracy, born in abject poverty, scrambling for every possible resource, this is no mean feat.
The checks and balances governing our democracy have largely worked. However, we as a nation seem to have fulfilled Babasaheb Ambedkar's oddly prophetic prediction: 'In political life we will have equality and in social and economic life we will have inequality.' The fruits of the nation's development have not been equitably distributed across our population. The stark divides between the haves and the have-nots continue to exist, and are getting sharper than ever. Our formal sector—the section of society that holds government-issued IDs (in a pre-Aadhaar era), pays its taxes, takes out loans—is a thin layer on top of a vast, self-organised informal sector, which remains largely outside the purview of the government, struggling to claw its way up the ladder of economic prosperity.
We expect our elected politicians to provide a springboard for our aspirations. We expect them to create an environment where children go to school for high-quality education, where good healthcare is easily accessible to everyone, where entrepreneurs thrive and create enough well-paying jobs for every able person. We expect our government to be the provider of the last resort—to build social safety nets for those unfortunate enough to have fallen through the cracks of society.
We no longer want to be supplicants to a 'mai-baap sarkar', uncomplainingly accepting the poor quality services it doles out; we want a government that leverages the strength of our institutions, the power of our markets and the industriousness of our people to build high-quality solutions at speed and scale. The politics of India is the politics of the past—marked by caste inequalities, religious conflicts, and reservations. The politics of the future is the politics of meeting a billion aspirations, the weight of which will crush anyone who fails to deliver.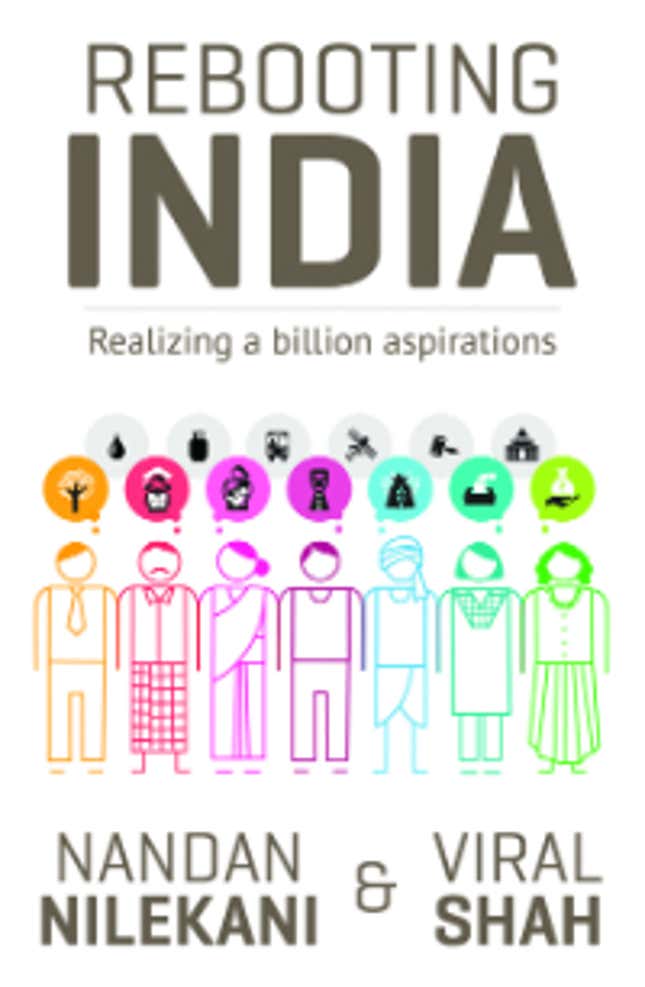 Excerpted with permission from Penguin Books India from the book Rebooting India authored by Nandan Nilekani and Viral Shah. The book is now available in all major bookstores. We welcome your comments at ideas.india@qz.com.