A little past noon on Nov. 08, Narendra Modi conceded what is, so far, the biggest political setback in his prime ministerial career. "Had a telephone conversation with Shri @nitishkumar & congratulated him on the victory," Modi tweeted.
The Indian prime minister isn't exactly used to sending such congratulatory messages to political opponents. Since his four terms as the chief minister of Gujarat and a landslide victory in the 2014 general elections, Modi and his electoral machine have made a habit of securing decisive mandates, with the exception of Delhi earlier this year. The defeat in Bihar has doubtlessly halted that juggernaut.
Modi was the face—and the dominant voice—of the Bharatiya Janata Party (BJP) campaign in Bihar but, against foes-turned-friends Nitish Kumar and Lalu Prasad Yadav, the assault has crumbled. The Kumar-led Mahagathbandhan, or Grand Alliance—comprising the Janata Dal (United), the Rashtriya Janata Dal (RJD) and the Congress—won in 178 seats. The BJP-led National Democratic Alliance won in 58 seats.
The elections in Bihar, an impoverished eastern Indian state of over 100 million people (pdf), were also seen as a referendum on Modi's government—and governance—in New Delhi. Would Bihar's electorate back the prime minister, his party and his vision of development? Or, would they continue to repose faith in the alliance proposed by the incumbent Kumar, who has tried hard to pull Bihar out of a vortex of crime, corruption and underdevelopment? That Modi's message has failed is now clear.
At a time when India's public discourse is so intensely polarised, the ramifications of these elections will likely be felt far beyond Bihar's borders. Here is what the Bihar verdict means for India.
The Modi-Shah machine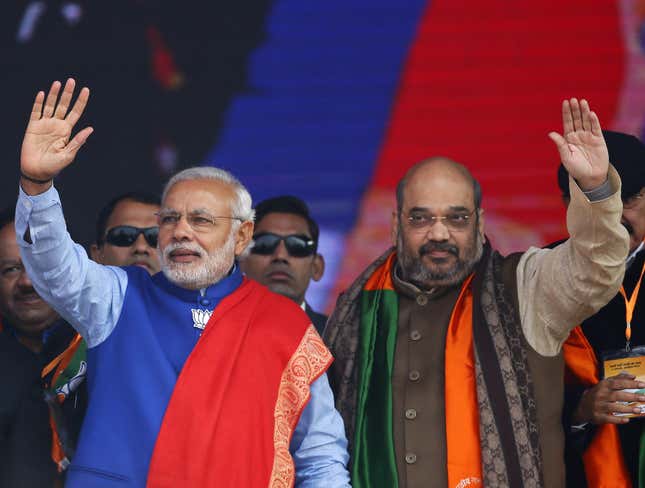 If the Delhi debacle prompted doubts, the Bihar bludgeoning has put them all to rest. The electoral machine perfected by Modi and his second-in-command Amit Shah is floundering.
The two combined masterfully to craft a reform-focused, development-minded, positive campaign in the run-up to the 2014 elections. The result was Modi's landslide victory, the likes of which hadn't been seen in Indian democracy for decades.
In Delhi, and now in Bihar, the BJP ran an increasingly negative campaign, where all the talk of development was replaced by divisive politics. Instead of projecting the prowess of their own candidates, the ambition was to continually discredit their opposition. In a state where caste is central to the political equation, conversations on cows and rhetoric on reservations took centre stage.
Evidently, that isn't what Bihar's electorate wanted to hear. Is it time that the Modi-Shah machine recalibrates?
Impact on reforms
The big question is exactly how much the Bihar debacle will impact prime minister's plans for the sputtering Indian economy.
"It would be a positive for the markets if he wins, and a negative if he loses because it will be seen as difficult for him to pass through legislative reforms," Madan Sabnavis, chief economist at the Mumbai-based CARE Ratings, told Bloomberg last month.
These results won't help because the big stumbling block for Modi's economic reforms programme—the BJPs' lack of strength in the Rajya Sabha, India's upper house—remains in place. In any case, even if he had won big in Bihar, the impact on the BJP's Rajya Sabha strength wouldn't have been immediate.
Nonetheless, there will now be more pressure on Modi to deliver on his economic agenda quickly. Despite promises, reassurances and much bandying about of rankings, India's economy hasn't really kick-started under this government.
True, the economy is stable, but hard decisions on important reforms have either been delayed or shelved, and much depends on the government's ability to spend more and spend better. Much will also depend on the government's ability to keep the parliament from stalling when it reconvenes later this year. An emboldened opposition won't make things easier.
"It is a clear and big setback for Modi," political analyst Ashok Malik told the Wall Street Journal. "When you lose political capital, it affects your capacity to get things done."
A regional revival
Kumar and Yadav—the provincial chieftains who've just dismantled Modi's election apparatus—are the strangest of bedfellows. For over two decades, they fought each other to wrest control of Bihar, only to swiftly unite now in the face of an unprecedented threat from the Modi-led BJP.
Their coming together—and now a stunning victory—is evidence of the further rise of India's regional parties as the only real opposition to the dominant BJP. It is also proof of the political space they have come to occupy as a withering Congress party languidly attempts to set its house in order.
A group of influential regional leaders—including Delhi's Arvind Kejriwal, West Bengal's Mamata Banerjee and Uddhav Thackeray of the Shiv Sena in Maharashtra—wasted little time in congratulating the Kumar-Yadav Grand Alliance and chastening the BJP.
"This shows that people endorse regional parties, if they rule well," former Karnataka chief minister and Janata Dal (Secular) leader H D Kumaraswamy told the Economic Times. "It is a trend that will continue in both Tamil Nadu and West Bengal elections next year. It can happen at the national level also."
The Lalu factor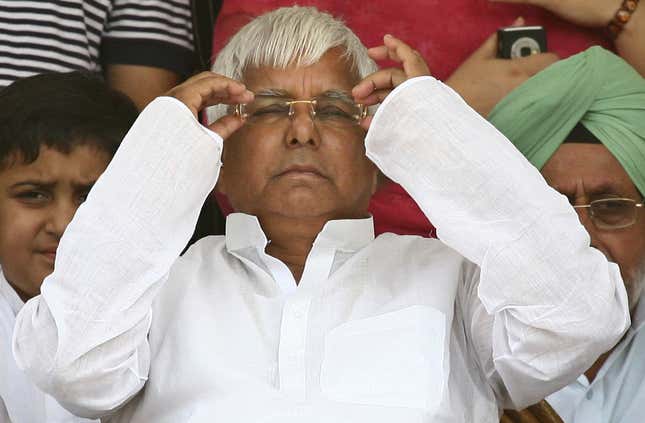 For the incumbent chief minister Nitish Kumar, this election is a big victory—and the beginning of an even bigger challenge to deliver on poll promises.
But the other half of the Grand Alliance, and Kumar's new partner, could be a problem. During his time in power, Lalu Prasad Yadav presided over a government that facilitated the Rs950 crore ($143.7 million) fodder scam. Yadav was personally involved, convicted and jailed.
The remainder of Yadav's governance record isn't particularly illustrious either. With a deft handle on the state's deeply entrenched caste divisions and a keen sense of the populist pulse, the shrewd Yadav repeatedly returned to power but delivered little on development.
It wasn't something that Modi ignored. "Should they get a chance to engage in more such scams? Should people involved in such scams be punished or not? People, who looted Bihar in this manner should be rejected forever," the prime minister questioned repeatedly.
Still, Yadav's RJD won in 80 seats, nine more than what Kumar's Janata Dal (United) has mustered.
With a such a massive mandate now behind them, can Kumar deliver, in spite of Yadav?
We welcome your comments at ideas.india@qz.com.