Five years ago, Swati Bedekar discovered that teenage girls in rural India often dropped out of school—or took prolonged leaves of absence—once they hit menstruation.
These girls were typically using unhygienic methods, such as old rags or leaves with mud, during their monthly cycles. And Swati—who was then teaching at rural schools in Gujarat—found that not using sanitary napkins was not only preventing them from attending schools, but also exposing them to the risk of reproductive diseases.
That led her to focus on correcting menstrual hygiene in rural Gujarat through her non-profit, Vatsalya Foundation. She configured semi-automatic machines and trained women to use them to manufacture affordable sanitary napkins.
But that did not turn out to be enough.
Women and girls were still shying away from adopting sanitary napkins—because, once used, they found it hard to get rid of them.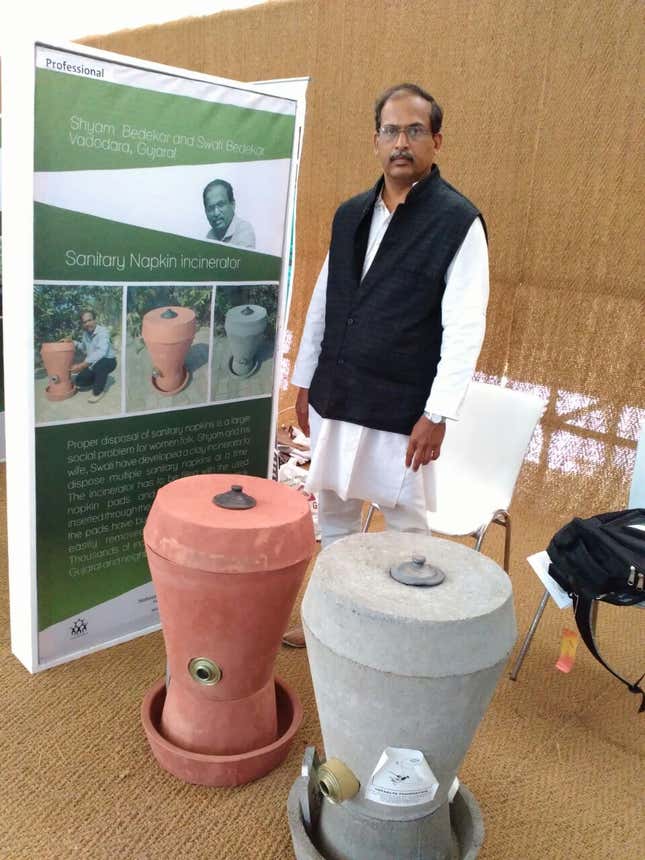 In 2012, Swati's husband Shyam Sunder Bedekar invented a simple, cheap and eco-friendly machine to allow women to burn their used sanitary napkins. He called it ashudinashak, which in Hindi, literally translates to a destroyer of impurity.
"Unlike in urban areas, there's no system of movement of garbage in rural India. In cities, garbage is collected from every household and transported to a landfill, making it easier for women to push a used napkin out of the house," 54-year-old Shyam, who studied textile chemistry and engineering in Vadodara, told Quartz.
"Here, it is difficult for females to go out and dig it into the sand or burn it, because the houses are very close by, and there are other social problems," he added. "So, now they can easily burn it."
That made it easier for the couple to convince women to use sanitary napkins.
Like a hearth
Ashudinashak is the first-of-its-kind machine in India, and it works just like a traditional brick-lined fireplace. But, instead of cooking, women can basically use it to burn sanitary napkins.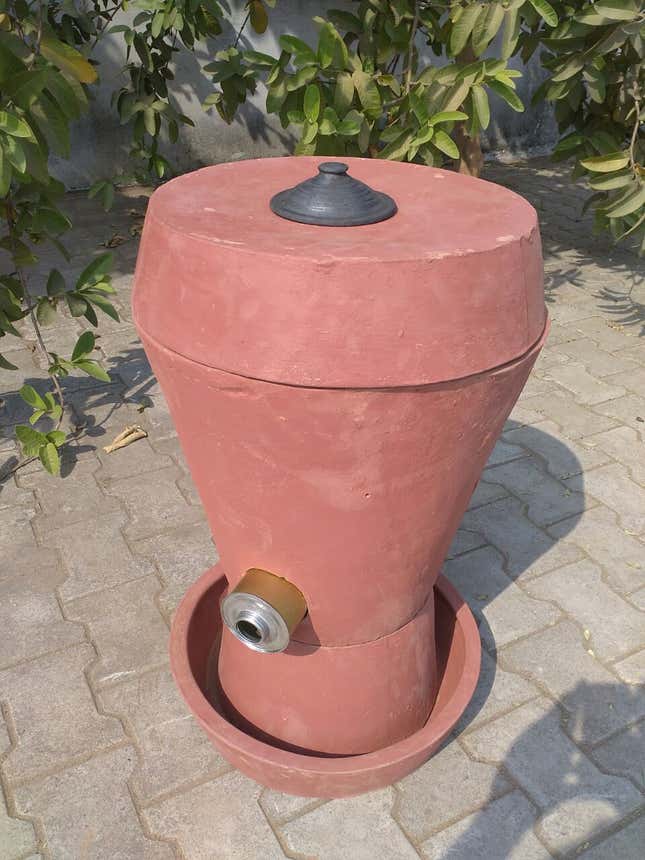 "During my research, I found that the best way to discard sanitary napkins was to burn them," Shyam told Quartz. "So I designed a machine, keeping in mind that it should be easily acceptable in rural India, it should be cheap and it should be easy to operate."
The machine is made of terracotta, a clay-based ceramic, commonly used by potters.
"You find terracotta pots in villages everywhere, so it does not even grab any attention," he said. "And it had to be easy to use because it would be used by women who mostly do household work. They all are comfortable with lighting a chulha (fireplace), and starting a fire inside the incinerator is as simple."
An ashudhinashak contains an accumulation chamber, the base of which is made of a mesh, and can be filled with up to 20 used sanitary napkins. The fire is lit using dry grass or paper through a hole located right underneath the mesh. The hole also allows oxygen to pass through to sustain the burning.
The material prevents any foul odour and transmission of airborne bacterial diseases. The only residue is ash, which can then be used as a fertilizer, and is easily dissolvable in water.
While many waste experts say incineration of sanitary napkins leads to toxic emissions, Shyam says his machine is environmentally safe.
"An average weight of a sanitary napkin is 6-8 grams. And 85% of that is made of wood pulp, paper and other organic matter. The synthetic part is only the upper layer," he said. "Moreover, in the incinerator, the temperature doesn't go beyond 300 degrees Celsius. At that temperature, the 15% of polypropylene that is present just shrinks. It doesn't convert it into any harmful matter, which it will if the temperature is more than 470 degrees Celsius."
High demand
In March earlier this year, the innovator presented the incinerator at a festival organised by the National Innovation Foundation, held in New Delhi's Rashtrapati Bhavan.
"That helped make many more people and NGOs become aware, so now I have been sending these to all over India. For that, we have created the same product using concrete, with reinforced steel bars, so that I can transport them easily on trains," he said.
From several villages in Gujarat to now selling in Assam, Rajasthan, Odisha, among other Indian states, the demand for the simple machine is slowly picking up. Government schools and colleges in cities also seem interested.
"We have installed this incinerator in eight to 10 high schools and it has been of great help. We plan to order more incinerators for the university," Harish Joshi, head of the Centre for Social Entrepreneurship at Manipal University, Karnataka, told Down to Earth magazine.
Overall, Shyam Sunder has installed more than 2,000 machines in different schools and colleges for Rs2,000 ($30) each.
"We have installed these incinerators at the 109 girls' residential schools in Gujarat and we are quite satisfied with its performance," Darshana Suthar, gender officer at the Sarva Shiksha Abhiyan cell in Gandhinagar, told the Down to Earth magazine. Earlier, Suthar explained, the toilets would get clogged as students tried flushing the napkins to dispose them.
We welcome your comments at ideas.india@qz.com.