Zomato has taken food porn to a whole new level.
Since last week, the Gurgaon-headquartered food-search-and-delivery website has been advertising on some of the world's biggest porn sites. The logic behind the decision: A considerable number of Indians spend their time watching porn.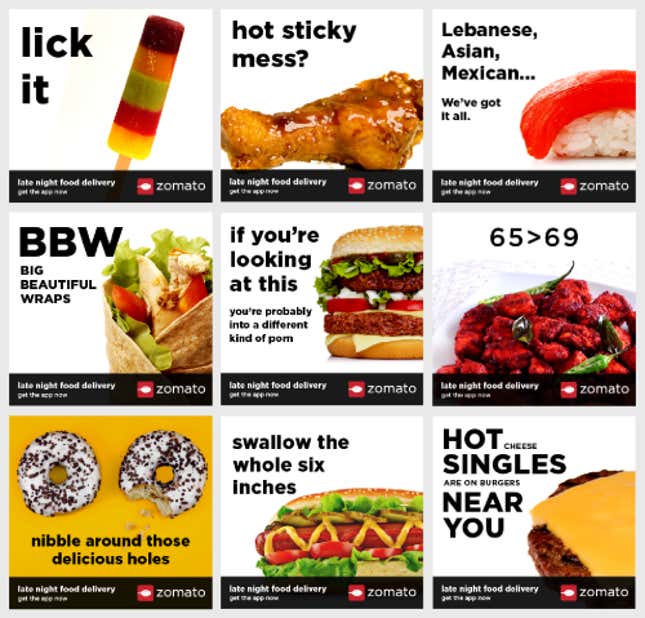 It also helped that advertising on porn websites is remarkably cheaper. "Highly optimised Adwords, Facebook, and Twitter ad campaigns are commoditised and therefore quite expensive," Pramod Rao, senior vice-president of growth at Zomato, wrote in a blogpost on Dec. 15.
CPC, or cost-per-click, is essentially the amount an advertiser pays a publisher when an ad is clicked on.
"The alternative seemed almost obvious when someone said 'Hey we should try advertising on porn sites', and then justified it with 'look, people watch porn, and people get hungry, so stop judging me," Rao added.
Porn in India
In 2014, India ranked fourth worldwide in terms of traffic to Pornhub, one of the world's largest adult websites.
Zomato also had some interesting insights on India's porn habits after analysing their data.
"The highest number of clicks in Delhi came from around the Hauz Khas area. We can't say for sure why that happened, but IIT-Delhi is in the area," the post said. The Indian Institutes of Technology usually have a disproportionately high number of male students.
This creative approach to advertising comes at a time when the food-ordering startup is facing the heat. In November, Deepinder Goyal, Zomato's founder, expressed his dissatisfaction with the company's revenue. In October, the company had also laid off about 300 employees, which is around 10% of the total workforce at the startup.
Zomato is not the first food-ordering brand to advertise on porn sites. Eat24, the US-based takeout-ordering app owned by Yelp, saw their ads get 200% more exposure on porn websites.
But Zomato does have another avatar: The company has a domain registered zomato.xxx, which displays photos taken by Zomato users under the food porn category.