This story will be updated as more information becomes available.
A 6.7 magnitude earthquake hit northeast India in the early hours of Jan. 4, rattling eastern India, Bangladesh, and parts of Myanmar.
The quake killed at least nine people and injured nearly 200, Reuters reported, adding that rescue efforts have been hampered by disrupted electricity supply and severed telecommunication links.
The epicentre was 29 kilometres away from Imphal, the capital city of India's Manipur state, which straddles the Indo-Myanmar border, the US Geological Survey (USGS) reported.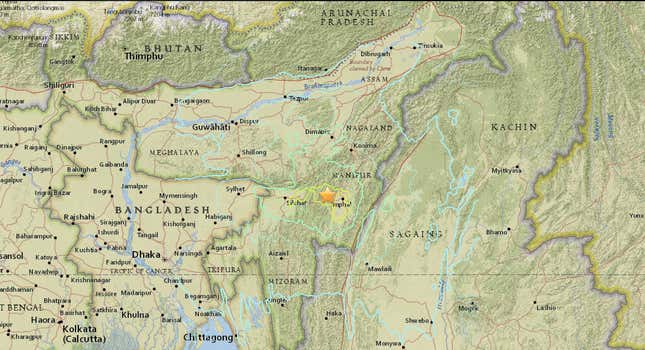 Social media posts showed the damage to buildings in Imphal, including Ima Keithel, a major women-run market in the city centre.
A National Disaster Response Force team has already arrived in Imphal, India's defence ministry said. A three-member team from the health ministry is also likely to reach the state by Jan. 5.
Other large cities in the region including Guwahati and Kolkata in India and Bangladesh's capital city of Dhaka also felt the quake but no significant damage has been reported so far.
India's northeastern region lies at the northern end of the Indian plate, a major tectonic plate that is in constant friction with the Eurasian plate. Friction between the two plates triggered the massive earthquake in Nepal last April, which killed over 8,000 people and displaced thousands more in the Himalayan nation.
The last big earthquake to hit Assam was on Aug. 15, 1950. The 8.6 magnitude quake had its epicentre in eastern Tibet but wreaked havoc across northeast India, killing thousands. This is how a 1974 study (pdf) of the earthquake described its impact:
The earthquake had severe effects on topography and the regime of rivers: Riverbeds had considerably silted up and many had permanently changed their courses, adding the effects of floods to those of shaking. Aerial reconnaissance revealed that 10,000 (square) km of hill area were affected by landslides.