Gurgaon—a commercial hub near Delhi—is home to offices of some of the world's biggest companies, a large contingent of India's leading corporations, and a swiftly growing set of startups. Yet, this city of more than 2 million people lacks a robust public transport infrastructure.
The Delhi and Gurgaon metro systems only go up to a point, beyond which commuters must travel by auto-rickshaws or cycle-rickshaws. Cab-hailing apps such as Uber and Ola are useful, but can be expensive for short distances.
The lack of  options is especially hard on women. Gurgaon is located in Haryana, one of India's most patriarchal states, and one with the highest crime rates against women.
Enter Bikxie Pink—a new bike-taxi company that wants to make travelling for women safe and affordable.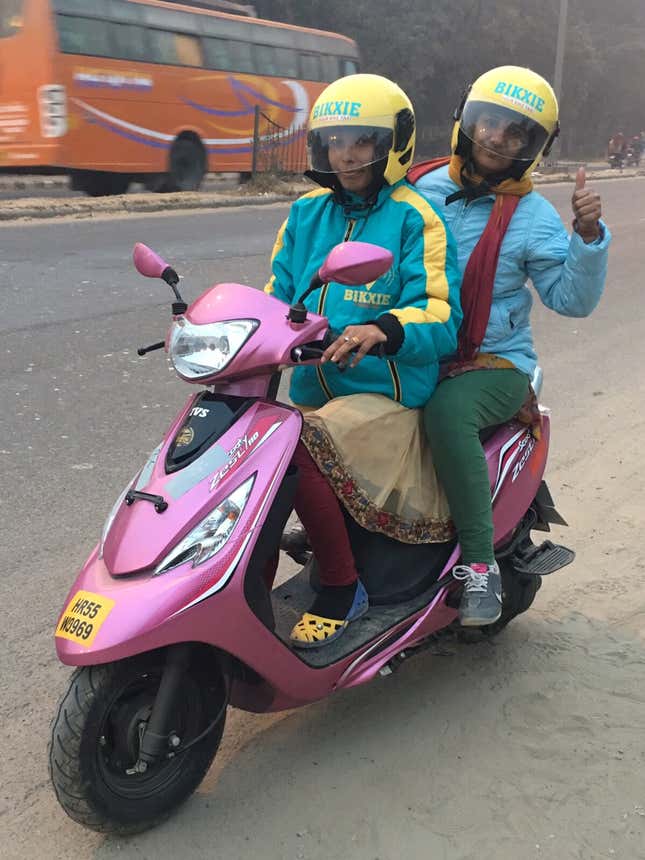 Bikxie Pink is training women drivers to help women commuters overcome that last-mile connectivity hurdle. These drivers and their Scooties—gear-less scooters—can be called for by using a bike-hailing app.
"During our research, we spoke to a lot of people in Gurgaon. We found that women found it odd to ride pillion to a male pilot," Mohit Sharma, founder & CEO of Bikxie Pink, told Quartz.
Last week, the company rolled out five such women-only scooters. Currently, they offer their service only between 8 AM and 6 PM. And, on an average, each chauffeur is making 12 daily trips.
The first two kilometres cost Rs10 and every subsequent kilometre thereafter Rs5.
"At one level, we are providing employment to women. At another, we are empowering them," added Sharma.
Bikes for all
In the last two months, bike taxis have emerged as a viable option for commuters in Gurgaon. Though Bikxie Pink is the only woman-only service in the city right now, two other tech-based startups—M-Taxi and Baxi—entered the motorcycle taxi segment last November.
While Baxi launched with a fleet of 23 motorcycles, M-Taxi has 10. Although they do not provide women drivers for women passengers, both are expected to launch women-only services soon.
"About 200,000 professionals travel to and within Gurgaon every day for office and business meetings," Arunabh Madhur, founder and CEO of M-Taxi, told YourStory.
Moreover, bikes taxis are "easy on traffic," Sharma of Bikxie Pink said. "There's a lot of congestion in Gurgaon, so two-wheelers are better and faster."
The idea of bike taxis is not new. In Southeast Asia, there are several bike-taxi services, including Indonesia's GrabBike and Go-Jek.
But regulatory concerns in India can turn roadblocks. The Haryana government had to modify the Motor Vehicles Act to allow bike-taxis in Gurgaon, according to Ashutosh Johri, co-founder of Baxi. "We mobilised the government and asked them to make a new (state contract carriage) permit for motorcycles, and allow charging fees," 42-year-old Johri told Quartz. "We got the in-principle go-ahead in two or three meetings."
Launching into other states would mean going through the permit process again with that state government. So, Baxi currently plans to expand into other cities in Haryana, including Faridabad, Panchkula and Bahadurgarh. Bikxie Pink, too, wants to restrict its expansion to Haryana.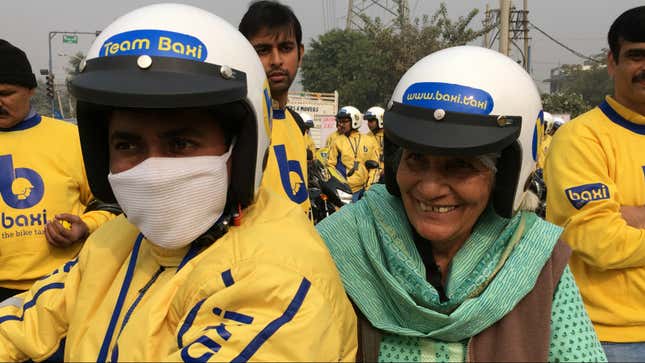 In the last one year, Ola, Uber, and other cab-hailing apps have occasionally had a rough ride in India. Uber, in particular, felt the heat from regulators and the public in December 2014 after one of its drivers raped a woman passenger. Subsequently, the union transport ministry demanded all app-based taxis to stop calling themselves "aggregators," and register under the Motor Vehicles Act. That meant Uber and Ola had to follow the same legal norms as regular cabs.
"People come and tell me, 'things happened with Uber. I hope you're taking precautions'," Johri told Quartz.
Besides background checks for all drivers, Bikxie Pink is taking an extra measure. All its drivers carry pepper spray.