Despite its current ubiquity, the sanitary napkin was a product whose demand and need didn't exist till recently—these had to be created. It was premised upon the notion that menstrual blood must be controlled and rendered invisible, a process that was also deemed hygienic and comfortable.
What then, is the history of this product that many menstruating women have come to use? A Google search leads to the history of the sanitary napkin, towel, and pads in the Anglo-American world, but India and Indians are missing. However, the products here were not much different.
A quick glance at The Times of India newspaper's archive reveals some fun facts. Organised sanitary napkin producers targeted upper and middle-class audiences in the early 20th century (shifts in advertisement patterns indicates a shift in target audiences).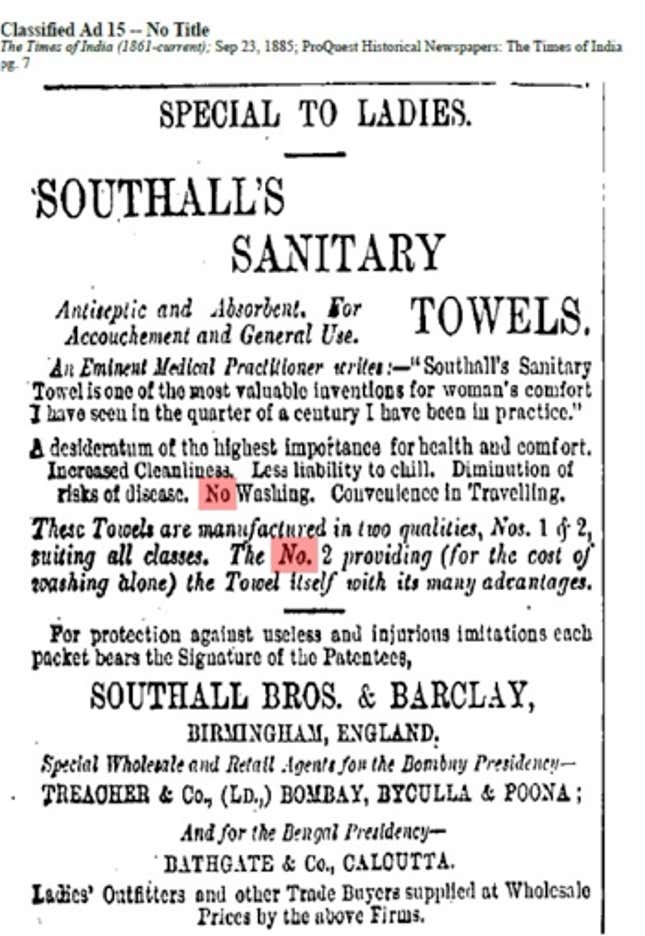 Manufactured sanitary pads (as opposed to cloths) have a long history in India, beginning from the last decades of the 19th century.
In early advertisements, menstruation was often transcoded as "shadows which so regularly come to their lives" and "characteristic ailments of their sex". In 1885, the newspaper ran an advertisement for Southall pads. Some authors date the first advertisement of Southall pads to 1889, but it featured in The Times of India as early as 1885.
The catchwords being "hygiene", "cleanliness" and "comfort", the advertisement brought to the forefront Victorian ethics of controlling the markers of sexuality. Manufactured by Southall Brothers and Barclays from Birmingham and England, it was initially distributed in Calcutta, Bombay, and Poona retailers. Tucked in the seventh page of the newspaper, along with other health-related articles and advertisement, it was asserting its role as a medical product. As yet, the pad was not marketed as a necessity but as a source of comfort and hygiene.
In America, Johnson and Johnson developed the Lister's towel, and this too found its way into India—capturing the European and wealthy population.
However, in popular history, the disposable sanitary napkin as we know it owes its genesis to the First World War. Cotton shortage for bandages during the time gave Kimberley Clark, a paper manufacturer, a chance to sell its new greater absorbent paper tissues. As contemporary Kotex advertisements proudly claimed, by 1920 the wartime nurses were using these excess bandages as sanitary napkins. This was later marketed as Kotex.
By 1929, Kotex was being sold in India as "economical." Soon, looking to enhance their credibility, advertisements claimed that women had a role in improving their designs. In America, the campaign targeted the new "modern" woman. The Lord and Thomas agency in the US began to tie Kotex to the image of the modern woman "who lives every day of her life" and "fills every day with activity." Before 1947, the ads were primarily directed at the European and Anglo-Indian population. By 1954, an advertisement showed Kotex seeking to create a value of association with other "modern Indian women" too.
Sanitary napkins were also produced by the organised sector in India, but their advertisements are found in The Times of India only from the third quarter of the twentieth century. For instance, Gandhar Enterprises (of Allahabad from 1975), Softouch (Ahmedabad, 1981) as also Carewell (Chandigarh, 1992).
In India, napkins often came with belts, implying that they would particularly be suited to women wearing petticoats and salwars. The introduction of adhesives in napkins in the 1990s indicated changes in the use of underwear. In fact, the adhesive napkins had a 60% growth rate in 1990.
Economic liberalisation eventually saw broadening of the consumer base. It effectively led to a revamp of the organized sector, largely (even now) dominated by multinationals. In 1990, the industry leader was Johnson and Johnson, with its Carefree, OB Tampons, Stayfree—with its adhesive based pads—and Freshday brands. The Times of India in 1990 wrote that most of these products were first introduced in the '60s, and popularised subsequently. The advertisements, though, were low-key affairs initially.
In 1992, Proctor & Gamble launched Whisper. This nudged the low-key Johnson and Johnson into some aggressive countering. By 1996, there were signs of competition as giants such as Kotex re-entered the market with attractive price bands.
However, by 1998 it was evident that Kotex was looking to convert non-users. A Kotex newspaper advertisement showed a mother, who used cloth, asking her daughter to use Kotex instead. So, it was not really competing directly with Johnson and Johnson and Whisper's niche and established target audiences.
The creation of consumers was no mean feat. Various social factors, and not only economics, acted as determinants.
For example, H Kotyan, director of Viscoti who had launched Feather Touch in 1989, described the situation using the populations of the central Mumbai suburb of Matunga. While residents in both Matunga East and West could afford pads, the lifestyle of people in the West went with the product; the east's didn't.
Distributors complained about the need to create awareness. Kotyan pointed out, among other bizarre things, that some men in Kerala would use sanitary napkins to keep their shirt collars dry.
So, a new aggressive campaigning came to the fore. Educational institutions became an important part of the advertisements. Schools, doctors' chambers, free samples, door-to-door selling and even home-delivery helplines were used to promote and cut across societal distinctions.
The reach was expanding. Whisper launched a Hindi text for school students in Dhanbad, titled Kahani Kishorawastha Ki/Aur Kuchh Baatein Sayano Ki (Story of adolescence and some facts about adulthood), along with free packets. Films came to the forefront as well. One Stayfree ad showed a busy former Miss India, Meher Jesia, using the pads in her march towards a successful life.
Some of these ads were objected to. In 1995, there were demands in Maharashtra to ban "vulgar" ads on Doordarshan on grounds of obscenity. Sample surveys of sanitary napkins were sought to be stopped. The fact that this did not prevent such programs shows the power of such products, as well as strategies of advertising agencies to break through societal taboos. They appealed to menstruating women, ironically, by sanitising menstruation itself—replacing blood with blue ink.
A marketing survey in 2011 rued the fact that MNCs still could not manage to reach all layers of Indian society. It suggested that, in 2010, approximately 12% of menstruating Indian women used sanitary napkins, as opposed to 64% in China. This resistance has been rather frustrating for the companies.
This is by no means a comprehensive history of sanitary napkin advertisements in India. The larger story probably lies in the unorganised sector and households. For every Arunachalam Muruganantham, who created a low-cost device to produce napkins, the segment is replete with stories of cloths, rags, local companies and about people who possibly chose not to restrict the flow—all remain unrecorded.
This essay is a call for discussion. Ask your grandmother, grandfather, neighbour, and parents about menstruation and the products they associate with it, the advertisements that influenced them. That way, we can know so much more!
After all, many of us simply use the sanitary napkin, without questioning the fact that it is just a product born out of a century of innovative and aggressive advertising.
This post first appeared on Offprint.in. We welcome your comments at ideas.india@qz.com.