On Thursday (Feb. 18) afternoon, a young, uneducated rose vendor made some quick bucks in New Delhi.
Perhaps, the symbolism didn't cross his mind—he was giving away a flower most loved by Jawaharlal Nehru to students and teachers protesting the Narendra Modi government's vicious crackdown on a university named after India's first prime minister.
As around 10,000 protesters marched in what was, according to BBC News, the country's biggest students' demonstration in 25 years, the young man, who couldn't recall his age, handed slightly wilted roses to protesters for Rs20 each.
The students walking from Mandi House to Jantar Mantar in the heart of India's capital held these flowers, often pinning them to their clothes—as Nehru fashionably did—or just gave them away to bystanders.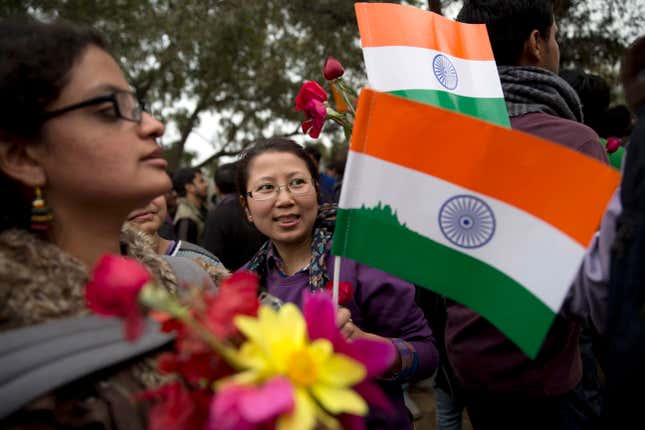 "I sit next to the red light on Barakhamba road," the flower vendor said. "But don't ask me why all these people are here. I cannot read the posters, so I don't know what is going on."
If he could read, he would've realised that the protest was against a government that is struggling to alleviate the lives of people like him. At 287 million, India has the world's largest illiterate population. Yet, even as primary education suffers, the government seems determined to destroy the few good universities the county has.
Last week, the Delhi police arrested the president of JNU's student union for allegedly chanting anti-India slogans at a campus event. While the authenticity of the video that showed him raising such slogans is being vigorously questioned, the move to arrest Kanhaiya Kumar has triggered nationwide debate on the Bharatiya Janata Party's (BJP's) intolerance for any kind of dissent.
The BJP, on its part, has unleashed a wave of jingoism to counter this. So much so, sections of the country's elite and educated have condemned the university, even demanding its closure.
On the protest path on Thursday, bystanders often echoed these anti-JNU sentiments. While the uneducated flower-seller displayed benign lack of interest, the wealthier and educated observers showed naked hostility.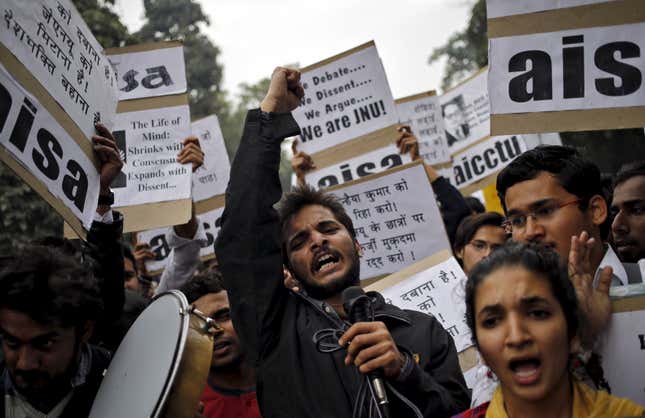 "What these students have done is wrong. That Kanhaiya Kumar should get some sort of a punishment," said an employee of an e-commerce firm, who was observing the protest from outside his office building. His colleague agreed. "How can you say you will cut Mother India into pieces and then get away with it?" he asked. "Now, I have heard that a lot of leading companies do not want to hire these students."
Both men work for a technology startup, which has its office on Tolstoy Marg, a posh commercial area of central Delhi.
This wave of hypernationalism has been promoted by a seemingly partisan press. Some opinionated anchors—such as Arnab Goswami of Times now—have already decided that JNU is a hub of anti-national activities, often based on dubious facts.
The anger against this coverage was palpable during the protest, with many a student chanting "Arnab Goswami, show the truth!"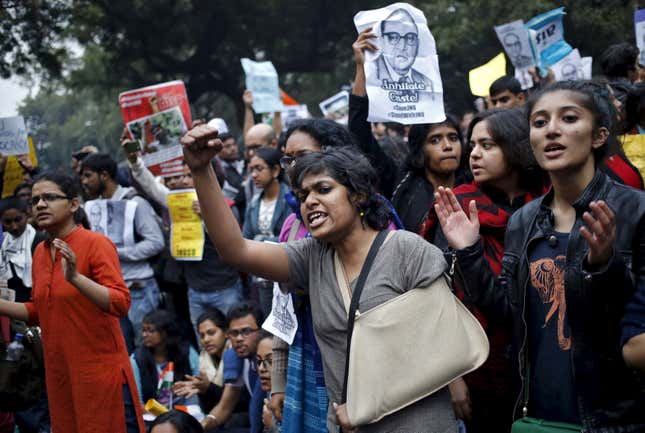 But the damage is deep. Most onlookers believed the manipulated message. "Didn't this Kanhaiya Kumar create some trouble in the court the other day?" asked another worker on Tolstoy Marg, while taking a drag of his cigarette. For the record, it was a group of overzealous, right-wing lawyers who attacked journalists and the student leader in the court on two occasions this week.
Some could not fathom why there was any need in a university to debate death penalty—or any kind of politics, for that matter.
"They are students, so they should behave like students and not do all this," said a cigarette seller, a stone's throw away from Jantar Mantar, where the march ended.
"And, if he (Kumar) was so concerned about Afzal Guru, why did he not protest when he was hung all those years ago?"
On Feb. 9, when the alleged anti-India slogans were raised at JNU, students had questioned the execution of Afzal Guru, who was hanged for the 2001 attack on the Indian parliament—something that some commentators have latched on to as proof of anti-nationalism.
But this crude nationalism only highlighted the peaceful solidarity of protesting students, who came from several prominent universities in India, carrying posters in English, Hindi, Urdu, and French. They were here to not just show their support for Kumar, but to also express their sorrow over Rohith Vemula's death, and, most of all, to demand their right to question and dissent.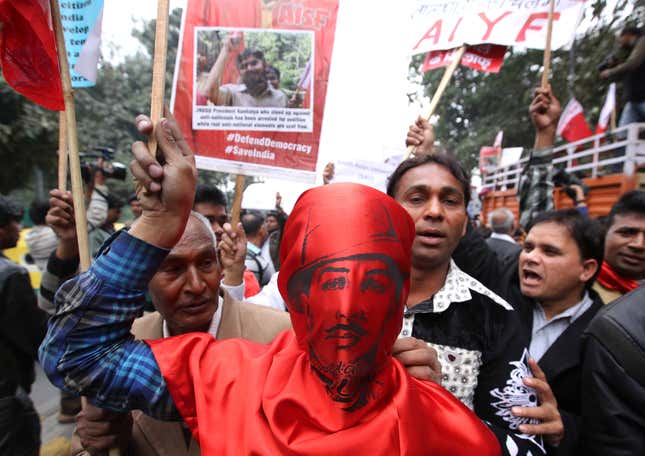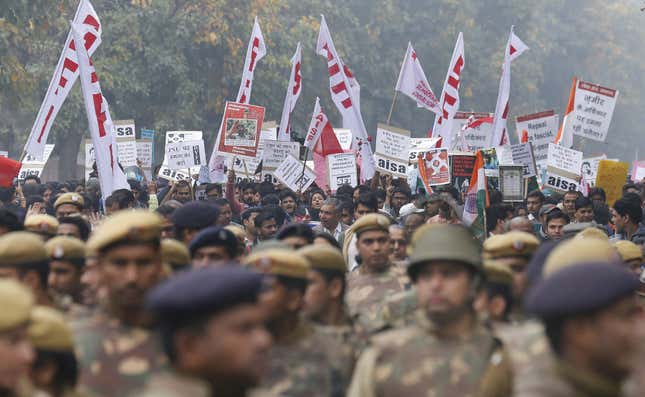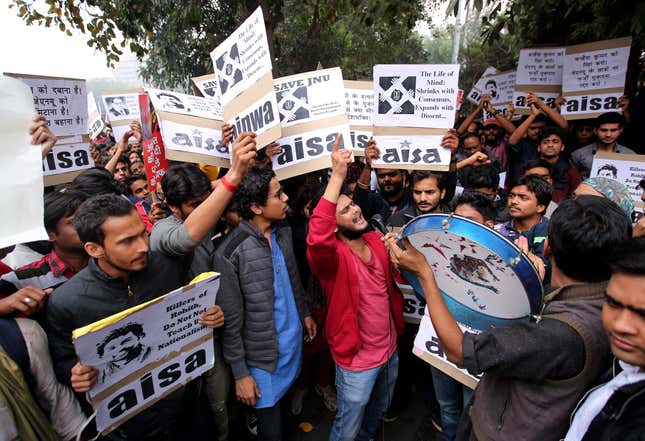 Manu Balachandran contributed to this piece. We welcome your comments at ideas.india@qz.com.