The student president of Jawaharlal Nehru University in Delhi, a major Indian university, was recently arrested after a speech later deemed an insult to "Mother India". This is simply the latest event in a trend of regressive actions from the Indian government—a similar agenda can be seen from unfolding events at Jadavpur University and Hyderabad Central University.
As commentators have suggested, "The government does not want to just crush dissent; it wants to crush thinking." Intellectual whitewashing is gaining momentum. And in response, Indian artists are increasingly delving into history in order to critique the present.
School curricula and education schemes are being streamlined, used to justify and fuel Hindutva—the right-wing ideology that views the Indian subcontinent as belonging to the Hindus. Some school books printed by prime minister Narendra Modi's home state of Gujarat go so far as to teach children that aeronautics originated in ancient India under Hindu gods. And in 2014, Modi claimed that genetic science existed in the same period.
It is in response to the danger of this "Modi-fication" of knowledge that Indian artists are taking a historical turn. They are amassing another body of knowledge which scrutinises and challenges the unnerving cultural censorship and monolithic narratives being promoted. While this interest in pulling at the past and playing with ideas of heritage is not new, this contemporary movement marks a change, and was particularly clear at this year's India Art Fair, New Delhi.
Strange flowers, strange stories
Dayanita Singh's current show, "Conversation Chambers Museum Bhavans", is in part a representation of overflowing state archives and towers of publicly accessible papers. The work emphasises how the preservation of history, particularly in 19th-century India, carves an expansive path for younger generations.
The artist collective, Cooking Sections, are perhaps more sceptical. They use history to poke holes in the past. Their installation—Floods, Rats, White Ants, All Seem To Conspire Against Us (2016)—is a vast dusty tangle of thorny plants, potted shrubs and young trees surrounding two broken chairs. Peering into the piece, the artists described to me how this was the product of long visits to the British Library India Office Records.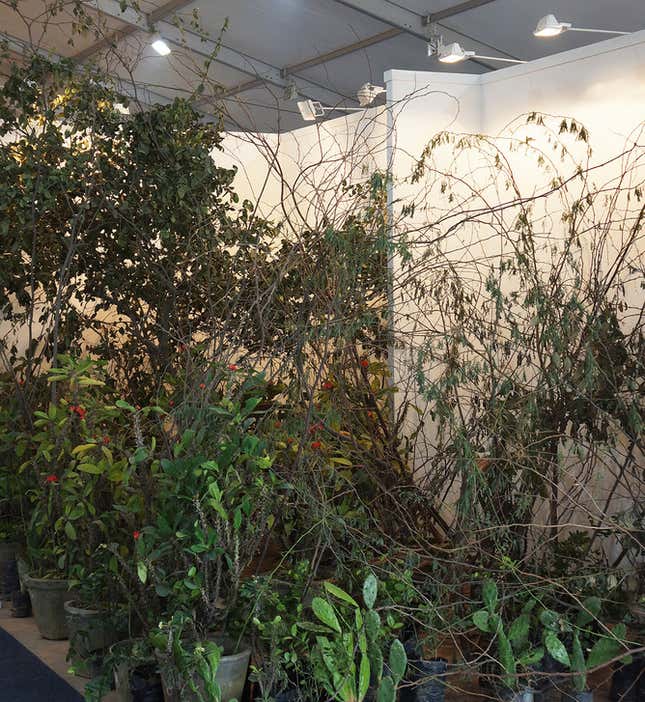 Here they spent weeks reading the library's files and discovered the Indian Salt and Sugar Hedge, a former tax boundary that was 4,000km long and guarded by over 12,000 British forces between 1840-1870.
While in itself intriguing, the research, more importantly, showed how past decisions have deeply affected contemporary India. Pointing to one of the plants with red flowers, the artists explained that since its introduction by the British, the species had ruined India's local agriculture. To them, it represents the continuation of the damages to the Salt and Sugar Hedge.
The historical research might be more obscure in this piece, but the same is hardly true of the work of Sahej Rahal, a young performance artist.
He leads his audiences through ruins and installs sculptures made from found clay and straw. At the fair's closing discussion, he reflected on how India's colonial port cities have become cultural hubs. Having been displayed at The Heritage Hotel, Goa, and the Kochi-Muziris Biennale in Aspinwall House, an old British warehouse, he described how the history of these places seeps into his work and "allows for the re-examination of the contemporary".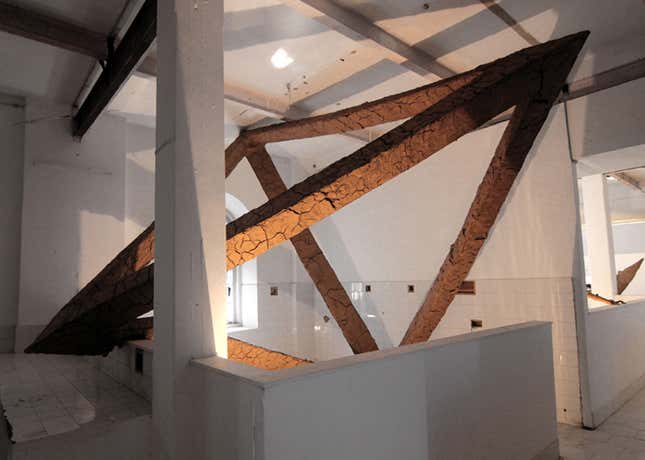 Consulting local oral histories and literature allowed Rahal to develop characters and intervene in these heavy spaces. Using recollections of Portuguese slaves, mystics and "displaced beings", he takes these people as "fellow travellers" and helps them to reconcile their injustices.
But this is not only about the fantastical. Putting the past into his work has, as Rahal candidly discussed, become vital: "Right now in India, there is a violent restricting of the past taking place." Speaking about the "absurd fictions" being created and popularised, other histories have become his tool and a way to "confront these strange tales with stranger ones".
Faked history
This forms parallels with the work of Sajan Mani, an art activist who insists that history increasingly contains "so much fake information" and is troubled by the way it is built within the structure of the caste system. Mani uses old police reports, visual encyclopaedias and current media portrayals as a backdrop for his performances, focusing on knowledge production and caste politics.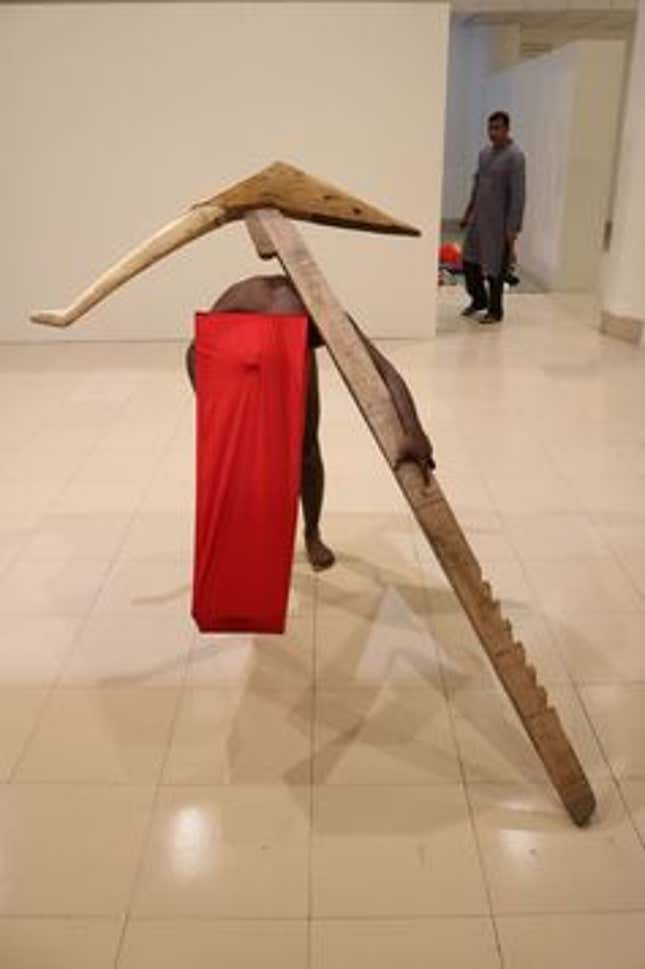 Indian art is easily coated with an oriental gloss. Moving away from this and scrutinising the present is a collective and deep-rooted concern for contemporary artists. And, ironically, exploring records of the past in their many forms is an increasingly popular and effective means of doing this.
As Deana Heath recently wrote, using art to address uncomfortable dialogues is necessary. This is even more so as we move towards the 2017 UK-India year of culture. With the British Library's South Asian archive digitisation set to be completed and emphasis placed on cultural exchange, it will be interesting to see whether a platform is created for these artists. Given that this is an act of political diplomacy, it is fair to suspect that any critical voices will be "celebrating" alone.
This article was originally published on The Conversation. Read the original article. We welcome your comments at ideas.india@qz.com.