If all journeys are teachers, a journey to India may well be the greatest of them all. As Kurt Vonnegut said, "Bizarre travel plans are dancing lessons from God." It was in search of a new dance that I purchased a one-way ticket for the longest train trip in India.

Indian Railways train #15906—the Dibrugarh-Kanyakumari Vivek Express—travels 4,273 kilometres as it winds its way from the northeastern corner of Assam to the southernmost tip of mainland India, an 85-hour odyssey that gives it the prestigious title of the longest train ride in India, by both time and distance. It departs Dibrugarh at 10:45 pm on Saturday and arrives in Kanyakumari at around 11 am Wednesday—three days and four nights.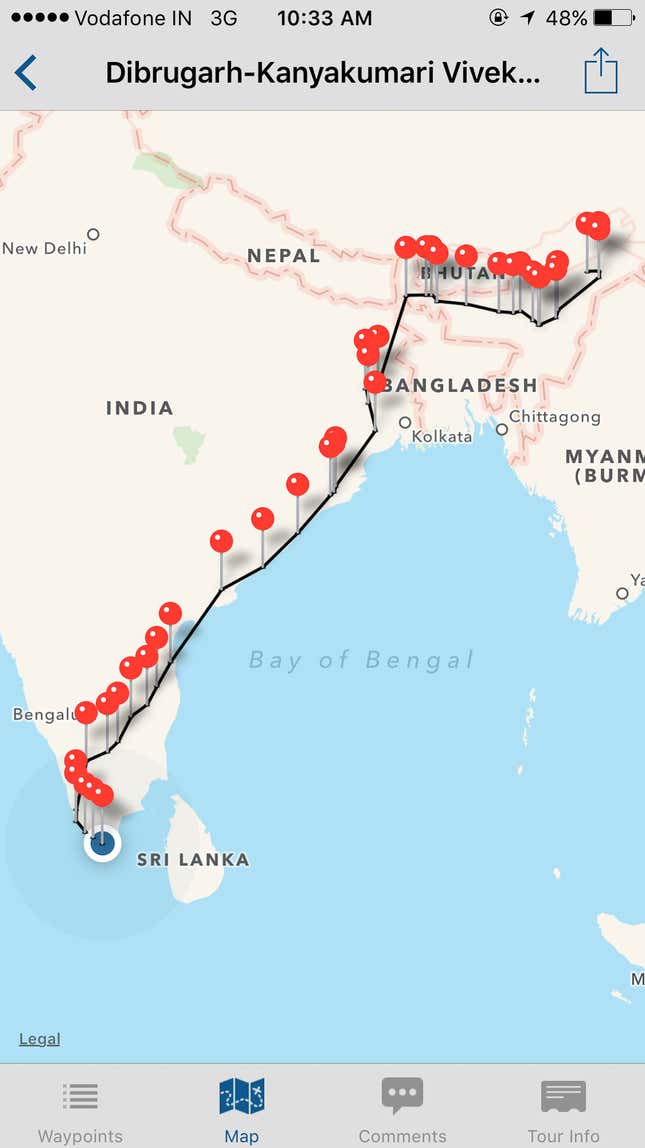 The first part of the journey is in darkness, and making your bed and meeting neighbours are the only activities. When the sun rises, the lovely hill station of Diphu, in Assam, slides by, shrouded in a light fog.
The train itself is 21 cars long, and fully loaded, carrying over 1,800 people—three or four times the capacity of a modern jetliner, or perhaps equal to the population of a small town. There are four classes of accommodation on the train: 2 and 3 tier AC (two or three levels of bunks), sleeper (also 3 tier, but no air conditioning) and unreserved (floor to ad hoc hammock… anything goes). There is also a pantry car with a kitchen, and various luggage and speciality cars, plus an electric locomotive.
Bathroom facilities are a bit grim, and you can forget about a proper shower. Tip: pack baby-wipes and hand sanitiser.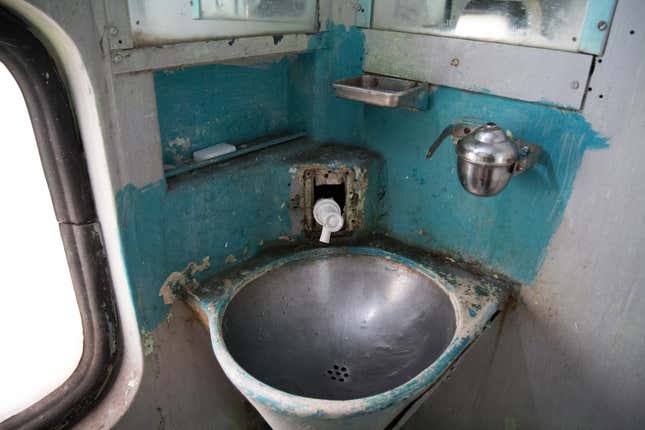 The conductor verifies my ticket, and I quiz him for trivia. He searches through the jumbled mass of loose paper in his lap, and it turns out I'm the only person doing the entire 4,273 km trip, passengers or staff. I'm haunting #15906 on this run.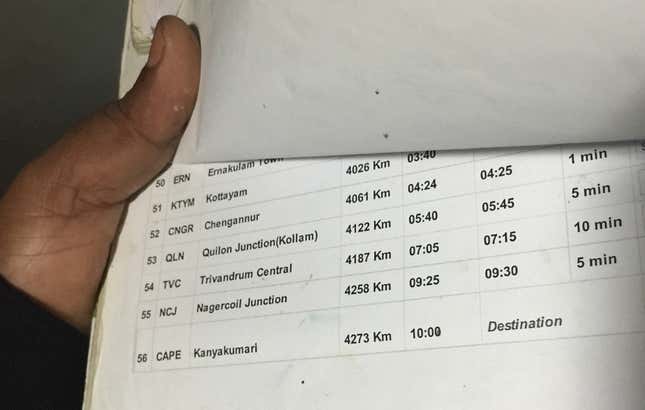 So, what is there to do for 85 hours on a train? No shortage of things, it turns out, especially shopping.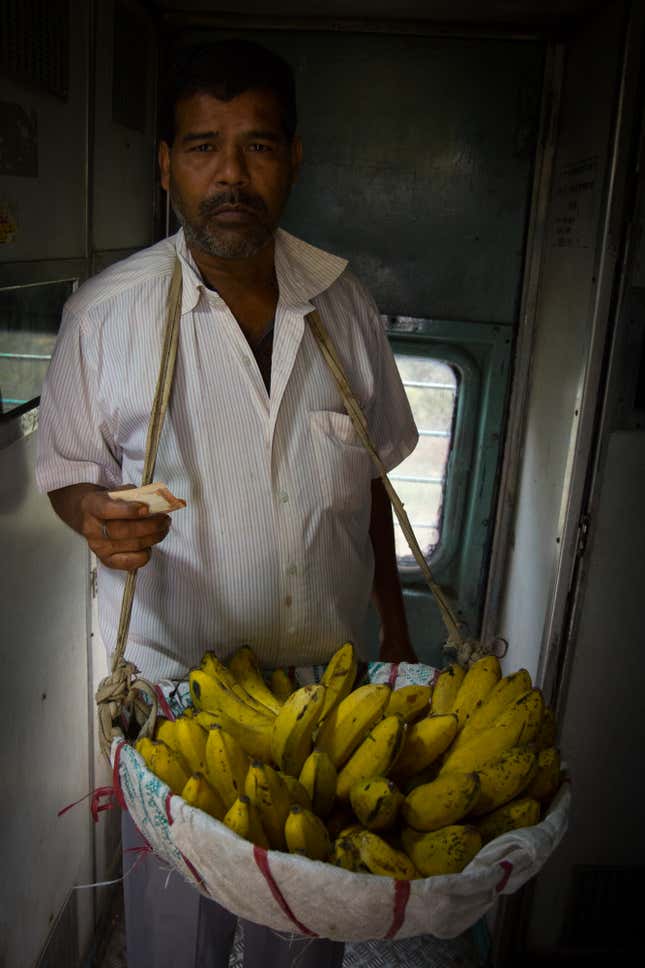 The train is plied by vendors and vagabonds of all kinds, at all hours. You can buy bracelets, batteries, or donate to a beggar, procure wristwatches, wicker-ware, a new wallet or mouthwash, invest in a cellphone, a bedsheet, a comb or a set of headphones, and purchase food ranging from bananas to biryani, eggs hardboiled or omelette-ized, idli, vada, tomato soup, water or chocolate, soft drinks (but no booze) and a 100 varieties of chaat, a cornucopia of snacks. The train is a rolling street market, complete with the odd acrobatic act tumbling deftly down the aisle, and occasionally punctuated by the two sharp claps of a hijra (transgender) making her way through the coaches collecting alms.
But, most importantly, you can buy little cups of chai.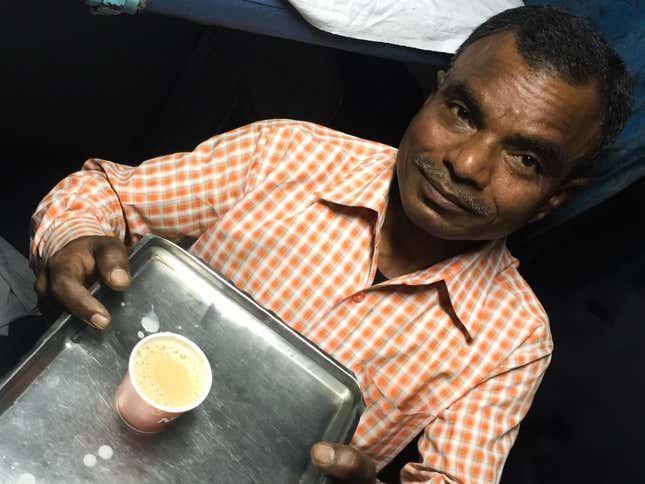 Tea is a ritual in India, and doing garam garam chai (steaming hot tea) shots on the train and platforms is a vital part of the experience. I was determined to track my chai consumption, but lost count in a caffeinated delirium about 48 hours in. Tip: a wallet full of Rs10 notes is necessary preparation for adequate caffeination.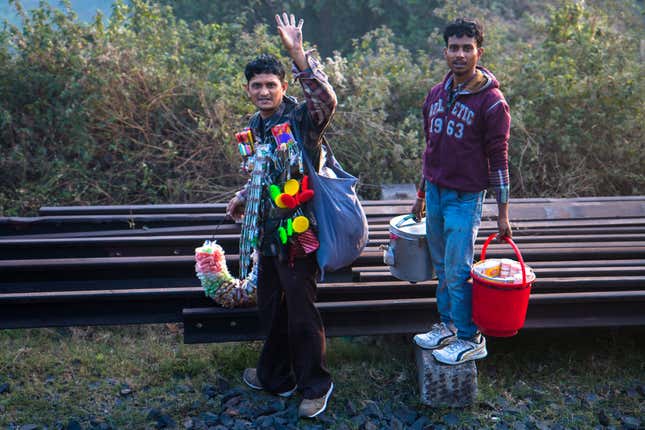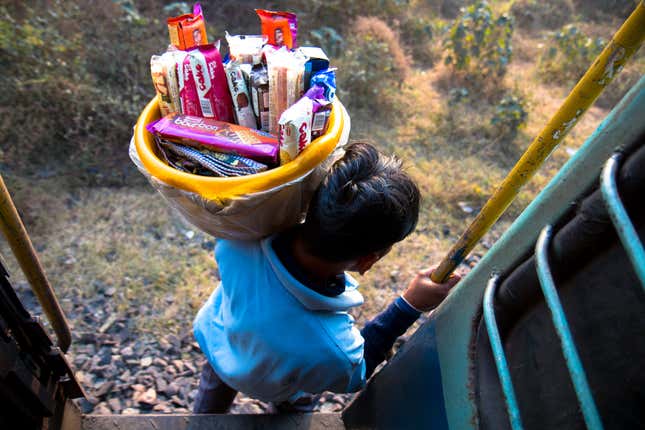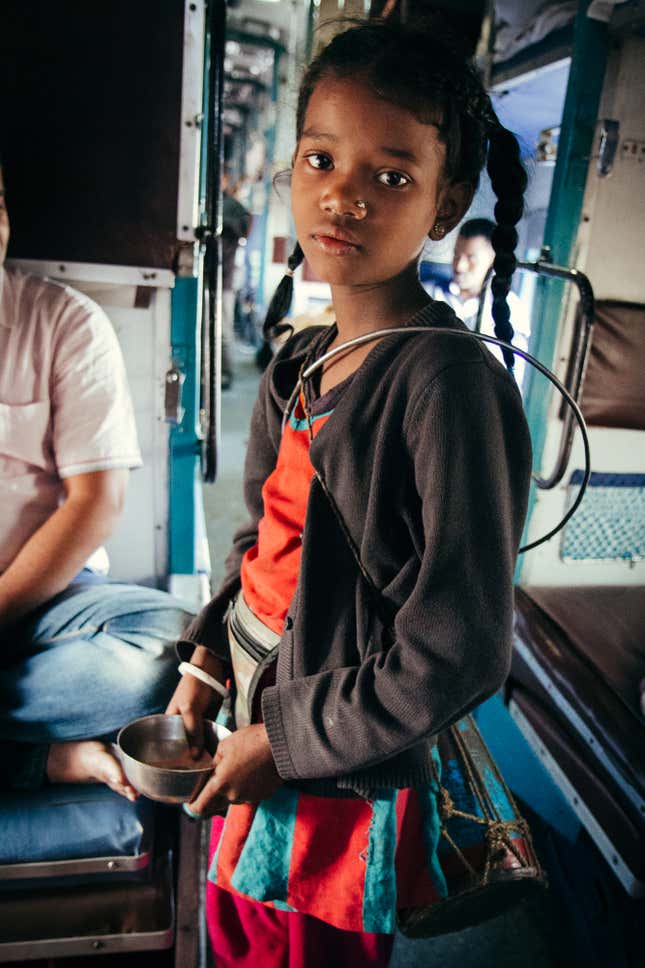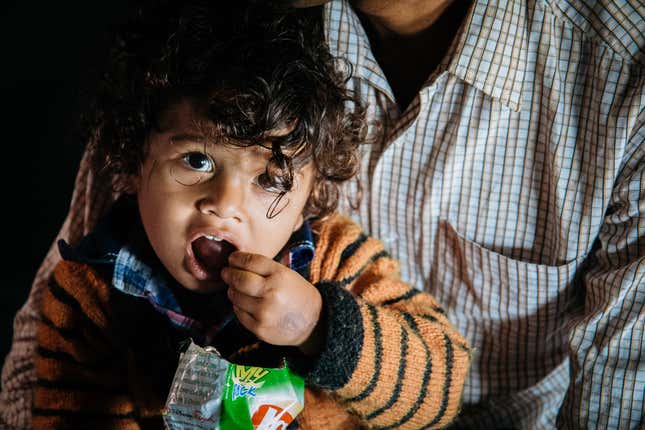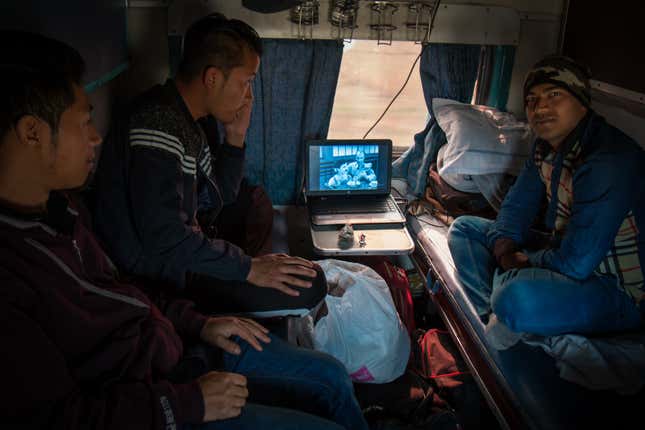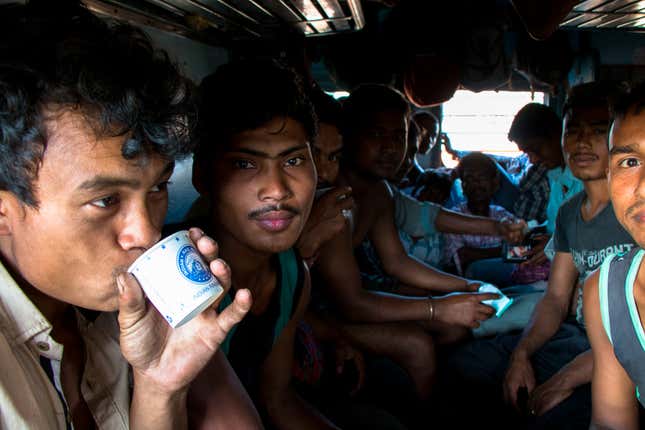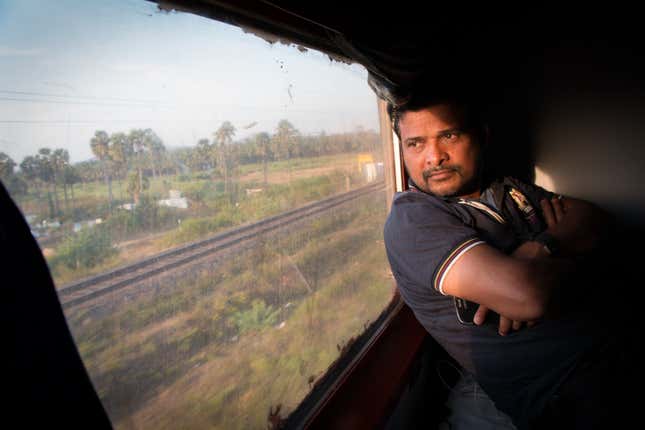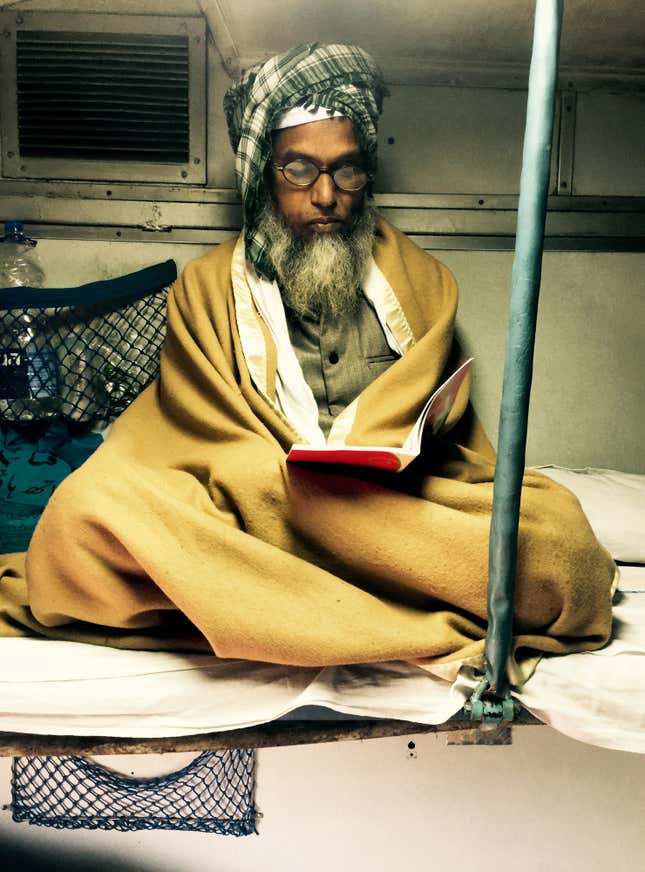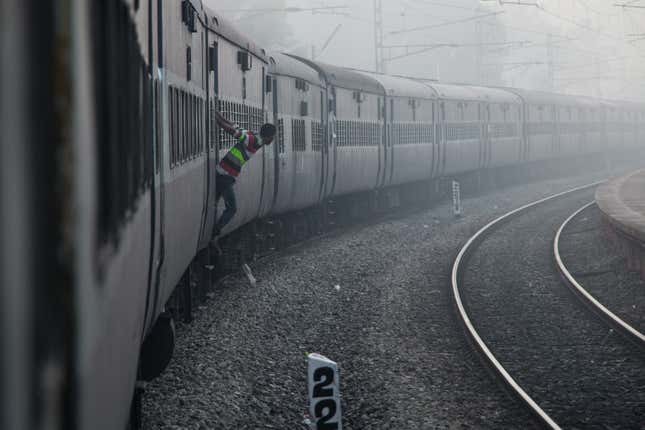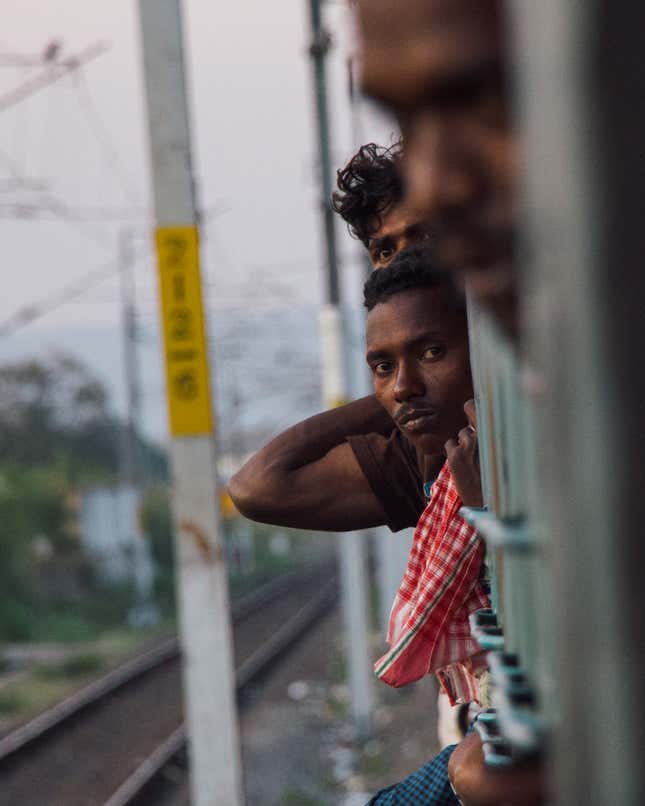 All that consumption produces a fair amount of garbage, and I was initially encouraged to discover that a cleaning crew swept through the train once a day. I wondered where all the collected refuse went, since there were no garbage receptacles, and sadly, the tracks are consistently and liberally littered with trash, for good reason.
Station stops are highlights, and increasingly familiar nods to fellow passengers waiting in the doorway as you pull into a new station herald conversation and new friends. If the train is a street market, train platforms are street markets on speed. Vendors have only minutes to sell as many cups of chai, samosas, idlis and vadas as possible, and the platforms are filled with as unique and varied a set of calls as any jungle. Here's an audio of vendors at Vijayawada Junction, Andhra Pradesh.
The romance of train travel is legendary, and while I think 85 hours might possibly be a tad long for a first date, the experience of Indian Railways train #15906 definitely has its moments. I watched the three sunsets from the train door (where I spent an inordinate amount of time drinking tea and taking photos), and none failed to impress. Deep sleep eluded me for the duration in the cacophony of doppler horns, rattles and snores, so I was unfailingly at the door waiting for the sun to make her appearance each morning (the train travels so far south that the third sunrise is 42 minutes later than the first).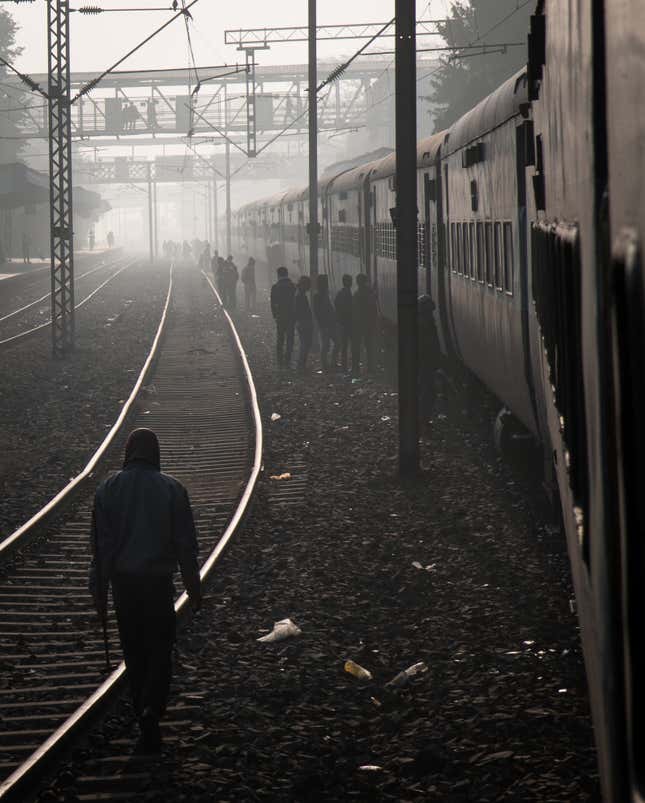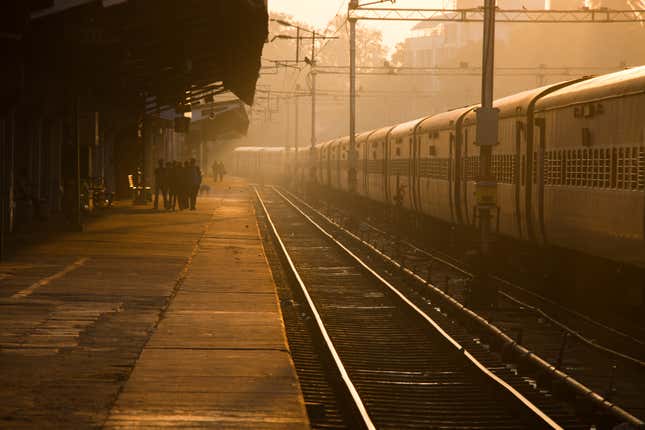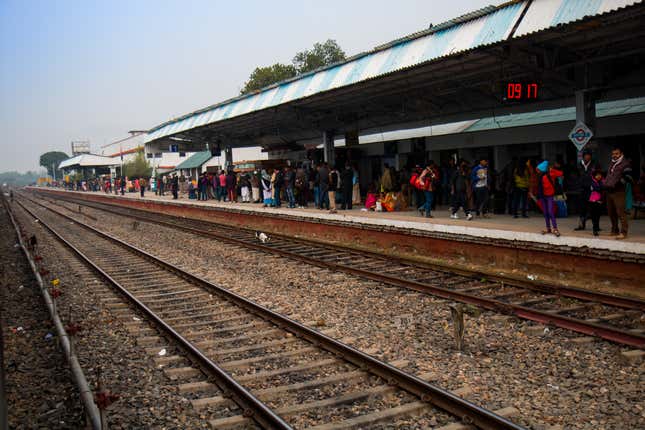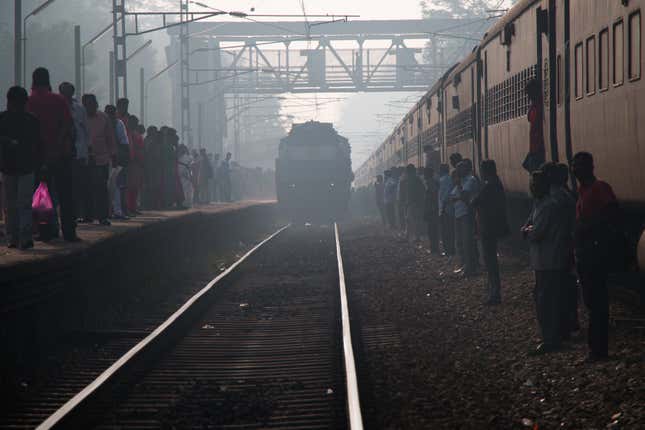 It's not all tasty snacks, misty mornings and romance, however. Stations can be dirty, rough places, frequented by the homeless, crippled and desperately poor.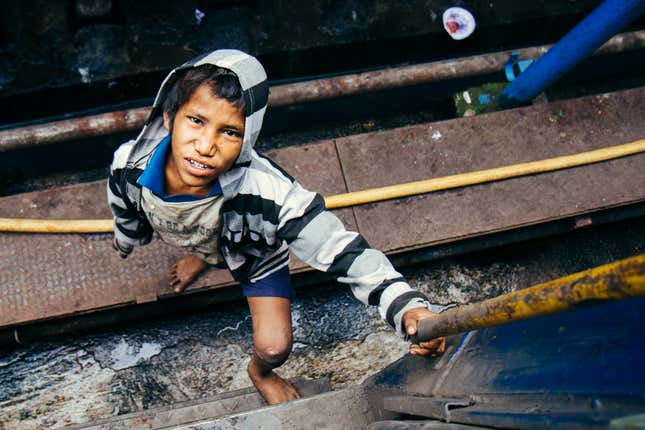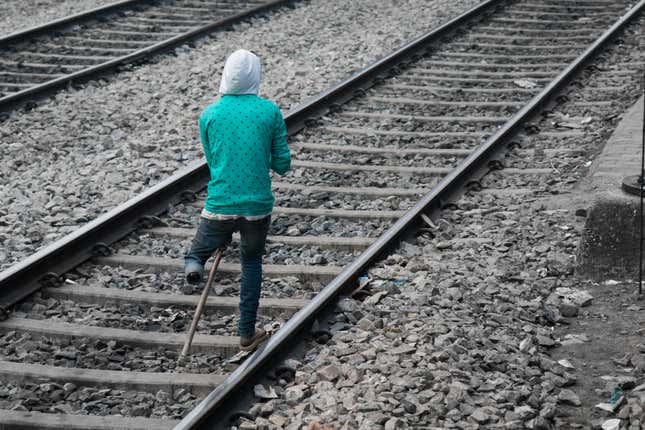 The largest employer in India with 1.4 million employees, Indian Railways is one of the largest railways in the world with over 115,000 km of tracks over a route of 65,808 km and 7,112 stations, carrying a staggering 23 million passengers a day, with freight and passenger revenues of $24 billion. Rolling stock includes 10,499 locomotives and 66,392 passenger coaches. The infrastructure is gargantuan, and at times beautiful.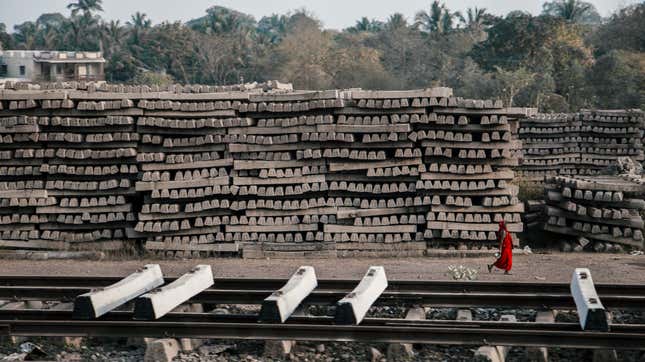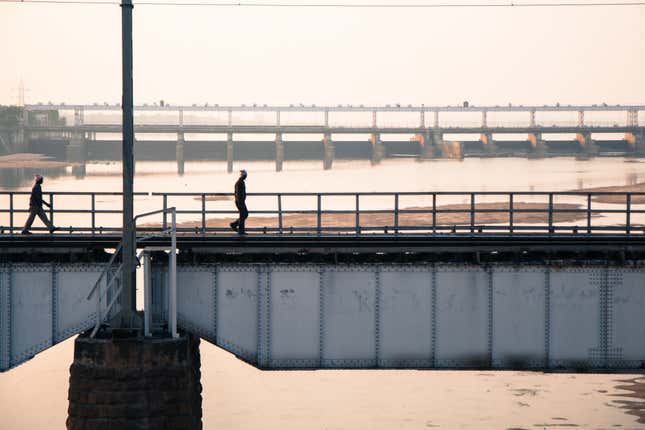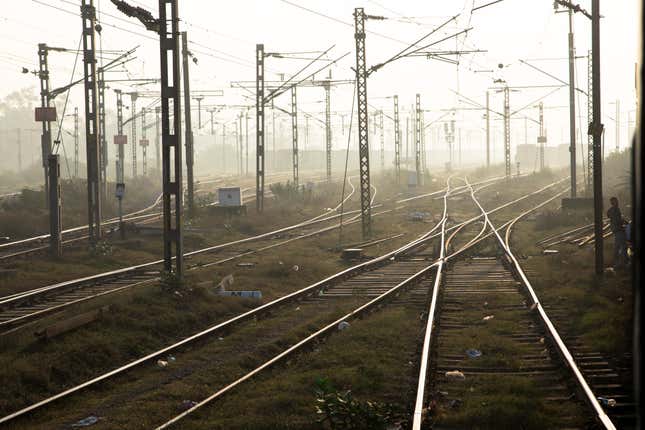 Indian Railways is so large it has its own police force, Railway Protection Force (RPF). I've rarely felt unsafe on my 10 trips to India, but three soldiers toting sub-machine guns suddenly whipping back the curtains and stepping into my coupe to chat did give me a moment, I have to admit. Likely they were only there to quell the growing unrest due to the late appearance of the morning chai-wallah. Tip: photographing the RPF is frowned upon.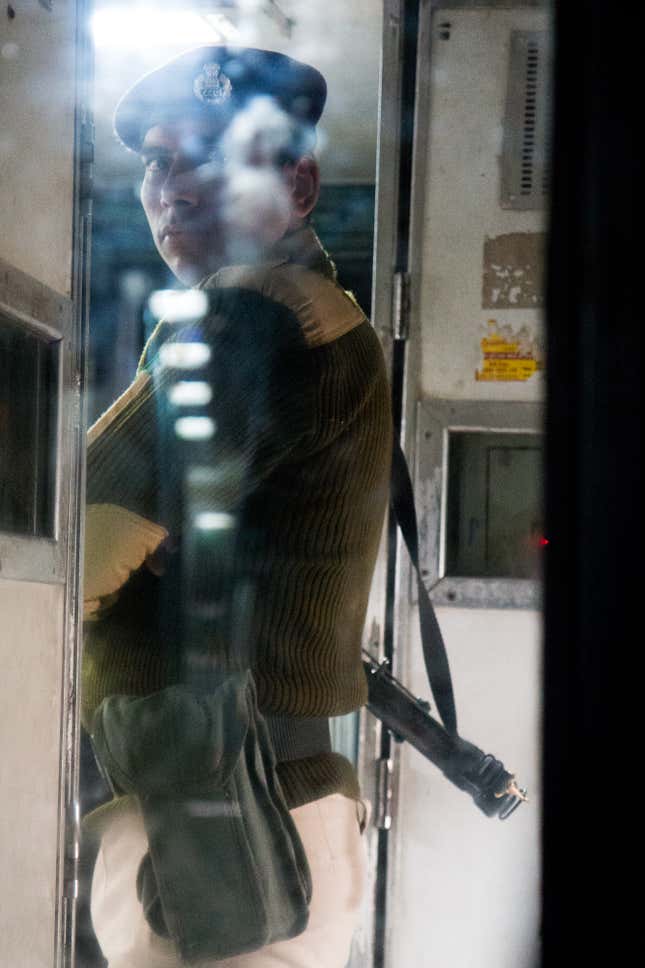 The train winds her way west through Assam on the first day, then south overnight through the Siliguri Corridor, or "Chicken's Neck", a thin strip of West Bengal—at times only 20km wide—between Nepal and Bangladesh that had my phone connecting to a Nepali cellular network for awhile. The second morning finds you in Dubrapur, West Bengal, crossing into Odisha after lunch, and passing through Srikakulam in Andhra Pradesh as you prepare for bed.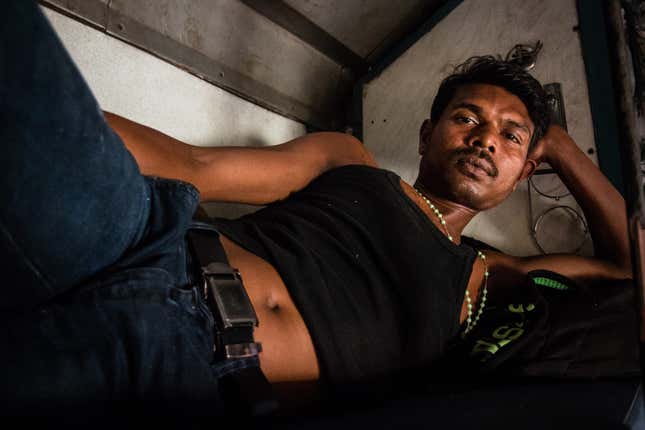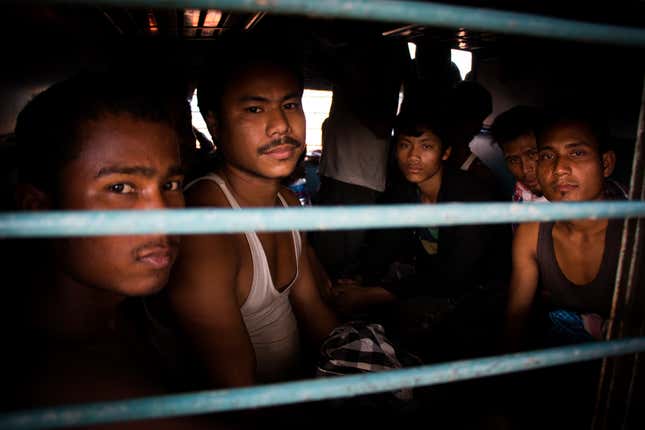 Bustling Vijayawada Junction in Andhra Pradesh, the 2nd busiest railway station in India (after Mumbai Central), greets you on the third morning, you lunch near Nellore, and pass into Tamil Nadu in time for afternoon tea, with the train angling west to cross into lush, coconut-laden Kerala overnight. The final sunrise of the trip arrives about 6:30 am as you pass Thiruvananthapuram, and the almost empty train crosses back into Tamil Nadu about 8:15 am for the final push south to Kanyakumari, finally gliding to a stop around 11am.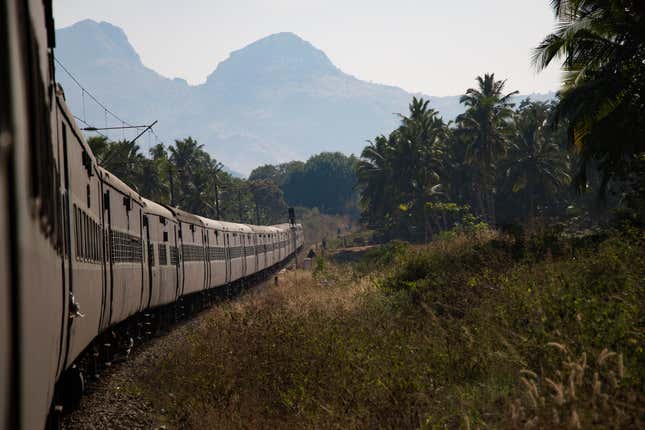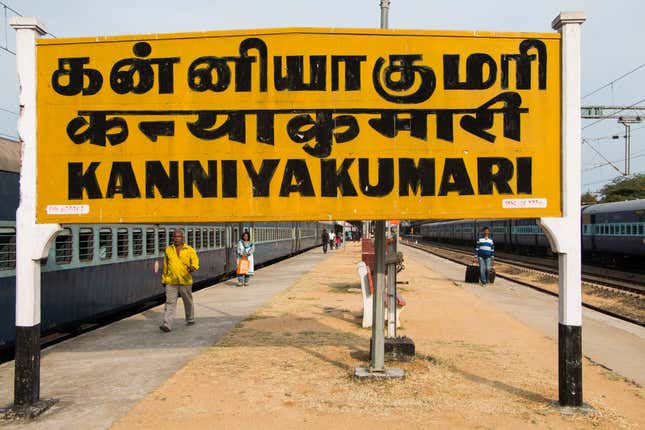 As far as dancing lessons go, it's an an epic gambol across India ending in an appropriate location, as Kanyakumari takes its name from the Hindu goddess Devi Kanya Kumari, who removes the rigidity of mind. It is also home to a 40-metre-tall statue of Tamil poet/philosopher Thiruvalluvar, who reminds us: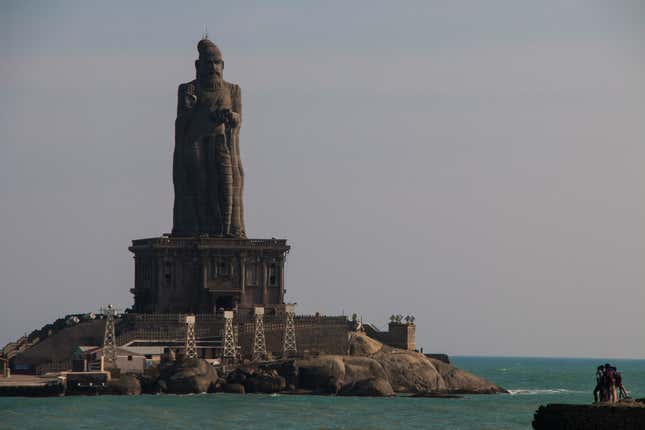 It is compassion, the most gracious of virtues,
Which moves the world.
This post first appeared on Atavist.com. We welcome your comments at ideas.india@qz.com.