Latur, Maharashtra
The drought killed Mahakant Mali.
The 52-year-old soybean farmer left home under the pretext of getting water from the field behind his dwelling. He was found at dawn, hanging by the neck from a withered mango tree at the edge of his plot.
"It was the anguish of another failed harvest," said Pradeep Jadhav, an officer at the Gategaon police station in Latur.
The narrow road to Gategaon passes through Murud Akola, a commune, flanked on either side by a swathe of dead earth. The approach road is blocked by commotion. An ambulance is taking a man to the hospital in Latur 20 kilometres away. He's fallen into catalepsy after drinking a bottle of poison.
Famine is an oft repeated tragedy in this eastern rain shadow region of India's most industrialized state. Death a recurrent corollary.
With the exception of 2013, the Marathwada region in western India has suffered relentless drought since 2010.
This one, according to a single estimate, is the nastiest in a century, exacerbated by a water crisis of mammoth proportions.
Water wars
The line of men, women and children at Vivekananda Chowk water tank in Latur stretches as far as the eye can see. Hundreds of stainless steel water containers reflect the unforgiving blaze of the mid-afternoon sun. Shakuntala Bandewar, a feisty, guttural woman, shouts at the top of her voice. She's been waiting since 6 am, but is brusquely told by the municipal official on duty that the tank has run dry for the day.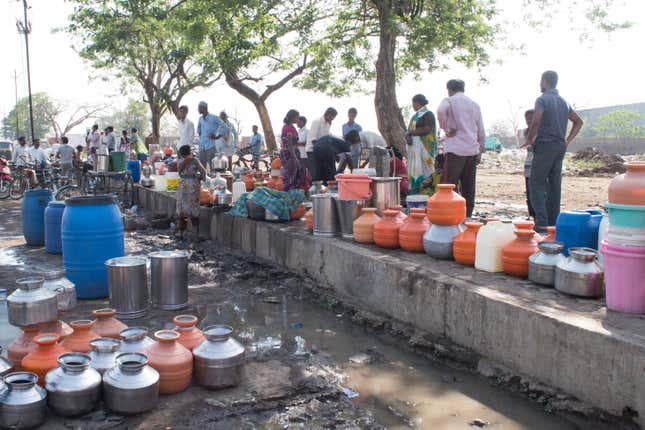 "We wait here for eight hours every day to fill up our jugs. Do I do this, or go and earn a living?" she asks accusingly, as a loud brawl breaks out nearby.
The taps ran dry long ago in this town of 500,000. Its people now depend entirely on tankers that source drinking water from fast depleting barrages nearby such as Dongargaon, which witnessed bloody violence late March that led to the unprecedented imposition of Section 144 of the Code of Criminal Procedure. The section debars the assembly of more than five persons near areas from where water is lifted.
Water from such barrages is barely sufficient for the drinking needs of Marathwada for the next few days. Dams have run dry and rivers look like cesspools. Soon, trains will have to bring in supplies from other parts of the country.
Bathing is now a rare luxury. The government simply cannot provide water for it any longer. The last time Bandewar had a bath was eight days ago. The poor spend 25-30% of their incomes every month for a few precious drops on their body. The more affluent are coughing up as much as Rs1,100 for 6,000 litres to wash up.
An economy collapses
India has the world's largest number of people without access to clean water. The biggest financial burden of this has fallen on its poorest agrarian communities. But the crisis is now spilling over to its industries as well.
In Marathwada, the tanker business is the only one booming. The rest of the economy has collapsed. Prabhavati Hospital, a 50-bed multi-specialty facility in Latur, has seen occupancy levels drop by 50% as families prioritize on other issues over health.
In the local Agriculture Marketing Produce Committee grain market, labourers sit idle. Following crop failure, grain procurement is down to Rs5 crore as opposed to an average of over Rs25 crore every day. Industries, especially the agro-processing and manufacturing units, have shut down indefinitely, which is worrying economists as these play an increasingly important role in India's export basket.
Meanwhile, enrollment in the Mahatma Gandhi National Rural Employment Guarantee Act, the government's rural employment guarantee programme, has reached a peak of 24,000 persons in the district, a four-time increase over last year—a sure sign of rural distress. Villages have seen mass migration of able-bodied men and women to cities such as Pune and Mumbai.
"50,000 people have gone from Latur alone. If the dry spell continues, we are doomed forever," says Ashok Bhutada, CEO of the Kirti Group, whose solvent extraction units have ceased operations for the last two months as the local administration put a ban on industrial use of water.
The state government has announced several schemes and thousands of crore of rupees in aid, but it is "akin to getting ready for a street fight, when a full-blown war is already underway," says Nishant Swamy, a local journalist.
Distress country
Marathwada is a basket case illustration of the profound water and agrarian crisis facing vast stretches of India, from Karnataka to West Bengal and the Gangetic plains of Uttar Pradesh.
Total water available in India's 91 reservoirs is only at 32% of their storage capacity, according to the Central Water Commission. Nine of the 29 Indian states and 248 out of its 660 districts have been declared drought-affected, according to a report in The Indian Express newspaper.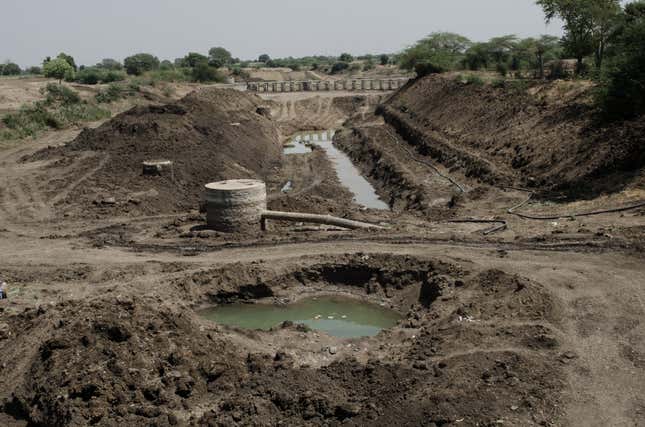 The implications of this on India's dizzying superpower ambitions are cruel. Water requirement of industry, the second-largest consumer of the resource, has doubled over the last decade and is expected to triple by 2050, according to estimates of The Energy and Resources Institute. Difficulty in getting the vital input could cripple initiatives such as "Make in India" even before they take off.
"This does mean one thing. We do not have a competitive advantage over water intensive industries anymore," says YK Alagh, an agri-economist and former union minister.
More immediately, a revival in rural consumption will be "critical" for India's growth to remain strong in 2017 and 2018, the Asian Development Bank warned in a recent report. Without a good monsoon, that is unlikely to happen.
The redirection of finances to the rural sector in the union budget has been given a thumbs up. But keeping water at the heart of the debate, experts point to an unholy cocktail of issues—from curbing groundwater extraction and the reckless bulldozing of forest cover, to disincentivising water-guzzling crops, improving farm efficiency and reducing rural dependency on the vagaries of monsoons—which need urgent and holistic government attention.
For the moment, politicians are calming frayed nerves by quoting international agencies that predict normal rains this year. While that may bring immediate relief, activists worry that it will diminish the need for urgent reforms in a sector that could gravely imperil the fate of both India's agriculture and industry in the long run.