Barely five months after the US and the European Union lifted economic sanctions on Iran, Narendra Modi has pulled off something of a masterstroke.
On May 22, the Indian prime minister flew down to Tehran and the next day signed 12 agreements, including a deal to develop Iran's Chabahar port. India will spend $500 million on the project, with a plan to invest an additional $16 billion in the Chabahar free trade zone.
But Chabahar—located about 1,800 kilometres south of Tehran—is more than just a port with an adjoining free trade zone.
"With our joint investments in Chabahar, we can connect India through a reliable route to Afghanistan and countries in Central Asia," Iranian president Hassan Rouhani said in press conference. "The agreement today is not only an economic document: It's also a political and a regional one."
On the drawing board since 2003, the Chabahar port is essentially being developed to facilitate trade between India and Iran. But the port will also provide India a conduit into Afghanistan, Central Asia and beyond.
"Iran is the only way for India to conduct trade with Central Asia and Russia," Christine Fair, an associate professor at Georgetown University told Quartz. "Thus, this port is critical to Indian power projection in to Central Asia and elsewhere. Also, India has significant hydrocarbon needs and Iran will remain an important source."
For Iran, Chabahar is an opportunity to diversify its economic and trade partners.
"Under the (economic) sanctions, China and Russia strengthened their foothold in Iran, but Iran doesn't want these two countries to keep a quasi-monopoly on various sectors of its economy," explained Ariane Tabatabai, a senior associate at the Center for Strategic and International Studies and a visiting assistant professor at Georgetown University.
The Pakistan factor
The deal to jointly establish a port in Chabahar was first agreed upon in early 2003, when the then Indian prime minister Atal Behari Vajpayee hosted Iranian president Seyyed Mohammed Khatami in New Delhi.
Two years later, in 2004, a consortium of Indian companies led by the Hinduja Group signed a Memorandum of Understanding (MoU) with Iran's Ports and Shipping Organisation to develop the facility. The project, however, never really took off.
But the need for the project is undiminished because Pakistan's position on allowing the smooth passage of Indian goods hasn't changed much.
"It (Pakistan) deliberately delays transit of our goods through Karachi, which is not a reliable or efficient port of transit," explained G Parthasarathy, a former diplomat who served as the Indian high commissioner to Pakistan. "This is more so when it comes to sensitive items like defence supplies. We, therefore, have to transit through the Iranian port of Bandar Abbas, which is some distance away, making exports more expensive and slow."
Chabahar, on the other hand, is much closer to Gujarat on India's west coast. "The distance between Kandla (a port in Gujarat) and the Chabahar port is less than the distance between New Delhi and Mumbai," India's transport minister Nitin Gadkari said in Tehran on May 23, "and so what this agreement does is to enable us quick movement of goods first to Iran and then onwards to Afghanistan and Russia through a new rail and road link."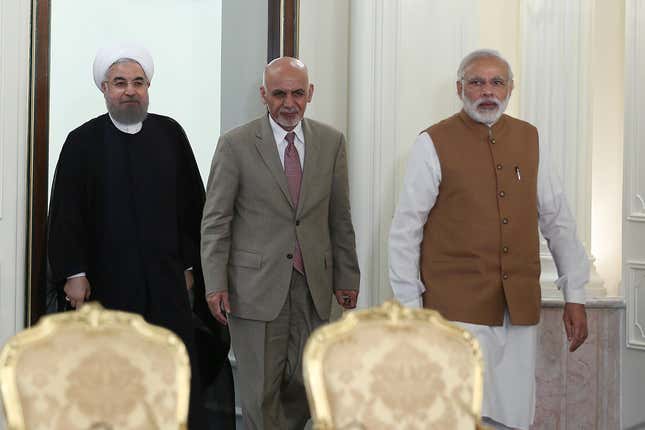 Both Afghanistan, which is still recovering from decades of conflict, and Russia are key regional partners for India. But Chabahar will also allow New Delhi to bypass Pakistan—which geographically separates India and Iran—to gain more traction in Central Asia, including partnering with resource-rich countries like Turkmenistan and Kazakhstan.
"India's links to Central Asia and beyond have been thwarted by Pakistan's refusal to give India land access," Sanjaya Baru, a consulting fellow at International Institute for Strategic Studies said. "This has hurt India's economic relations with Afghanistan, Iran and Central Asia. India hopes to revive those historic trade relations by developing better connectivity through the Chabahar port."
"Connectivity is key to closer economic and political relations between India and the rest of Asia," Baru added.
Balancing act beckons
Yet, India's plan to make inroads into the region will also involve a delicate balancing act.
In line with Beijing's increasing assertiveness in the Indian Ocean region, China is currently developing the Gwadar port in Pakistan, some 72 kilometres east of Chabahar.
"China has the operational control of Gwadar for 40 years, and that could mean the possibility of some military presence in the port by China," said Sujata Ashwarya Cheema, an assistant professor at Jamia Millia Islamia university's Centre for West Asian Studies. "India could potentially use the Chabahar port to monitor activities in the Persian Gulf."
China has also been strategically investing in Iran for years, especially in the infrastructure and oil and gas industry. Immediately after sanctions against Iran were lifted in January this year, both the countries signed a pact to increase bilateral trade to $600 billion in the next 10 years.
Then, there are regional equations that cannot be overlooked. New Delhi will have to contend with the tricky problem of balancing increased bilateral ties with Iran, while maintaining strong relations with Tehran's regional rivals including Israel and Saudi Arabia.
"Prime minister Narendra Modi's visit to Iran is part of India's complex West Asian initiative that seeks to balance ties between a quadrilateral of four poles—UAE, Saudi Arabia, Iran and Israel," Manoj Joshi, a distinguished fellow at the New Delhi-based think tank Observer Research Foundation wrote in the Mid-Day newspaper. "Given mutual antipathies and subterranean divides, India has to step carefully to ensure maximum gain for itself, even while avoiding the numerous political minefields there."
But Baru, who also served as media advisor to former prime minister Manmohan Singh, reckons that a renewed India-Iran relationship won't rock the boat.
"India now maintains a balanced West Asian policy of maintaining good relations with Saudi Sunnis, Iranian Shias and Israel's Jews," he said. "It is a policy all three have come to understand, perhaps even appreciate."