Narendra Modi is half-way across the world right now, on a two-day visit to the United States.
In fact, over the past four days, the Indian prime minister has been travelling extensively—to four different countries in three continents, across varied time zones. On June 9, he will visit a fifth country, Mexico.
Modi has had a tedious schedule all through, spending between a few hours in a country to a few days in another. By the time he returns to New Delhi on June 10—attending a full working day—Modi would have covered 33,000 kilometres, held more than 45 meetings across five countries, and spent over 44 hours on Air India One, according to The Economic Times newspaper.
Modi left India at 9.40 AM on June 4 for Herat in Afghanistan. After spending four hours there, during which time he inaugurated the Salma Dam—also referred to as the India-Afghanistan friendship dam—the prime minister was off to Qatar by 4.30 PM. In Qatar, he pitched for foreign investments, signed seven bilateral agreements, and even dined with Indian workers at a labour camp in Doha.
By evening on June 5, Modi was once again on his way out, this time to Switzerland. The next day, he met Swiss government officials to convince them to back India's entry into the elite Nuclear Suppliers Group (NSG) that works to curb nuclear arms proliferation.
Even before he left Switzerland for the US on June 6, the Swiss government had announced its decision to back India at the NSG Summit in Seoul later this month. Modi had affected a diplomatic coup.
Shortly afterwards, he landed in the United States, where he met Barack Obama, and is scheduled to address the US Congress, and hold meetings with businessmen.
His next stop will be Mexico, another country that has raised concerns about India's entry into the NSG.
Modi in Motion
Here is a breakup of his tedious schedule:
India's best diplomat
Since storming to power in May 2014, the Indian prime minister has made foreign policy a pillar of his governance. In the process, Modi has also cultivated a strong friendship with many world leaders, including Obama, Shinzo Abe, and David Cameron.
Closer home, though, his frequent foreign tours have been ridiculed by critics. But they seem to be missing the point.
Modi has undoubtedly injected a new dynamism into India's foreign policy and diplomacy. While its overall effectiveness may be a matter of debate, there have been substantial gains, which included building India's profile as a regional soft power.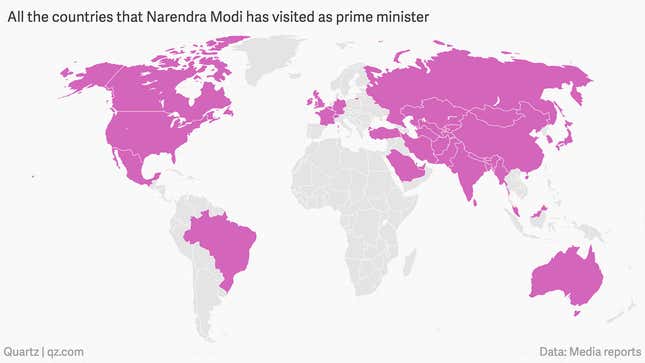 The many bilateral agreements the Modi government has signed have also helped secure huge inflows of foreign direct investment into Asia's third-largest economy. These include a $35-billion commitment from Japan, $20 billion from China, 2 billion euros ($2.26 billion) from France and a $75-billion infrastructure fund by the UAE government.
"Modi's extensive globe-trotting hasn't simply been one big junket," Michael Kugelman, a senior associate for south and southeast Asia at the Washington DC-based Woodrow Wilson International Centre for Scholars, said. "On the contrary, he's inked some major accords, from infrastructure cooperation with Gulf countries to the Chabahar port deal."
Across South Asia, too, Modi has visited India's immediate neighbourhood to bolster traditional ties.
In all this, Modi has perhaps eclipsed India's foreign minister, Sushma Swaraj, to become the country's best-known diplomat. As the Economist magazine said of him recently, "India's once-sleepy diplomacy has rarely been more visible."