"A life lived well, his 22 years are better than a hundred years of a hundred thousand of us," wrote a Kashmiri in his 40s on Facebook late on Friday evening.
Many in the Kashmir valley are in mourning, and there is creeping disquiet over the death of a young militant commander who sparked a resurgence in the decades-long insurrection in this restive region. Tellingly, his powerful weapon was social media.
Burhan Muzaffar Wani, a 22-year-old Hizbul Mujahideen (HuM) ultra, was killed in a gun-battle with security forces on Friday (July 08) in a remote village in southern Kashmir. The HuM is a Muzaffarabad-based militant group that favours Kashmir's merger with Pakistan.
At least 16 persons have died and over 200 injured in protests and clashes since.
For four years, the boyish, tech-savvy Wani had rattled the Indian security establishment with his brazen display of fearlessness in videos and photographs circulated across social media.
He was also unlike any militant leader ever seen in the valley, which witnessed the rise of militancy in the 1990s. Perhaps HuM's youngest divisional commander, Wani did not cross the Line of Control for training, which was almost the norm for influential militant leaders of the past.
Instead, Wani gathered immense influence by remaining resolutely visible to the Kashmiri public, using social media. Every now and then, his photos and videos would appear on WhatsApp and Facebook. Some of them showed Wani in army fatigues, cracking jokes, and playing cricket at unknown locations in south Kashmir.
But it was his speeches that compelled a large number of educated youth to join his ranks. His tactic of denouncing the local police for using excessive force against protestors helped him earn people's goodwill. He struck a chord with Kashmir's youth, especially those who were facing charges of stone-pelting and other anti-India activities.
"It was unusual," a police official told the Greater Kashmir newspaper. "No one could even believe that militants are coming out openly, unveiling their masks, unlike the past when they would hide their faces. It threw a challenge to the security grid. It certainly motivated youth into militancy."
Wani's tech-savvy tactics turned militant-free south Kashmir into a hotbed of militancy. As more youth joined his ranks, for the first time in a decade the number of locals operating in the region outnumbered foreign rebels.
Since 2015, Wani has carried a bounty of Rs 10 lakh; he was wanted both by the Indian security agencies and the locals—although for altogether different reasons.
A school boy's revenge
The son of a school teacher, Wani grew up in south Kashmir's Tral township.
He decided to join the insurgency when, as just a 15-year-old, he was allegedly harassed by the special operations group (SoG) of the Jammu Kashmir police.
In 2010, Wani, his brother and a friend were reportedly riding a motor cycle in their hometown, when they were stopped by the SoG personnel. The policemen asked the three to fetch cigarettes for them. Despite complying, all three were "thrashed and humiliated" before they managed to escape, according to reports in Kashmiri media.
A few months later Wani disappeared, only to emerge as an HuM militant. Within four years, he rose to become a divisional commander, aided by his social media prowess and the deaths of senior militants above him.
On April 13, 2015, Wani's elder brother, a commerce graduate, was killed by security forces. He was on his way to meet his younger sibling in a forested area in Tral.
Funeral and protests
Kashmir has been on the boil since Wani's death.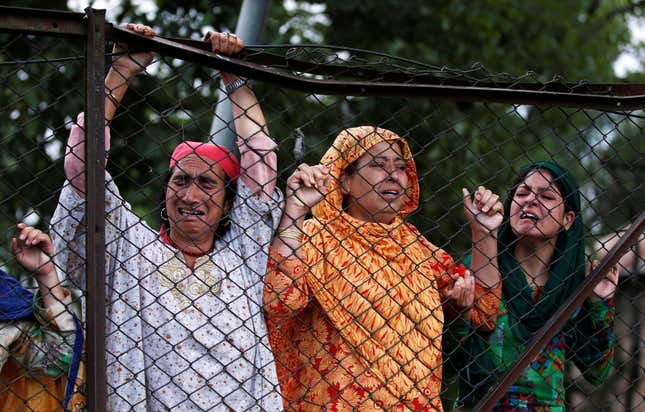 On Friday evening, thousands poured into the streets of Srinagar and towns across Kashmir. Funeral prayers in absentia were held at many places and there have been reports of night-long protests in the southern districts of Anantnag, Pulwama, and Wani's hometown of Tral.
On Saturday, authorities suspended mobile internet and train services in Kashmir. Prominent Kashmiri separatist leaders, including Mirwaiz Umar Farooq and Yasin Malik, have been placed under house detention. The annual Hindu pilgrimage to the Amarnath shrine was halted.
Thousands gathered in Tral to participate in his funeral prayers, during which a dozen militants even fired aerial rounds.
Yet, there is little consensus on what Wani's death will mean for militancy in Kashmir.
"I don't think it will leave any major impact on militancy as such," said veteran journalist Yusuf Jameel, who has covered the insurgency from its earliest days. "Only an iconic militant commander has gone, which may be a setback to Hizbul Mujahideen, and may affect its network in south Kashmir."
Omar Abdullar, the former chief minister of Jammu and Kashmir, however, felt markedly differently.
"Mark my words," he said on Twitter, "Burhan's ability to recruit in to militancy from the grave will far outstrip anything he could have done on social media."