The tide seems to be turning for the Indian contingent at the Rio de Janeiro Olympics.
The country won its first medal on Aug.18 when wrestler Sakshi Malik beat Mongolia's Orkhon Purevdorj, and then Kyrgyzstan's Aisuluu Tynybekova, to win a bronze in the 58kg women's wrestling event. Malik, from the northern state of Haryana, is the first woman wrestler from India to win an Olympic medal.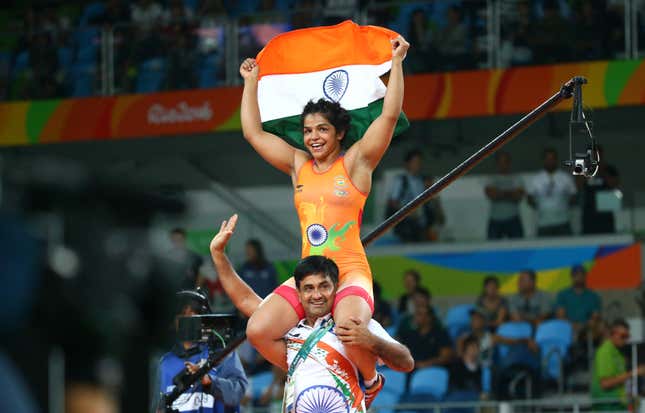 That's a big deal considering how difficult her journey has been till now. The 23-year-old began training at the age of 10, travelling from her tiny village to the Sir Chotu Ram Stadium Wrestling Academy in Rohtak, Haryana, to practice every day. At the time, there were only a handful of other female wrestlers so Malik would often train with the boys, despite opposition from Haryana's conservative society. Her coach, Ishwar Dahiya, faced heavy criticism and protests from the locals for encouraging Malik and other girls in a sport considered inappropriate for girls.
But these women went on to win laurels at a number of domestic and international competitions, making Dahiya's unconventional training centre India's no.1 source for wrestling talent.
With her bronze Olympic medal, and her silver medal at the 2014 Commonwealth Games in Glasgow, Malik has now firmly established herself as one of India's wrestling greats, just as good as, if not better than, the boys.
"Girls once not welcome at the Chotu Ram Stadium have now become its pride," Dahiya told the Hindustan Times in 2015.