Srinagar, Jammu and Kashmir
It is 9.30 pm on Sunday. Srinagar is tense. An 18-year-old boy has died after a teargas canister, reportedly fired by government forces, hit his chest. In the interiors of the city, some people are protesting. Pro-freedom songs are being blared through the public address systems of mosques.
Night curfew is in force in Jammu and Kashmir's summer capital. In the lanes and by-lanes of central Srinagar, security forces are deployed in large numbers round-the-clock to enforce what locals are describing as the harshest curfew in decades. It has been on for 46 straight days.
In New Delhi, prime minister Narendra Modi has expressed "deep concern and pain." "Whether the lives lost are of our youth, security personnel or police, it distresses us," Modi said on Aug 22.
For ordinary Kashmiris, those words mean little. Here, in the valley, most are simply trying to survive, and it isn't easy.
Suhail Ahmad, a 32-year-old driver from the Khanyar area, knocked at my door on Sunday night. He wanted a glass of milk for his eight-month-old daughter. "My wife has some problem in breastfeeding our daughter, so we usually feed her cow's milk. But for the past three days, the milkman hasn't come," Ahmad said. 
Since Aug.18, security forces have been reportedly blocking the supply of essential commodities into Srinagar, particularly the restive downtown area. Van drivers bringing in milk from the neighbouring Pulwama district allege of harassment. Stuck at check-posts for hours, thousands of litres of milk have gone sour.
Srinagar's main fruit and vegetable mandis have not been allowed to operate either. Mohammad Yasin Khan, chairman of the Kashmir Traders and Manufacturers Federation, is infuriated. "This is neither insaaniyat (humanity) nor jamhooriyat (democracy)," he said.
Meanwhile, truckers who ferry essential supplies across Jammu and Kashmir have gone on an "indefinite strike" since Aug. 21. The transporters, many affiliated to the All Jammu and Kashmir Oil Tankers Association, want the state administration to guarantee their safety. This may further disrupt the entry of supplies into the state, including to government forces.
"The government wants to break the resolve of people. That is why it is resorting to every cheap trick in its book," said Mirwaiz Umar Farooq, chairman of the Hurriyat Conference, an influential amalgam of various separatist groups.
Kashmir has been mired in armed conflict for nearly three decades now, trapped in a tussle between India and Pakistan. Both countries claim ownership of the entire troubled region. After insurgency broke out in the Kashmir valley in the 1990s, India's security apparatus moved in to crush the rebellion. Ever since, there have been allegations of human rights violations, including civilian killings, enforced disappearances, custodial torture, and rapes.
In recent years, waves of civilian unrest have roiled the region. In the summer of 2010 alone, over 120 civilians died in clashes with government forces.
Back to Burhan
The latest episode in Kashmir's unending cycle of violence and protests kicked off after security forces killed Burhan Wani, a 22-year-old militant, on July 8.
Those who came out on to the streets to protest Wani's death clashed with security forces at many places. Eight persons were killed the next day and since then, as the protests spread, the toll has mounted. More than 4,000 protestors and other civilians have been injured, many critically. Over 3,000 security personnel, too, have been wounded. So far, 67 people, including two policemen, have died.
The incumbent People's Democratic Party, which rules in coalition with the Bharatiya Janata Party (BJP), has been mostly ineffective in handling the situation. Its strategy of snapping mobile and internet connectivity, besides the four-day closure of newspapers, has aggravated the resentment against the government.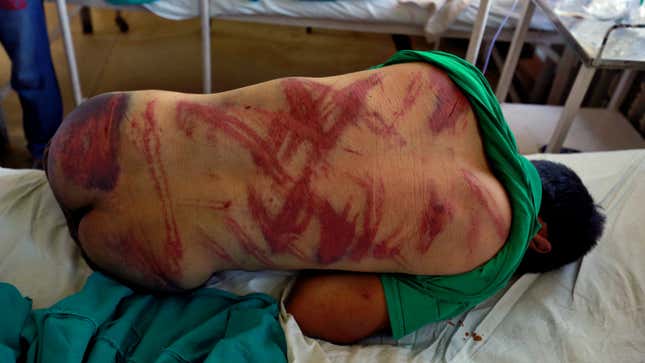 The administration says it is working to "restore normalcy," although incidents on the ground don't entirely support that narrative. Even government employees, who have been threatened into compulsorily reporting to work, have faced the wrath of the security apparatus.
On Aug. 20, for instance, 48-year-old Mohammad Ramzan Wani was reportedly thrashed by security personnel on his way to work at the high court. Ambulances ferrying patients and medical personnel, too, have been stopped and asked to return. On Aug.18, the driver of one such ambulance was injured after a Central Reserve Police Force (CRPF) sub-inspector fired pellets at his vehicle. The official was subsequently suspended.
Raining pellets
Perhaps, more than any other object, the endless hail of pellets has come to symbolise the current outbreak of violence in Kashmir.
On Aug. 19, the CRPF told the Jammu and Kashmir high court that it had used around 3,000 cartridges—totalling some 1.6 million pellets—in the last month-and-a-half. Since the protests began in July, reports suggests that pellets have injured nearly 1,000 people, including 400 who were hit in the eyes. Some of them may never be able to see again.
Doctors in Kashmir's hospitals say they've never experienced such injuries in the last 30 years of the armed conflict. "Pellets, which are claimed to be a non-lethal alternative, have terrible consequences as they not only render the patients physically handicapped but cause psychological problems, anxiety among the victims," said Mohammad Saleem Khan, a senior faculty member at the Government Medical College in Srinagar.
The Modi-led central government is under pressure over the use of pellet guns. Following demands from Kashmir's civil society and political parties, it has set up a panel to look for alternatives and has sought two months time for this. For now, though, pellets continue to rain.
"Around 1.5 million pellets were fired on protestors, which roughly means 10 pellets for one Kashmiri. Even five and seven-year-olds were targeted with pellets and bullets," said Imran Nabi Dar, a spokesperson for the Jammu and Kashmir National Conference (JKNC), the main opposition party. "This is the worst humanitarian crisis I have come across."
Curfew calendar
In Srinagar, nowadays, the daily routine begins at 5:30am, with people stocking up whatever essential supplies they can. By 7am, security forces are deployed to enforce curfew and other restrictions. It's no different in other towns across the valley.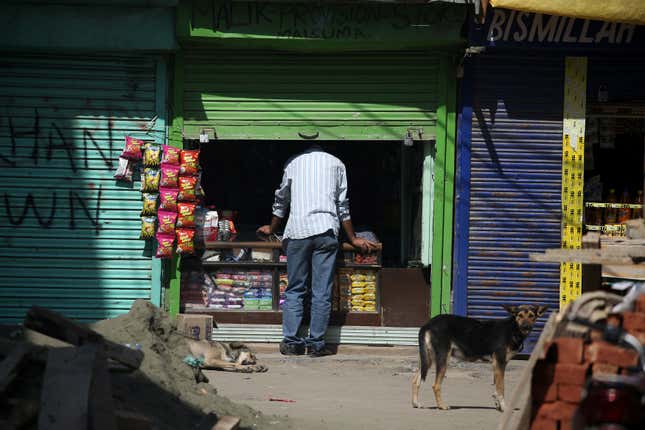 After Wani's death, the separatist groups—including the two Hurriyat factions, led by Syed Ali Geelani and Mirwaiz Umar Farooq, and the Jammu and Kashmir Liberation led by Mohammad Yasin Malik—joined hands to put up a "joint resistance movement front." They issued calendars for people to partake in several activities, including marches to various places, strikes, and protests in different forms.
Most of the calendars, issued on a weekly basis, also state that shopkeepers and business establishments can remain open after 6pm. Initially, Srinagar's busy commercial centre, Lal Chowk, complied with the calendar. Now, it seems the government is looking to reverse it. After 6pm, the police and CRPF block almost every route leading to the area, and shopkeepers allege they've been forced to down shutters.
"We are being told that we can open our shops during the daytime but no one will be allowed to do business if they opt to do it as per the calendar issued by the Hurriyat Conference," said one such trader, requesting anonymity.
Kashmir's education system is also badly hit. Schools, colleges, and universities have been shut since July 08.
The administration was able to facilitate the holding of a few competitive exams during the period. On July 31, for instance, more than 10,000 students appeared for the pre-medical and pre-engineering common entrance test in the Kashmir valley.
To allow younger schoolchildren to continue with their lessons, volunteers have set up community schools in towns and villages across the valley.
"The uprisings in 2008 and 2010 had some crucial lessons for us," said Nasir Hussain, a 30-year-old who is volunteering at a community school in south Kashmir's Anantnag town. "So, when this situation came up in 2016, we were quick to respond to it in whatever way we could."
Political logjam
But there seem to have been few political lessons learnt from the crises of the previous decade. Yet again, it seems no party involved is ready to budge.
Separatists, who are leading the protests, assert that the resistance movement will continue until India accepts their demand of the right to self-determination.
"Kashmir is a political problem but India is approaching it by military means. This issue can't be resolved using an iron fist," said the Hurriyat Conference's Mirwaiz.
"India has declared a war on the people of Kashmir," he said. "Rather than muzzling our voices, India must either implement the UN resolutions on Kashmir or it should initiate a process to resolve this issue as per the aspirations of the people of Jammu and Kashmir."
On the other hand, the Modi administration continues to blame Pakistan for sponsoring and fuelling the unrest here. Despite suggestions from its opposition parties to send an all-party delegation to assess the situation, the BJP government has done little.
Meanwhile, the state government seems clueless. From diktats to fervent appeals for the restoration of peace, nothing it has done so far has worked. Instead, with every death of a protesting youth, the crisis seems to deepen. No government spokesperson was available for comments for this report in spite of repeated attempts.
Pakistan, on the other hand, has been making an all-out effort to internationalise the situation. There have been statements by its prime minister, Nawaz Sharif, and a heated exchange between the Indian home minister and his counterpart in Islamabad during the recent South Asian Association for Regional Cooperation (SAARC) meeting.
"In the battle of two elephants," said Majid Nisar, an assistant professor at Islamic University of Science and Technology in Awantipora, south of Srinagar, "it is the grass which suffers the most."
We welcome your comments at ideas.india@qz.com.