Nagada, India
A wave of death swept through Nagada this summer. By most accounts, 19 children died in a period of three months in this village in a forgotten corner of Odisha's Jajpur district.
That's one death almost every five days.
Deso Padhan's seven-month-old daughter was one of them, but he doesn't know what killed her. In June, the infant suddenly came down with fever. Before Padhan and his wife, Basanti, could nurse her back to health inside their small, weatherbeaten thatched hut, the child's tiny body became riddled with some kind of pox. "She died within a week," recalled Padhan, 30, a short wiry farmer with small, sad eyes.
There was no doctor to see her, no medicines to help cure her. These are rare commodities for the few hundred Juang who live in Nagada. The Juang are one of Odisha's 13 communities that were once called primitive tribal groups, a term now modified to particularly vulnerable tribal groups.
"A lot of children died the same way," said Basanti, a quiet woman in her twenties. In house after house in Nagada, families provided an identical account of fever, pox, and death. There was a conspicuous condition that needed no telling: emaciated children with reed-thin limbs and bulbous, distended bellies. Hunger stalks Nagada's population of about 280.
"They died due to malnutrition," said Phanindra Kumar Panigrahi, Jajpur's chief district medical officer. There were also signs of a measles outbreak in the village, he added, which may have proved fatal for many weak, undernourished children.
In late July, Odisha's women and child development department conducted a survey to ascertain the level of malnutrition across seven tribal hamlets in Jajpur, including Nagada. Of the 114 children assessed, 52 were found to be suffering from acute malnutrition. Twenty seven of them had severe acute malnutrition, which leads to wasting and stunting. Such children are nine times more likely to die than well-nourished children.
Four-year-old Kushan, Basanti's only surviving child, is possibly among those afflicted. On a rainy afternoon in early August, the spindly boy with a swollen stomach stood by the doorway of his family's hut, as if in a stupor. He had only eaten one meal all day. "Some rice and saag (greens)," his father said. "There is nothing else to eat."
"This is because of negligence," alleged Pradip Pradhan, a human rights activist who was one of the first to visit Nagada soon after news of the deaths broke in local newspapers.
"These people are not in the minds of policymakers, bureaucrats, or the administration," he said. "They have been forgotten."
Nagada is a cluster of three hamlets—upper, middle and lower—in an impossibly verdant valley ringed by steep hills. At this time of the year, the crags are crowned by a swirling blanket of grey clouds. The plentiful precipitation turns into streams of water running down the forested hillsides, some of it trickling into the emerald green fields of paddy that encircle the few dozen houses below.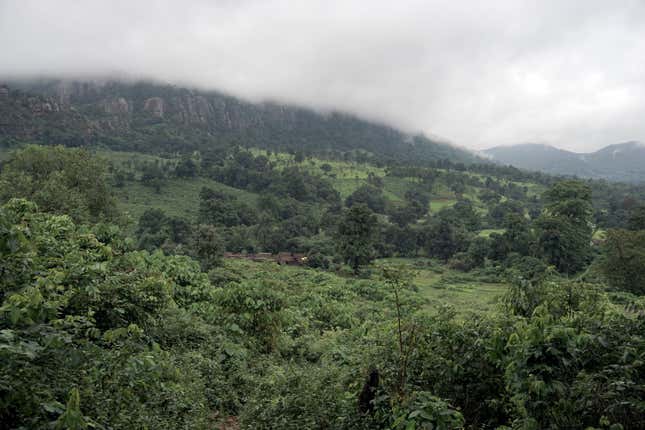 There are no roads, no electricity, and no health centre here. The nearest hospital is more than two dozen kilometres away. The village, till recently, had no anganwadi, the government-funded mother and child care centre. The assigned anganwadi worker would visit once in many months. The designated community health worker would turn up just as often.
The situation of neglect in Nagada, Pradhan argued, is not an aberration in the tribal belts of Odisha. "It is not reported, it is not recorded," he said.
Odisha has the third-highest infant mortality rate (IMR) in the country, behind Assam and Madhya Pradesh. In 2014, according to government data, Odisha's infant mortality rate stood at 49 deaths per 1,000 live births. India's overall IMR is 39. With 66 deaths every 1,000 live births in 2013, under-five mortality in Odisha is also significantly higher than the national average of 49. Again, only Assam and Madhya Pradesh are worse off.
The state's middling health expenditure is part of the problem. About a decade ago, in 2007, the Odisha government's per capita public spending on health was among the lowest in the country at Rs130. By 2013, the state government had improved its expenditure to Rs439 but it still remained less than half of what high-spending states invested. Kerala, for instance, spent Rs929 per capita on healthcare. The mediocre performance has continued. Last year, Odisha's spending on health and family welfare as a proportion of the state's aggregate expenditure was estimated at 4.2%. The figure stood at over 5% for states like Kerala and Gujarat.
But the deaths in Nagada aren't merely about the scarcity of funds. What transpired in the village this summer is a tragic demonstration of Odisha's inexplicable incompetence to protect one of its most vulnerable communities. The government is now on an overdrive, throwing money and resources to improve the quality of life in a once-abandoned village. But some here still fear that they may soon go hungry, again.
Hema Malini climbs a hill
A little past noon on Aug. 5, three young boys appeared on a bend of the road at Deogaon. From Bhubaneswar, Odisha's capital city, it is a 140-km journey northwest to reach this quaint village under the Chingudipal panchayat, which borders the dusty chromite mines at Kaliapani.
Under a massive Banyan tree, where the barely motorable road ends, the boys turned off into a freshly-made, wide muddy track. All three, not much older than 10 years, trudged along barefoot in grimy school uniforms. Two of them carried a curious load on their narrow shoulders: brand new KENT water purifiers, complete with the smiling face of actress Hema Malini staring down from soggy cartons. The purifiers were part of the Odisha government's relief material headed up the hill to Nagada, around 10 km away.
A treacherous, indistinctly marked path is the only way in and out of Nagada from this side of the hills. It begins from behind a cluster of paddy fields, past a fast-running stream. The initial ascent is steep as the narrow path cuts through precariously-sloping farmland.
Higher up, the fields meld into a dense forest and loose stones give way to clusters of large rocks. The path meanders, steadily climbing, until an abrupt turn leads out of the forest. The track turns into an ankle-deep rivulet of slush snaking through meadows. The incessant rain is punishing.
After three hours of furious clambering from where the metalled road ends, Nagada's first hamlet finally appears at a distance. It is a path too far and too difficult for most.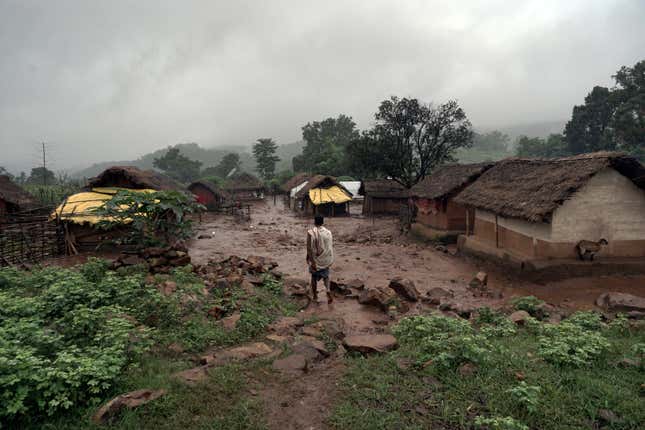 Anatomy of a tragedy
Satyabhama Deori lives in a large hut alongside the main road cutting through Deogaon. The hut has an open courtyard, complete with a cable TV antenna facing skywards. From here, the 31-year-old is expected to run an anganwadi center in Ghuisala, another hilltop village some 10 km away. She is also the designated anganwadi worker for Nagada, since 2007.
It is a nearly impossible job, explained the short, lean woman, who is paid a monthly salary of Rs4,000. She finds it difficult to visit Nagada every month, let alone trek up with several kilograms of food for expectant mothers and young children. Instead, Deori hands out eggs and packets of chattua (roasted lentil flour) to families from Nagada when they visit the weekly haat (market) near Kaliapani, about 10 km from Deogaon.
The journey to Nagada is so tedious that Deori went up to the Juang settlement only once this year, in April, till children suddenly started dying. The first death was on June 12, she said. The second was on either June 17 or June 18. By June 23, a non-profit that runs a small, one-room school in Nagada informed the district administration, prompting a medical team to be sent up. "Previously, there was no information," claimed Panigrahi, the chief district medical officer. "There is zero connectivity."
"I've never seen anything like this," said Deori, standing at the doorway of her brother's quarters in a township adjoining Tata Steel's chromite mines in Kaliapani.
The 22 children that the medical team brought down were taken to this township and admitted at the Tata Hospital. The single-storied, peach and blue structure is the nearest medical facility to Nagada, some 27 km away.
Most children were suffering from severe malnutrition and symptoms of malaria, said a doctor at the Tata Hospital, requesting anonymity. He said that residents of Nagada had spoken of a pox preceding many deaths, but the doctor himself had not seen any such signs in the children that were admitted under him.
Jayanti Mahanta doesn't know exactly what happened either. The accredited social health activist, who, like Deori, is responsible for Nagada, Ghuisala, and another two settlements, lives in a village halfway between Deogaon and Tata's township. Like Deori, she, too, cannot make regular trips up to the hilltop villages under her care. Before the deaths in June, she had been to Nagada twice this year, once in April and then again in May.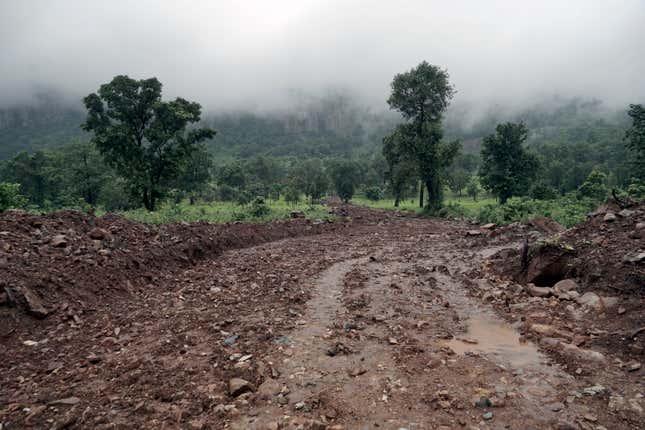 In a country where doctors are few and far between, it was hoped that peripheral health workers like Mahanta and Deori would bridge the yawning gap between demand for healthcare and inadequate infrastructure and resources. Four decades ago, the anganwadi scheme—otherwise known as the Integrated Child Development Services—was created to provide nutrition supplements and basic healthcare to children aged under six and to pregnant and lactating mothers. It was designed to eliminate exactly the sort of malnutrition that Nagada's children suffer from, much like the accredited social health activist (ASHA) programme, a critical part of the National Rural Health Mission that was launched in 2005. Every village with a population of 1,000 or above would have an ASHA, a literate woman volunteer who would help the community access healthcare services. The underlying idea was that a network of such ASHAs would eventually connect rural populations to the government's brick-and-mortar healthcare network.
In Nagada, the lack of connectivity has rendered the entire anganwadi and ASHA structure ineffective. "Going and coming is the biggest problem," said Mahanta, a portly lady in her thirties. The mountain path is slippery, physically taxing, and unsafe to travel alone, she explained. Every time she walks up to Nagada, Mahanta must find another woman to accompany her and a porter or two to help carry some provisions. Each porter usually charges Rs200 per trip. "I have to spend my own money for going to the villages," she grumbled.
Mahanta isn't paid a salary. She is supposed to receive monetary incentives for immunisation and safe deliveries, which rarely happen, she added. The residents in the three tribal villages of Ghuisala, Nagada and Tumuni aren't always keen on having their children vaccinated. Institutionalised deliveries are also a problem. The lack of roads makes it impossible for heavily-pregnant women to be taken to a hospital. Tribal women are loathe to spend months in a hospital, away from their families, before delivery, Mahanta claimed.
It is not as if health officials aren't aware of her nearly impractical workload, the ASHA argued. "They know the conditions I work in," she said, almost in tears. "I can keep trying but I won't be able to do it. Till the government doesn't do something, we won't be able to do anything."
After the deaths, though, the government showed renewed vigour. Nagada's once impassable mountain path suddenly became a lot less arduous.
Administrative scramble
At the centre of Nagada's upper hamlet, a group of health workers were lounging inside a large canvas tent.
Biswaranjan Pradhan, a broad-shouldered man in a black vest, was leading the small team from the Odisha health department. The Bachelor of Ayurveda, Medicine and Surgery, who works at a government hospital in Korai, some 70 km away, had been sent to Nagada on a three-day rotating shift. He would have to return a week later for another shift. It was a similar arrangement for the rest of his team.
Not only health workers, the Odisha government had also dispatched a group of anganwadi workers to Nagada. They, too, were on a three-day-long rotation. For the protection of the entire deputation, a police detachment had been sent up the hill. There was even a cook, with his own makeshift kitchen, tasked with ensuring that the 25 government personnel camping in Nagada were well fed.
"They've all started coming after the children died," said Mangala Padhan, who lives barely 20 meters away from the camp. "No one came before that."
Padhan, though, was hardly annoyed by the belated spate of attention. After all, it meant that the three hamlets of Nagada were embellished with an entire range of new contraptions. Outside dozens of huts, tall poles were erected, with small solar panels above and a lone light bulb hanging below. Families were given mosquito nets. Pit latrines were constructed using shiny metal sheets. There were new water filters. Some table fans were sent for the comfort of Nagada's residents. A smattering of blue plastic dustbins had also appeared.
It felt like a concerted, if sometimes cosmetic, effort to wipe away decades of neglect. But one critical article remained in short-supply: Food.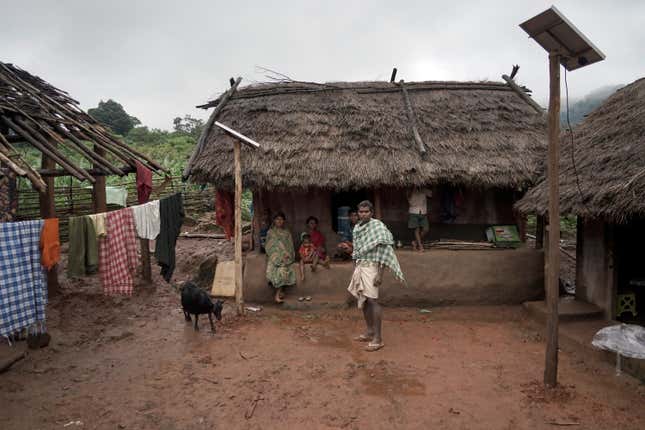 Unending hunger
Padhan's two-year-old daughter, Saraswati, died six months ago.
"I didn't have enough to eat but I still tried to feed her," the 34-year-old father remembered. "It wasn't enough. Then, she fell sick." The Juang's staple diet is uncomplicated: rice, some locally sourced greens, roots and shoots, and salt. But even that isn't always easy to find.
It is like this every year in Nagada, Padhan explained, sitting on the earthen porch of his one-room hut. Inside, a tangle of clothes hung from a thick wooden pole. A battered metal pot sat in a corner. In front of the doorway, Padhan's only child slept quietly. An assortment of worn out sheets covered his small frame.
Like most others in this village, Padhan farms on a plot of land near his home. It's usually a small crop of paddy, maize or a similar cereal. Some of it is traded at the weekly haat near Kaliapani every Saturday. That's the only way Padhan can get hold of some cash. Whatever is left of the produce feeds his family of three for a few months each year.
Some families did have ration cards, which allow them to buy five kilograms of food grains per person for Re 1 every month. For that, however, they must walk nearly 40 km down the hill to Chingudipal and then climb back up with the ration. It is hard work, and the amount is barely enough to last families an entire month. "We are hungry every year," said Padhan.
This year, however, the deaths have ensured that even food has been sent up to Nagada.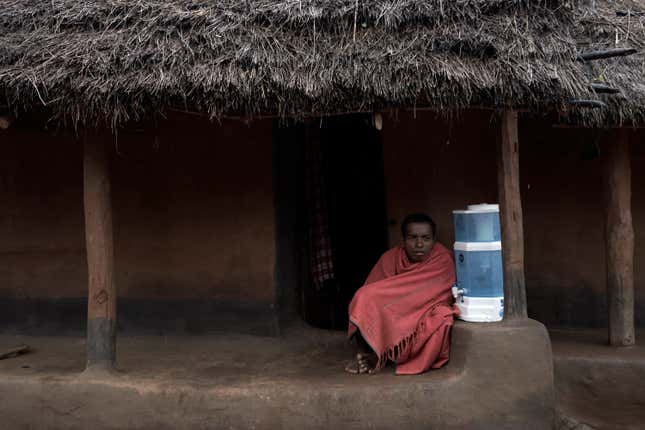 A large blue and white flex banner hung outside the government school in Deogaon. It declared the location as the "Camp office of the nodal officer." Inside, Dayanidhi Nayak, an accountant with the Jajpur district administration, was keeping track of all deliveries to Nagada. Since late July, Nayak had been camping at the school.
He said a total of 25 kilograms of rice, five kilograms of lentils, and a kilogram of salt had been delivered per family in Nagada's three hamlets until July 24. It was Aug. 7. He did not have "orders or instructions" for further ration deliveries, Nayak added.
In Nagada, families complained that food was steadily running out. Children, like Deso Padhan's four-year-old son, were back to eating two frugal meals of rice, saag and salt.
For all the administrative exertion, the Odisha government seems unable to remove the spectre of hunger looming over this small tribal community.
Great expectations
From his bright, air conditioned office in Cuttack, Odisha's second largest city, Akhila Bihari Ota had spent over a month obsessing over Nagada. The soft-spoken commissioner of the department of revenue and disaster management was the chairman of the 'taskforce' created by the state government to fix the problems of the community in Jajpur.
"We have to see that they come out of the food insecurity nexus," he said in an interview on Aug. 10. The district administration had been asked to prepare a household-wise economic rehabilitation plan for the village. A number of employment options were being explored, including teaching Nagada's tribals to weave bamboo baskets, stitching leaf plates and cups, and improving local agricultural practices. Meanwhile, two mini-anganwadi centres had been opened, applications for land allocation under the Forest Rights Act were being collected, and families were being issued ration cards under the Antyodaya Anna Yojana, which entitle them to 35 kilograms of rice per family each month. The government wants to turn Nagada into some sort of a model for developing remote rural villages in the state, Ota said.
It is difficult to explain why this did not happen years earlier. Money shouldn't have been a problem. Even if the state government coffers didn't have enough, the half-a-dozen companies that operate chromite mines in the adjoining Kaliapani area and the Kalinagar industrial belt beyond could have been asked to contribute corporate social responsibility (CSR) funds. In the 2015 financial year alone, according to Odisha government data, the CSR expenditure in Jajpur district was Rs61.63 crores, the second highest in the state. In fact, a number of recently installed solar devices in Nagada have been funded by Tata Steel.
"The lack of connectivity and isolation should not be taken as a factor," argued a senior Odisha bureaucrat, requesting anonymity. "If such a place exists, why wasn't it noticed by government departments earlier?"
The administration may have taken long to discover Nagada, but some of the Juang have responded to the assistance, showing more faith in the government than it possibly deserves.
Padhan, who lost his seven-month-old daughter in June, was certain that he would seek proper medical help if his malnourished son, Kushan, fell ill.
"Last time, I didn't go because I didn't have the money and I didn't know where to go," he explained. "But if it happens now, I'll take him, with whatever little money I have."
"I will try."
We welcome your comments at ideas.india@qz.com.