The internet in India needed the Reliance Jio launch.
We need low-cost connectivity everywhere for users to feel that the cost of trying out the internet is low. The fact that Jio is going to be free till the end of the year is exactly what the incumbent telecom operators should have done: give people a taste of the internet, and then let them pay for it. We hope this brings people online by the millions. We need the internet everywhere in India.
Prices also need to be substantially low for people to stay online. India has some of the highest data charges in the world. And with Jio pushing prices down, we should expect much greater consumption of video and all forms of content. This, if it works and continues, is the moment we've been waiting for.
For far too long, data services in India have been without significant competition, with Airtel, Idea, and Vodafone together (I'm not going to use the word "cartel" but, y'know…) clawing market share from everyone else. They largely served their customers well, but they served themselves better. Data prices have been far too high, and for telecom operators with the best prices, have only gone up. Bit by bit, call rates have also been going up, as competition is dying (and being acquired by one of these three).
There was one event, the 2G scam, which brought competition to phone calling, and the entry of new telecom operators brought calling rates down. Remember Tata Docomo's per second billing? That helped customers. Multi-SIM usage came into being to allow customers to make the best of offers from multiple operators.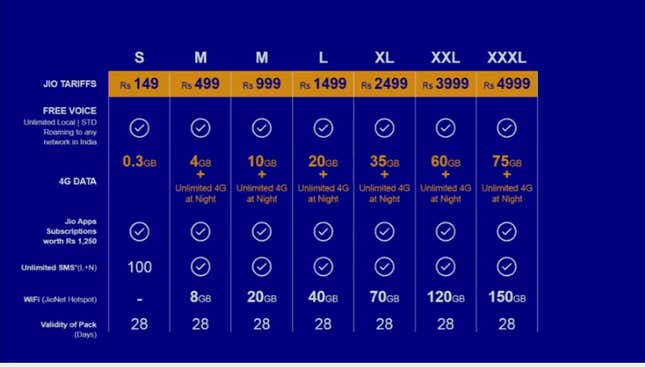 What to expect
Multi-SIM environment to get a boost as more and more users try Jio services (because they can, for free).
4G handset sales to go up, rapidly, and for prices to come down.
Jio data speeds to be lower than what those on the trial offer have been getting, as people go online.
Other telecom operators to drop rates, drastically.
Massive crowds outside Jio stores, and possibly handsets to run out before SIMs do.
Data consumption to go through the roof for all internet companies.
Video consumption to increase drastically, and cord cutting to increase. TV sucks anyway.
Internet service providers to junk the "fair usage policy," or die.
Internet companies to face higher hosting charges as bandwidth consumption goes through the roof.
Greater usage of data storage online, and for USB drives to become a thing of the past.
What to watch out for
So Jio brings in much-needed competition, but there are still things to worry about, which we'll keep a watch on:
Competition: Sufficient spectrum must be released, at not make-you-bankrupt costs, to ensure that Jio has sufficient competition in the market. It shouldn't be the case that Jio becomes a loss leader. We need independent WiFi networks to come up to provide an alternative to Jio as well.
Privacy: An unnamed Jio executive mentioned "deep packet inspection" to Reuters, saying: "It's called deep packet inspection, and what you can do with the analytics of that is mind-boggling," he said, referring to a practice that digs into "packets" of data created by computers for efficiency, mining them for information. If this is happening and Jio is accessing data packets to develop patterns of user data consumption, this is a major privacy violation. The company deserves to be taken to court for this, as much as the India needs a privacy law.
Net neutrality: Reliance Jio shouldn't be allowed to exploit the CECN clause in the TRAI differential pricing regulations, to zero rate content and services for its users. Data is data, and the ISP/telecom operator shouldn't be allowed to price access to services differentially, just as it shouldn't be allowed to speed up or slow down different services.
Quality of service: As more people go on Jio, will the network be able to sustain the quality of service it has? How will it deal with 500 people streaming video at a location, simultaneously?
This post first appeared on MediaNama.com. We welcome your comments at ideas.india@qz.com.