The latest Indian attempt to create yet another Guinness World Record involves a rather massive sweet treat.
On Sept. 07, an Andhra Pradesh sweet shop unveiled a laddu weighing a whopping 29,465 kgs—that is equivalent to almost 600,000 Mars bars.
Sri Bhaktanjaneya Suruchi Foods' version, made by a team of 20 persons, is much bigger than the current record-holder—a 11,115-kg giant prepared in September 2015 by a Gujarat-based temple administration body, the Arasuri Ambaji Mata Devasthan Trust.
A laddu is a ball-shaped traditional Indian preparation made out of ingredients as varied as wheat flour, chickpea flour or coarsely ground semolina, with a generous helping of clarified butter and sugar.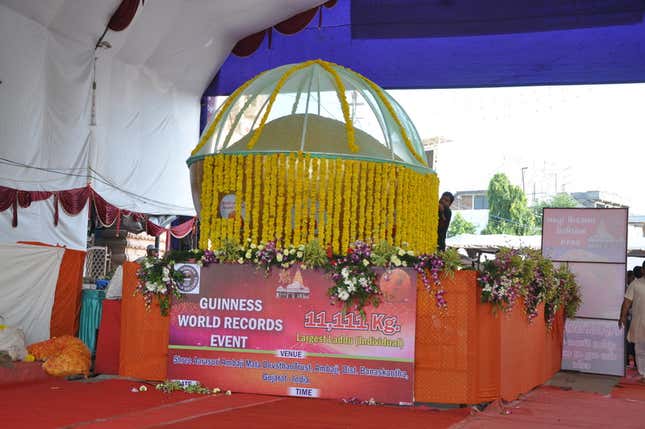 The "world's largest laddu" is just one of the many quirky Guinness World Records that India holds. It also holds the record for the largest gathering of people dressed as Mahatma Gandhi, most straws stuffed in the mouth (with hands), and largest television remote control.
Indeed, applying for the Guinness World Records is a sort of national pastime in the country. According to a 2015 report in the New York Times, the number of record-holders in India jumped 250% in the preceding five years.
In any case, for P Mallikharjuna Rao, the proprietor of Suruchi Foods in the Andhra town of Tapeswaram, building massive laddus runs in the family. Before the Gujarat temple trust took the crown, the record was held by an over 8,000-kg laddu crafted by Suruchi Foods' neighbour, Sri Bhaktanjaneya Sweets, run by Mallikharjuna's relative S Venkateswara Rao.
Now, Mallikharjuna Rao is ready for his moment in the spotlight. "It is approximately (Rs) 50 lakhs ($75,253) we have spent," Mallikharjuna said, noting that this attempt is his first at a world record.
Starting out with a 500-kg laddu, Suruchi Foods has been making enormous versions of the traditional Indian sweets since 2010, offering them every year to the equally enormous Ganesh idol in Khairatabad, Hyderabad. Usually, these laddus are placed in the palm of the idol during the Ganesh festival season using a massive crane.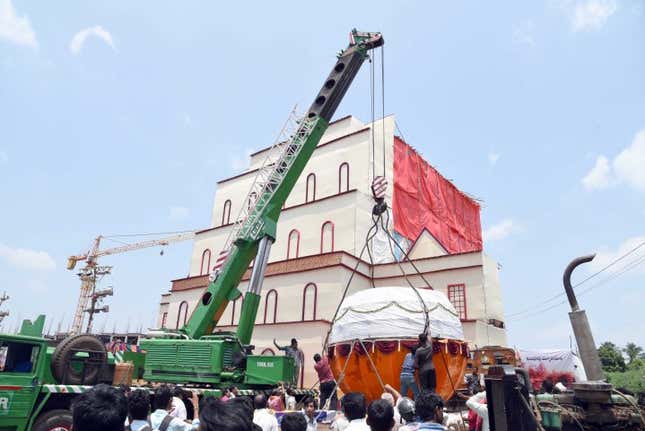 Last year, the store produced a 6,000-kg confection, but this year, due to weight restrictions, it sent its record-breaking laddu to the city of Gajuwaka instead. There, it was used as an offering to a 78-foot idol and then distributed, in manageable pieces, among devotees.
That's a lot of laddu going around.