Yet again, India is wounded. And furious.
On Sept. 18, suspected terrorists of the Pakistan-backed Jaish-e-Mohammed mounted a deadly attack on an Indian Army camp in Jammu and Kashmir (J&K), killing 17 of its soldiers and injuring many others.
This was the biggest such attack on the Indian Army in a decade.
It follows two other major offensives on Indian soil since the Narendra Modi government took charge in May 2014. First was an attack in Punjab where three civilians and four policemen were killed in Gurdaspur district besides three Pakistan-backed terrorists. A more alarming one came in January this year when terrorists struck one of India's most important air force bases in Pathankot, Punjab.
Following the death of 17 soldiers in the latest strike, Indians, as much as the international community, will keenly watch how prime minister Narendra Modi's government reacts.
When the Pakistani army tried to capture territory in J&K's Kargil region in 1999, India did not cross over into Pakistani territory. When Pakistan-based militants killed 164 people in the stunning 2008 Mumbai attacks, India did not respond with military action.
Many did suggest during such episodes that India should go in for "hot pursuit"—surgical military strikes on terror bases within Pakistani territory.
However, that would hardly stop future attacks as it takes just a handful of ultras to cause mayhem.
Besides, India and Pakistan are nuclear-armed neighbours. Even though India has a much larger army and Pakistan has not won any of the four wars they have fought till now, armed offensive is not an option for India since Pakistan has refused to reciprocate India's no-first-use policy on nuclear weapons.
A war would hurt India's economy, strengthening the Pakistani army's case for hurting India with terrorism.
So, "hot pursuit" would only give the Pakistani deep state further reason to escalate tensions. The smaller neighbour, thus, has strategic superiority over India: sub-conventional warfare, aka the use of terrorists.
Not taking the bait is called strategic restraint. And irrespective of the regime in charge, India's response to militant attacks or military excursions from Pakistan till date has been to tackle it diplomatically, involving the international community and de-escalating tensions.
That may now be changing, though it remains to be seen if all-out military action is on the cards.
India's new posturing
On Sept. 18, prime minister Narendra Modi said those behind the attack will not go unpunished. Ram Madhav, general secretary of Modi's Bhartiya Janata Party (BJP), said, "We feel that the time for strategic restraint is over. India needs to tackle this menace with a firm hand and we need to take proactive measures." Madhav looks after the party's affairs in J&K.
In fact, indications of such a hardening of stand came much earlier. Even before being elected prime minister, Modi himself had often ridiculed the previous governments for handling Pakistan with kid gloves.
During a Kashmir uprising in 2010, Ajit Doval, India's current national security advisor, had said that instead of being coerced into talking to Kashmiri secessionists, New Delhi needed to give "a decisive blow" to Pakistan.
In another speech in 2014, months before Doval became India's NSA, the former chief of India's Intelligence Bureau offered the doctrine of "Defensive Offence" to tackle Pakistan. "You do one Mumbai and you lose Balochistan," Doval said in that speech. "Pakistan's vulnerability is many, many times higher than India. Once they know that India has shifted its gear from the defensive mode to Defensive Offence, they will find that it is unaffordable for them," he said.
The Doval Doctrine
At the diplomatic level, India has already crossed the path.
Sunday's terrorist attack has come amidst another Kashmir uprising, which New Delhi has suppressed with nearly 73 days of curfew and pellet guns. Thousands have defied the restrictions and have been injured in the process. Many have been blinded by pellet injuries, and Sept. 17 saw the 85th death—this one was of an 11-year-old.
The last such uprising was in 2010.
Since July, Pakistan has been issuing statements condemning the use of force in Kashmir. Consequently, New Delhi changed its response to the uprising by shifting focus almost entirely on Pakistan.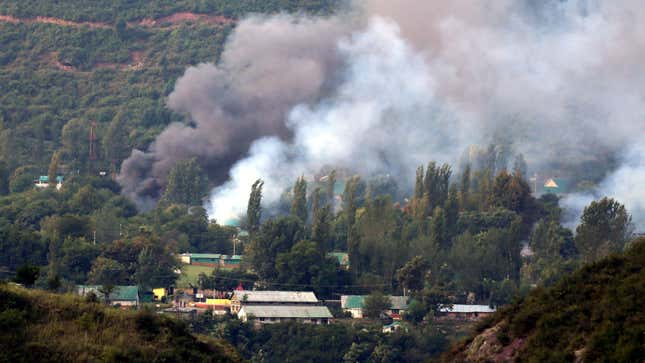 In fact, the Modi government went a step further: it brought up Balochistan.
Pakistan's troubled Balochistan province has many similarities with Kashmir: locals want secession and this demand is met with a crackdown by the army, no questions asked about human rights. So India has decided to use the restive Pakistani province as part of its new aggressive strategy.
However, Pakistan has long been accusing India of meddling in Balochistan. As recently as March this year, it announced the arrest of one Kulbhushan Yadav, a former Indian naval officer who allegedly confessed to being an Indian spy in Balochistan.
Modi's Balochistan offensive is then seen as validating Islamabad's allegation of India's role in "destabilising" Pakistan.
Is the Doval Doctrine showing results?
For sure, Sunday's terrorist attack could not have taken place without the support of, if not full orchestration by, the Pakistani deep state.
It should be seen as Pakistan's response to not only the Kashmir unrest but also India's "Defensive Offence" over Balochistan.
The attack brings into question the Doval Doctrine's implications. If "strategic restraint" was criticised for not preventing terrorist attacks, the same can be asked of "Defensive Offence." It is the Pakistani army's way of telling India: "Say what you want, but we have superiority in sub-conventional warfare."
On Sept. 21, Pakistan's prime minister Nawaz Sharif will address the UN General Assembly. He is expected to strongly raise Kashmir, both as a human rights issue and as part of the resolution of the territorial dispute between India and Pakistan. On Sept. 26, India's foreign minister Sushma Swaraj will deliver her address, in which she is expected to raise Balochistan apart from accusing Pakistan of sponsoring terrorism.
India's Balochistan strategy was meant to impose a cost on Pakistan's activism in Kashmir. Yet, Uri has come days before the UNGA even though Pakistan knows it would strengthen India's argument on terrorism. Rather than being deterred, Pakistan is seeking to use terrorism to internationalise Kashmir. The fear of war helps it bring greater global attention on Kashmir.
Whether or not India follows Ram Madhav's advice, it is not any safer with the Doval Doctrine. On the eve of a festive season, there will be a widespread fear of terrorist strikes even among civilians.
Strategic restraint may not have neutralised Pakistan, but it sought to de-escalate tensions. Is the Doval Doctrine taking us into a zone where we will be living with even greater fear than before?
We welcome your comments at ideas.india@qz.com.