As India announced having carried out "surgical strikes" against Pakistan, escalating tensions between the two South Asian neighbours, marketing departments of some companies smelt an opportunity.
Soon after details of the military raid were revealed on Sept. 29 at a press briefing in the capital, a New Delhi-based fast-food chain, Burger Singh, sent out a text message offering a discount on its menu.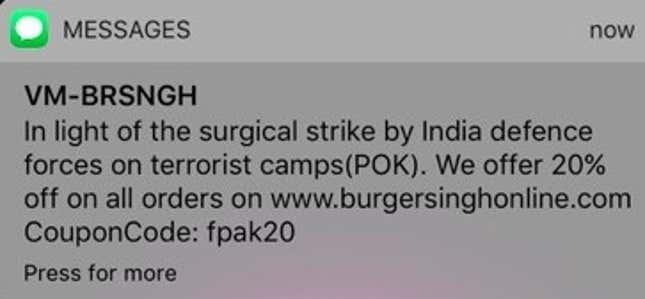 Online payments website MobiKwik also tried to capitalise on the news of India's military action against Pakistan, which sent out a promotional text message: "Special Offer! Use Code: 1STSTRIKE & get 20% cashback."
Mobikwik's offer seemed convoluted and was quickly linked to the India-Pakistan strikes. But in a clarification issued via Twitter Sept. 29, the company said that the timing of its campaign was "
" and therefore misinterpreted. It was an offer meant for users recharging their DTH connections by end of the month.
These crude attempts to ride on a national security situation quickly panned on social media for their insensitivity even though social media fame was probably what the companies were after.
Following the backlash, Burger Singh modified its offer and issued a clarification later in the night.
Increasing its rate of discount from 20% to 30%, the company said: "It was never our intention to hurt or harm or otherwise prejudice anyone or their belief." Then came another message with a more "politically correct" coupon code "Strike30," the Hindustan Times newspaper reported.
According to Kiran Khalap, co-founder of brand consultancy Chlorophyll, these brands were probably following the "new rules of marketing" that suggest that companies need to stay relevant throughout the buying cycle, making sure they're on the consumer's mind.
But experts also agree this is a shallow trick to sway citizens.
"I can understand and appreciate patriotism. But patriotism leading to marketing jingoism is shallow and playing to the gallery," Prathap Suthan, managing partner and chief creative officer at advertising agency BangInTheMiddle, said. Suthan added that he would never advise clients to use such politically-grave situations to talk to consumers.
According to Jessie Paul, CEO of marketing advisory firm Paul Writer, capitalising on trending topics only works if done with nuance. For instance, during times when customers want to express their solidarity with the armed forces or the government, brands can attempt to encourage public participation in the cause, she said.
"So if a brand were to show how, by purchasing their product, the customers are also showing their patriotism, such offers will work," Paul explained. However, she said the move could backfire if the brand was seen as milking the opportunity.
Such examples abound abroad, with a number of companies inviting criticism for trying to cash in on politically or emotionally sensitive advertisements.
For instance, a mattress company in Texas was recently panned for its "twin tower sale" on the anniversary of the Sept. 11 attacks.
Marketing experts believe advertisers should do what they do best: look for emotions and occasions that allow them to genuinely connect with consumers, such as festivals, Bollywood movies, or even thematic topics like challenging stereotypes.
Because, while using politics may get them a lot of attention on Twitter, it's in bad taste in the long run.
"It will get applause, but it can't be sustained," Suthan said.
This copy has been modified.