When everything else fails to unclog Bengaluru's choked streets and roads, the bandit strikes.
One of the pioneers of India's street art movement, DAKU—bandit or thief in Hindi— is taking on the biggest problem faced by the southern Indian city: vehicular traffic from hell.
On Oct. 07, as part of the St+art India street art festival, Delhi-based DAKU—who prefers this cloak of anonymity much like the British street artist Banksy—was out and about sticking paper snails at several locations in India's Silicon Valley.
"With the snails, DAKU addresses Bengaluru's chronic traffic problem, using the 'snail's pace' analogy," St+art India wrote in a note on Facebook, detailing the project. It's a commentary on how the city's busiest junctions and intersections come to a complete standstill almost every day.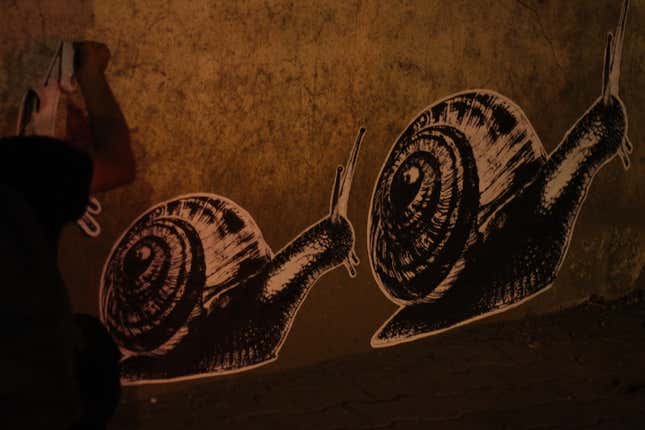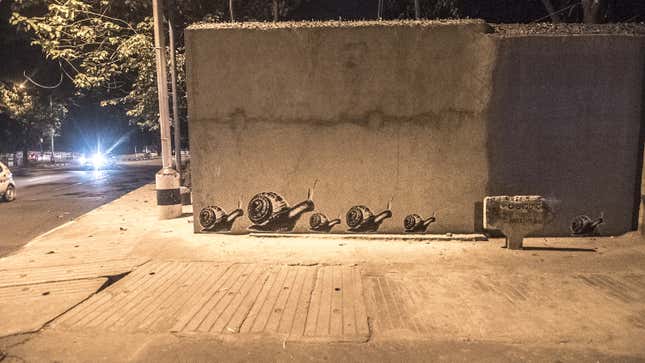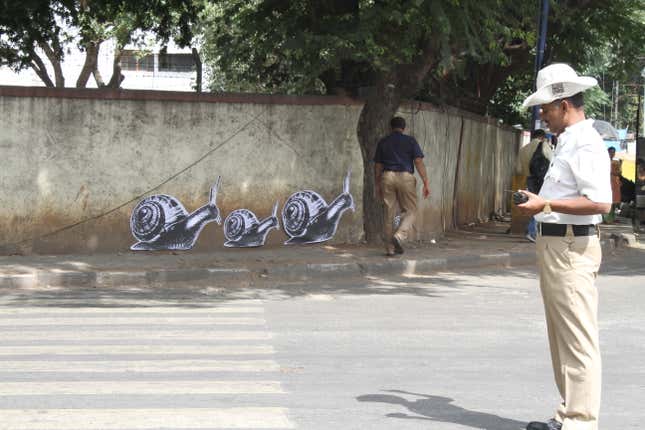 Bengaluru's traffic is so bad it's estimated that many of the city's workers typically spend two hours a day commuting. In all, that adds up to some $6 billion man hours a year, inflicting a huge loss on the city's IT and business process outsourcing industry.
In 2011, IBM's Commuter Pain Index ranked Bengaluru the world's 6th-worst city. Since then, the situation has only worsened.
DAKU has built quite a reputation for himself using art to comment on social issues. In 2012, for instance, he stuck a Louis Vuitton-inspired wallpaper beside a New Delhi garbage dump to illustrate the difference between the wealthy and the poor in India.
Last week, he positioned cutouts of Mahatma Gandhi holding a broom amidst sizeable piles of trash in Bengaluru, a gentle reminder that despite the Narendra Modi government's much-hyped Swachh Bharat national cleanliness campaign, India's streets need all the help they can get.