Imagine having to move from one part of the country to another every other year, turning abandoned barracks, cramped mess rooms, and 50-year-old crumbling bungalows into homes for your children and usually-absent spouse. Imagine playing the dutiful wife, single mother, volunteer, and party organiser. Now, imagine doing all this and having a career at the same time.
Tough as it may sound, some wives of Indian defence personnel have pulled it off.
It's no surprise that several military spouses flounder when it comes to choosing a job. Posted in small towns and villages, far from the promise of corporate India, most fauji (as soldiers are known in Hindi) wives are forced to take a break from work once they marry.
But there is indeed a wives' brigade that manages to tap into its entrepreneurial skills, creating businesses that the women can pack up and take along with them on every posting.
The ladies who launch
Prachi S Vaish, a clinical psychologist, decided to build a business from scratch once she married a helicopter pilot and found herself being constantly posted in remote areas. Vaish realised that given her frequent relocations, setting up an in-person counselling clinic was impossible. So, she started an online psychological service, a relatively new concept in India, in 2009.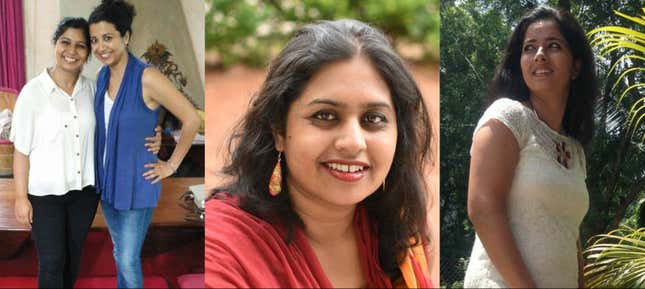 "I launched HopeNetwork.in to give out free advice to people seeking help," she said, but the tremendous response she received encouraged Vaish to rebuild her business as a high-quality paid service, which she now runs with a team of psychologists.
Technology has also been a boon for Payal Talwar and Priyanka Kumar, army wives and leaders of the corporate training group, WINGS or Women In Need for Grander Success. Talwar and Kumar launched WINGS five years ago to help women living in remote areas find work.
So far, it has helped train the staff of companies such as Jindal Steel, Punj Lloyd, HCL, TATA, and Matrix, among others, besides teachers at army schools, HD Goenka, Ryan International, and Aster Public School.
Giving back to the fauj
Bandita Bose, a crafts entrepreneur married to a fighter pilot, creates bespoke decoupage décor items that she sells through her Facebook page. Bose already had a career as a work-from-home marketing expert, but the itch to work with her hands and be her own boss led her to set up her own personal brand—Unchainedreamz.
Now, Bose creates an assortment of products, from jewellery and tissue boxes to trays and name plates, that cost anywhere between Rs250 and Rs1,600.
For Monishikha RoyChowdhury, an air force wife and artist, turning her hobby into a profession was more organic.
"I posted pictures of what I painted on my blog, which led to sales," explained this former engineer who now teaches art to children and is working on upcoming exhibitions in Mumbai and New Delhi.
Maria Duckworth, a senior officer's wife, found that the defence services offered a platform to turn her passion into a profession. A self-taught choreographer who has organised several dance productions across service bases since she became a fauji wife in 1994, Duckworth teaches salsa, jive dancing, hip-hop, and Bollywood dancing to service officers and their wives.
"Paying 10% of my earnings to a welfare organisation means I get an air-conditioned room to teach in for free," Duckworth said. "Where else could one think of such a set-up."
Notching up the challenge
While startups are all the rage, entrepreneurship does not come easy for army wives. Prerna Singh, owner of a niche jewellery brand called Just Prerna, faced many difficulties trying to work out of far-flung places, from the inability to create a team to help run her brand to the lack of office spaces and exhibition venues.
"Despite the hardships and challenges, I'd never trade my life as a fauji wife for anything," she said.
Finding an appropriate workspace is often the biggest challenge, but it can come with some fun solutions. Talwar and Kumar recall converting the front seats of their cars into offices, when they started working in Wellington, Tamil Nadu.
"We would park at a scenic place, get our laptops and coffee, and start working," Kumar said. "We've worked in the ladies' room of the mess, and even in the garden while hosting a party."
This article first appeared on Scroll.in. We welcome your comments at ideas.india@qz.com.