It's that time of the year in India.
The festive season kicked off in the country several weeks ago with parties, dinners, fairs, and extended shopping sprees. And now, it's Diwali. On Oct. 30, friends and families across the country will gather to swap gifts and dig into scrumptious sweets, decorating their homes with diyas and lights, and offering their prayers to lord Ganesha and goddess Laxmi for good fortune and prosperity.
Then there is also the inescapable revelry and euphoria.
To kick off Diwali in style, Quartz gathered recipes from some of India's trendiest bars for the best cocktails to go with your card parties and crackers, all featuring local ingredients such as paan or jaljeera. Drink responsibly!
Paan ki Dukaan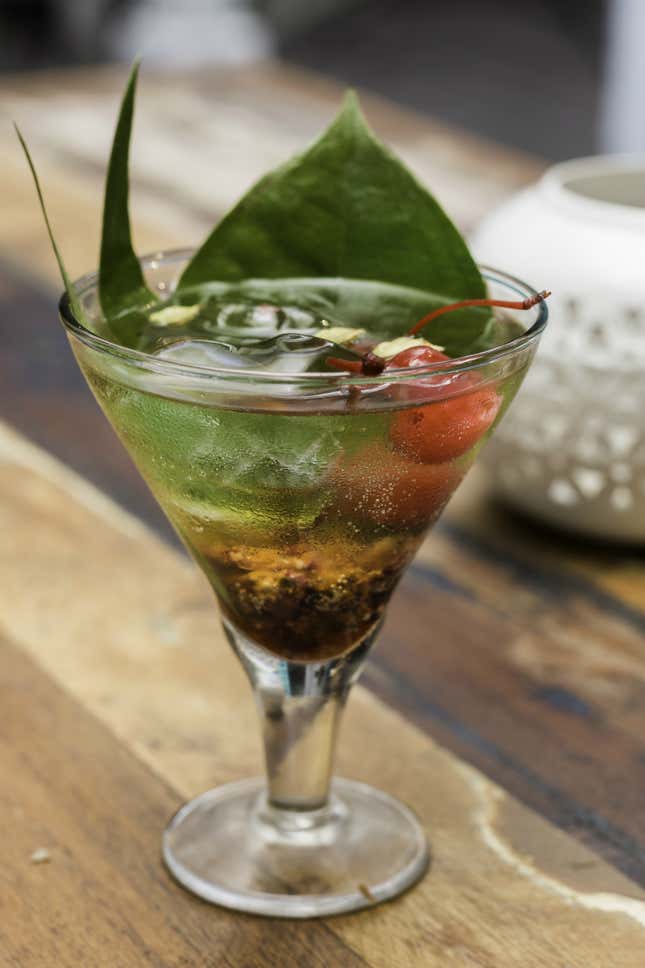 Ingredients:
Fresh paan leaves – 2
Cardamom – 4
Gulkand – 1 teaspoon
Vodka – 45 ml
Sambuca – 15 ml
Maraschino cherry – 1
Method:
•    Muddle one paan leaf, the gulkand, and cardamom in a cocktail shaker.
•    Add vodka and Sambuca to this mix.
•    Add ice and shake well.
•    Strain this into a glass filled with ice and the other paan leaf.
•    Garnish with more cardamom and the cherry.
Recipe courtesy TabulaBeach Cafe, New Delhi.
The Mangaa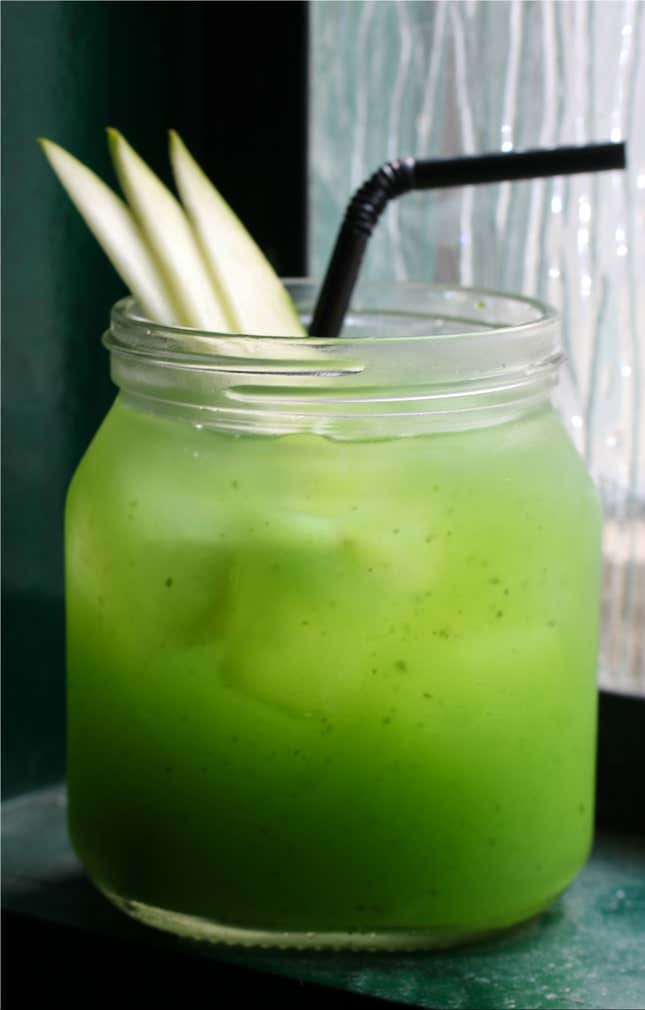 Ingredients:
Vodka – 60 ml
Freshly-squeezed sweet lime juice – 90 ml
Raw mango squash – 45 ml
Ice cubes – 1 cup
Raw mango slice, to garnish – 1
Method:
• Add the vodka, sweet lime juice, and raw mango squash into a cocktail shaker, along with ice cubes.
• Shake well, and pour into a Nutella jar or any other glass of your choice.
• Garnish with a slice of raw mango.
Recipe courtesy Monkey Bar, Bengaluru
Marigold Sparkle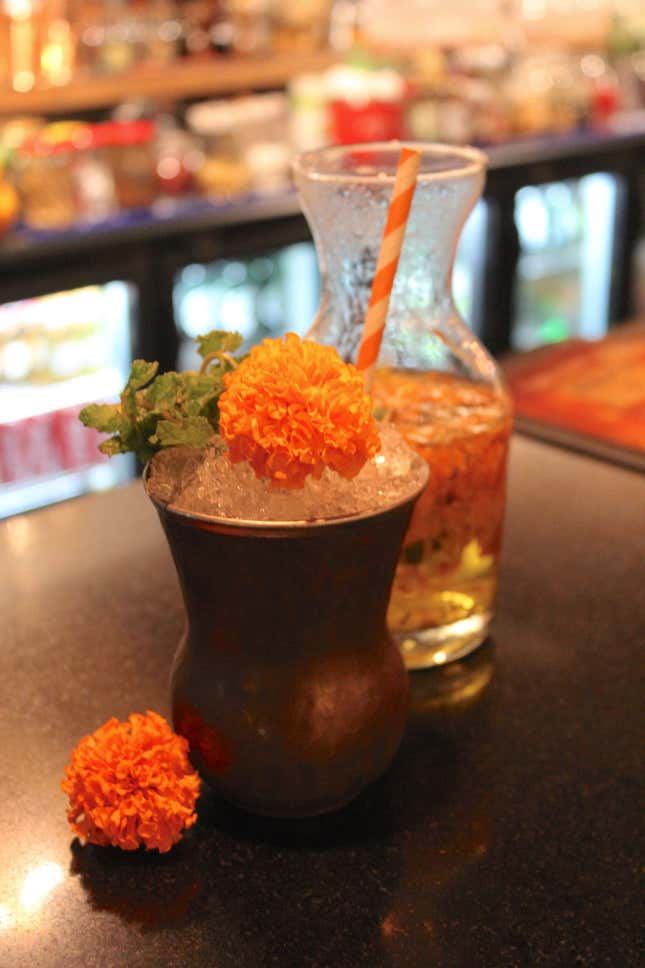 Ingredients:
Vodka – 60 ml
Passion fruit syrup – 15 ml
Lime juice – 15 ml
Mint leaves – 3-4
Jaljeera – a pinch
To be topped up with homemade marigold-flavoured soda.
Method:
• Shake the vodka, passion fruit syrup, and lime juice together.
• Pour into a copper glass and top with homemade marigold-flavoured soda.
• Fill the glass with crushed ice and garnish with a marigold flower and mint leaves.
Recipe courtesy Cocktails and Dreams Speakeasy, Gurgaon.
OK TATA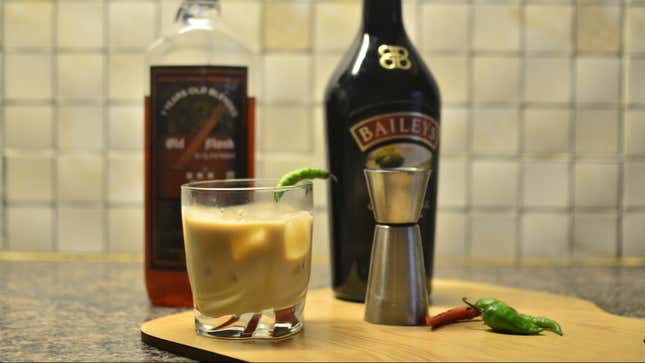 Ingredients:
Old Monk rum – 2 parts
Bailey's Original Irish Cream – 3 parts
Sliced chili, to garnish
Method:
• Pour over lots of ice in a rock glass.
• Garnish with a sliced chili or two.
Recipe courtesy Quartz India.
Aacharoska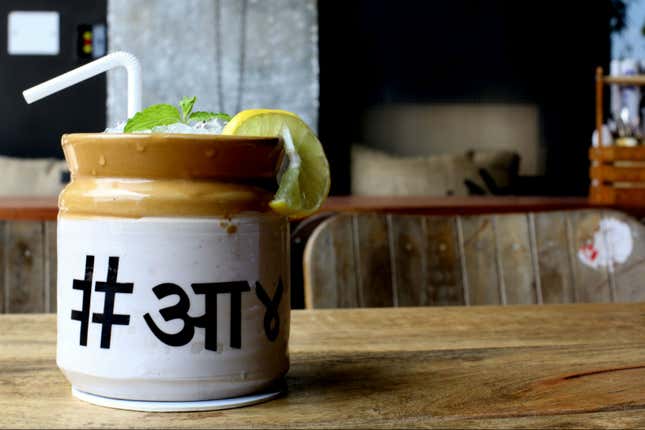 Ingredients:
Vodka – 60 ml
Fresh mint – few leaves
Sweet & sour mix – to taste
Lemon wedge – 2
Indian lime pickle – 1 teaspoon
Method:
• In a small pickle jar, muddle mint leaves with lemon wedges.
• Add sweet and sour mix. Add lemon pickle. Mix.
• Top it up with crushed ice.
• Add the vodka. Use a lemon wedge to garnish.
Recipe courtesy Social.